NAZI FRAUENSCHAFFEN PHOTO BOOK
THE 1941 YEARBOOK OF THE DEUTSCHES FRAUENSCHAFFEN (GERMAN WOMEN'S ACTIVITIES DURING THE WAR)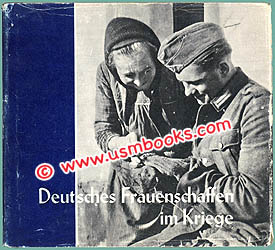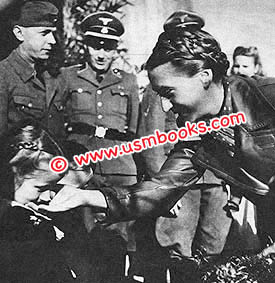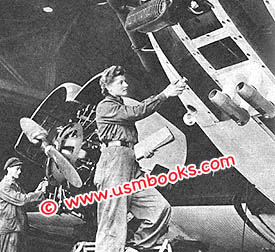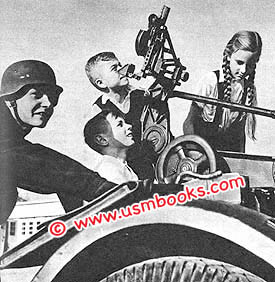 This is an outstanding example of the very hard to find 7 x 7-1/2 inch, heavily illustrated, 160 page, hardcover 1941 Yearbook of the Reichsfrauenführung or the Nazi State Women's Leadership. Deutsches Frauenschaffen im Kriege (German Women's Activities in Wartime) was published at the direction of the Press and Propaganda Department by Westfalen Verlag in Dortmund.
Starting with a Hitler quotation and an overview by the leader of the Nazi Party's women's organizations, Gertrud Scholtz-Klink, the book covers every aspect of the organization and activities of women in the Third Reich during 1941.
A large 6-3/4 x 13 inch fold-out organization chart provides detailed information on every subdivision of the eleven Hauptabteilungen (Main Departments).
There are maps showing all the Gaue in Nazi Germany and photos of pretty young women in every sort of occupation from harvesting hay, caring for mothers and children, teaching home economics, playing instruments, shearing sheep, bathing babies, tending to wounded war veterans, visiting military facilities, working with settlers, working in war industries, filling in for men, working in nursing, in the service of the Luftschutz, baking bread, etc.
The connection of the nursing profession with SS hospitals and
Lebensborn
birthing homes is advertised in the back.
There are also advertisements for women's necessities such as underwear, nylon stockings, cosmetics, soaps, clothing, foodstuffs, children's shoes, and even milk.

This hard to find Nazi book, Deutsches Frauenschaffen im Kriege is complete with the original Third Reich dust jacket. Very good condition.
Deutsches Frauenschaffen im Kriege above is offered for sale for
$
9
5.00 delivered by Media Mail in the
continental
USA.


USM book # 60
• IF you prefer fater and safer Priority Mail shipping with USPS Tracking add $6.75.
• IF you wish to purchase highly recommended, but optional insurance, add $3.25.
• We will be happy to ship abroad at additional cost. Please inquire.


The images and the entire text used on this and all other USMBOOKS web pages are the copyrighted property of USM Inc. Those images and the text may be used by others ONLY AFTER completion of a formal international licensing agreement and payment of a licensing fee! It is therefore, illegal for anyone to take any of the material found on USMBOOKS.com and use it for their own purposes without our written permission, irrespective of any excuse they may feel they have for doing so.