Der deutsche Baumeister (The German Master Builder) magazine was the monthly of the Fachgruppe Bauwesen eV (the Professional Group for Construction Activity Registered Society) in the Bund deutscher Technik or German Technical Association.

This lot of 9-1/4 x 11-3/4 inch magazines consist of three rare issues - the very first one (Issue 1, Year 1) from January 1939, and those of February 1942 and March/April 1942.
The first 32-page issue was printed with an introduction by Reichsleiter Alfred Rosenberg followed by another by
Dr. Fritz Todt
, and a lead article by Professor Albert Speer. Clearly, before the magazine was mailed, somebody realized that Adolf Hitler had been left out and there is a beautifully printed cream colored sheet with a message from the
Führer
tipped-in ahead of page 1. It has an unusual, large embossed eagle and swastika at the top of the page.
Der deutsche Baumeister
include Speer's New Plans for the Capital of the Reich, Todt's New Order of German Construction Activity, an article on Professor Giesler, another on Hitler Youth Construction
,
Earth Studies for the High Bridge in Hamburg, etc., etc.
There is advertising from big construction companies. This issue also includes the very rare 12-page "Renewing the Homeland" supplement Number 1, Year 1 which is almost never seen with examples of this magazine.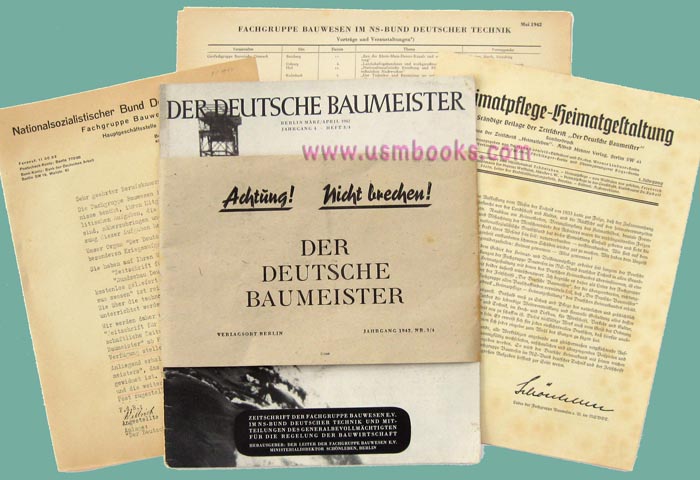 Der deutsche Baumeister issue number 2 of the 4th year is the one for February 1942 and includes the memorial to the greatest Baumeister of them all, Dr. Ing. Fritz Todt. There is a full-page portrait of Todt across from his tribute, as well as a full-page, full-color photograph of Fritz Todt's funeral in the New Reichschancellery that accompanies Adolf Hitler's funeral tribute to this friend Fritz Todt, and other tributes from Albert Speer, Gert Theunissen and Eduard Schönleben.
This magazine also contains a full-page, full-color reproduction of an Ernst Huber watercolor "the
Reichsautobahn
in Front of the Alps".
Der deutsche Baumeister
issue number 3/4 of the 4th year is the one for March/April 1942 and has a lead article with color pictures about the deployment of Organisation Todt in the East. Other articles explain the Construction of German log houses in the East (many photos and drawings), Construction in the Dutch East Indies, etc.
This magazine contains notices of the deaths in combat of many members of the Fachgruppe Bauwesen eV. Also enclosed in this magazine is the original magazine wrapper, a letter from the Fachgruppe, a multi-page overview of the organisation dated May 1942 and a 4-page "Renewing the Homeland" supplement with the subject of German farmhouses in Gau Schwaben.
All three rare magazines are complete and in good or better used condition.
The first issue of Der deutsche Baumeister is in excellent condition.
This lot of 3 very rare Nazi construction magazines is for sale for
$295.00 delivered to any address in the continental United States.

• IF you prefer faster and safer Priority Mail shipping with USPS Tracking add $13.65.
• IF you wish to purchase highly recommended, but optional insurance, add $4.75.
• We will be happy to ship abroad at additional cost. Please inquire.
VERY RARE NAZI MASTER BUILDER MAGAZINES - DEUTSCHE BAUMEISTER
DER DEUTSCHE BAUMEISTER MAGAZINES
THE MOST DESIRABLE GERMAN ARCHITECTURE
AND CONSTRUCTION MAGAZINES
PUBLISHED DURING THE THIRD REICH


The images and the entire text used on this and all other USMBOOKS web pages are the copyrighted property of USM Inc. Those images and the text may be used by others ONLY AFTER completion of a formal international licensing agreement and payment of a licensing fee! It is therefore, illegal for anyone to take any of the material found on USMBOOKS.com and use it for their own purposes without our written permission, irrespective of any excuse they may feel they have for doing so.