What was it like in the Concentration Camp at Dachau? is offered for sale
for $55.00 delivered by Media Mail in the continental USA.


USM book #372
•IF you prefer Priority Mail shipping with USPS delivery confirmation add $6.95.
• IF you wish to purchase optional insurance, add $2.25.
• We will be happy to ship abroad at additional cost. Please inquire.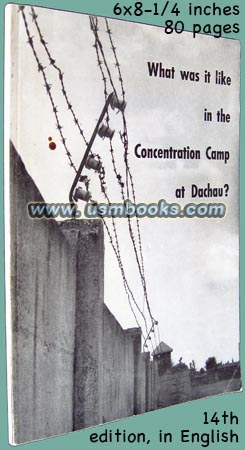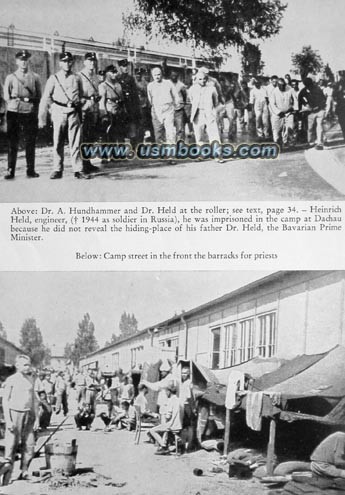 The text of this book explains in the words of people who ran the camp and who were interned in Konzentrationslager Dachau, exactly what that experience was like. It also translates the German inscription on the roof of the administration building at Dachau into plain English. That inscription greeted every prisoner who spent time at Dachau. The book also explains the Jourhaus, the administration offices, the bunker, roll call square, the Kantine for the prisoners, the camp office, the camp library, the infirmary, the barrack of the convict company, the crematorium, watch towers, gas chamber, etc., etc.

Other segments deal with the camp leader, report leader, block leader, interrogation officer, labor exchange, Jews, clergymen, executions, plantation work, the munitions factories, etc., etc.

Fundamental to the subject. Very good condition. Someone who read the book underlined passages that they felt were particularly important, mostly in the first 25 pages.
This is a very god example of the 6 x 8-1/4 inch, 80 page soft cover book What was it like in the Concentration Camp at Dachau? (original German title was Wie war das in Dachau?) by Dr. Johannes Neuhäusler as published by the Trustees for the Monument of Atonement in the Concentration Camp at Dachau, 14th edition.
WHAT WAS IT LIKE IN THE NAZI CONCENTRATION CAMP AT DACHAU?
WHAT WAS IT LIKE IN THE CONCENTRATION CAMP AT DACHAU?
THIS BOOK GIVES A
DETAILED EXPLANATION


The images and the entire text used on this and all other USMBOOKS web pages are the copyrighted property of USM Inc. Those images and the text may be used by others ONLY AFTER completion of a formal international licensing agreement and payment of a licensing fee! It is therefore, illegal for anyone to take any of the material found on USMBOOKS.com and use it for their own purposes without our written permission, irrespective of any excuse they may feel they have for doing so.