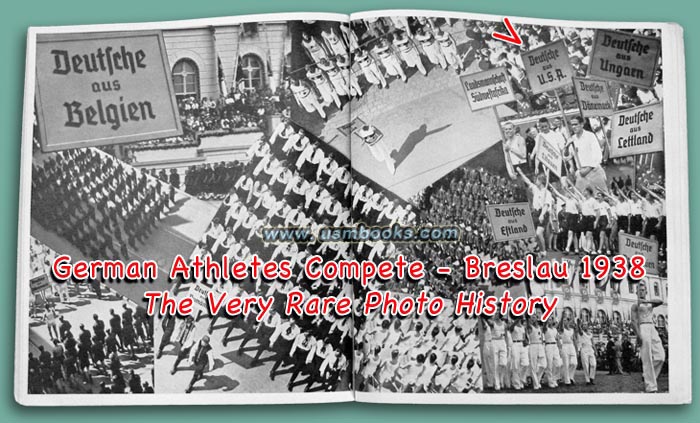 This rare official Nazi commemorative photo book of the 1938 Nazi Breslau Sport Festival is **SOLD**.


USM book # 515
•IF you prefer Priority Mail shipping with USPS Tracking add $6.50.
• IF you wish to purchase optional insurance, add $5.95.
• We will be happy to ship abroad at additional cost. Please inquire.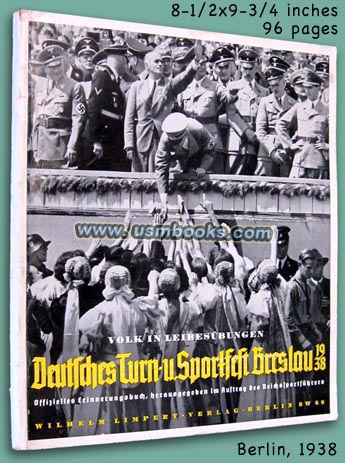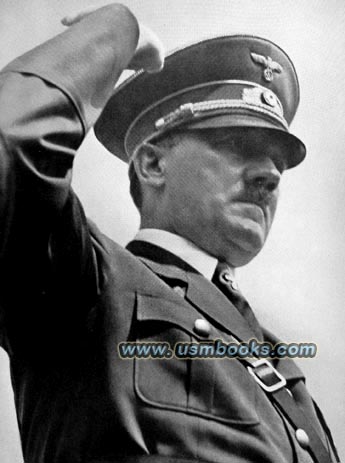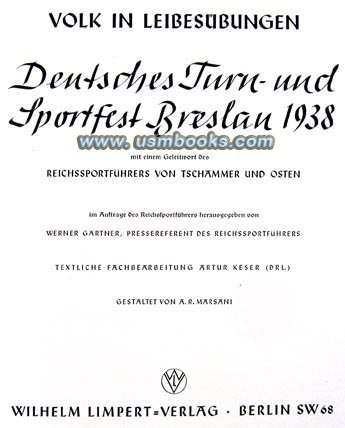 From 24 - 31 July 1938 all Breslau in Silesia, Germany (now Wroclaw in Poland) was like an Olympic city as the finest gymnasts and athletes in all of Germany (and German athletes from all over the world) competed in dozens of events. Everybody that could be there was there, including the 23rd Chancellor of Germany and Nazi Party Führer, Adolf Hitler.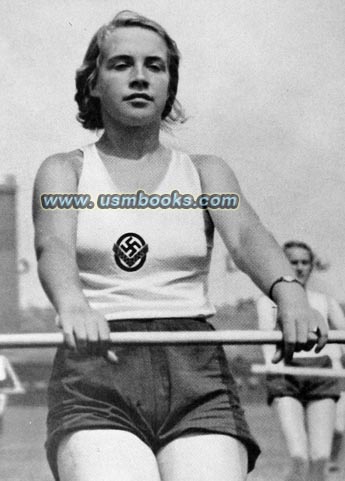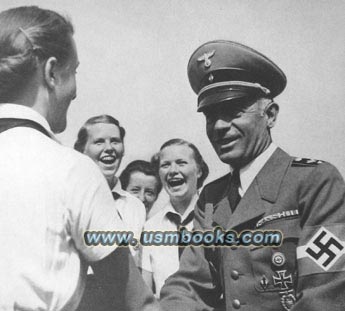 Under the eyes of Hitler, Reichsführer-SS Heinrich Himmler, Dr. Joseph Goebbels, Gauleiter Wagner, Konrad Henlein and Reichssportführer Hans von Tschammer und Osten competitors tossed beams, ran, swam, boxed, danced, sang, paraded, rowed, jumped, dove, canoed, and waived Nazi eagle and swastika flags all over the Hermann Göring Sports Field and its vicinity along the river Oder. It was a sensational event, never to be held again because of the threat of war in the later summer of 1939.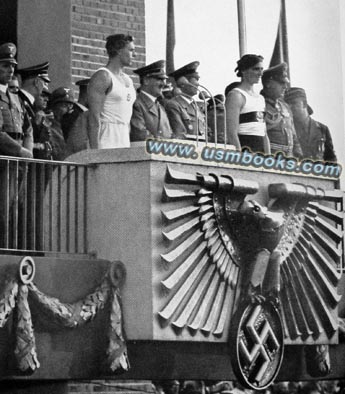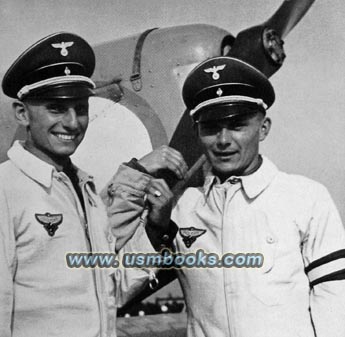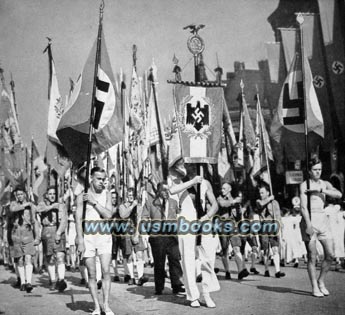 Volk in Leibesübungen Deutsches Turn- und Sportfest Breslau 1938
(The Nation Competes, German Gymnastics and Sport Festival Breslau 1938),
the official commemorative book of the events was published on orders of Reichssportführer Hans von Tschammer und Osten by Wilhelm Limpert Verlag of Berlin in 1938. Werner Gärtner, the man in charge of Press for the Reichssportführer assembled all the material and the text is by Artur Keser of the
DRL
.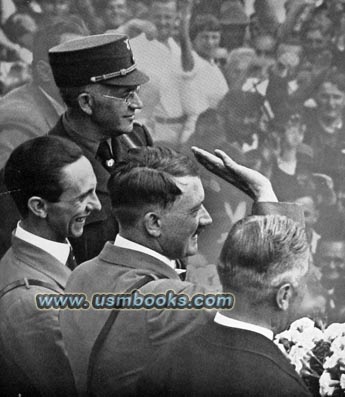 The very rare 8-1/2 x 9-3/4 inch, 96 page book starts with full-pages photos of, and forewords by Interior Minister Dr. Frick and Reichssportführer Hans von Tschammer und Osten, and continues with superb photos of Hitler, the Olympic Stadium in Berlin and a mention of the many gold medals Germany won there in 1936, the city of Breslau decorated with large Nazi swastika banners for the big sport event, athletes carrying Nazi flags during the opening ceremonies, Hitler Youth pilots that won the NSFK race, victorious athletes, RAD men, sculptures of athletes, ethnic germans in folklore costumes, adoring fans saluting Hitler in Breslau, many foreign delegations (including "Deutsche aus USA" or Americans of German descent), etc.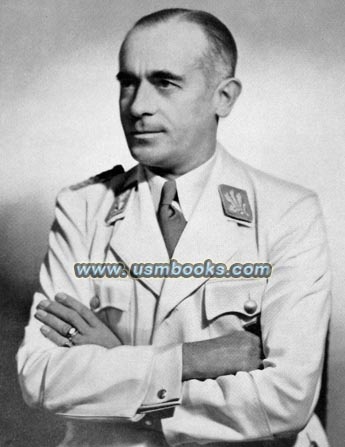 The last few pages of this very rare Third Reich photo book have a list of all the winners in all the different events (gynastics, soccer, shooting, cycling, bowling, roller skating, rowing, boxing, field hockey, swimming, basket ball, wrestling, etc.).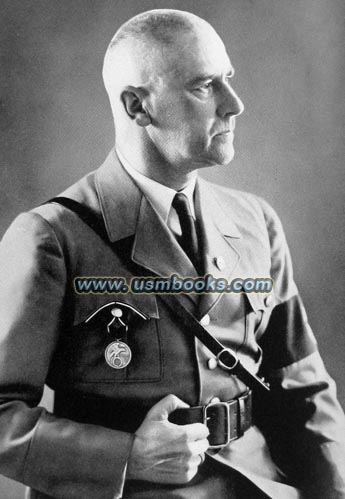 This is a very rare Third Reich photo book, not to be confused with the much more common pocket-sized handbook listing the schedule of events (also for sale on USMBOOKS.com, use link below). When this book can be found, rare book dealers typically price it in the $600 range. This is the Official Commemorative book published after the event was over, as a pictorial souvenir for athletes and visitors to the Deutsches Turn-und Sportfest Breslau in 1938. Very good used condition.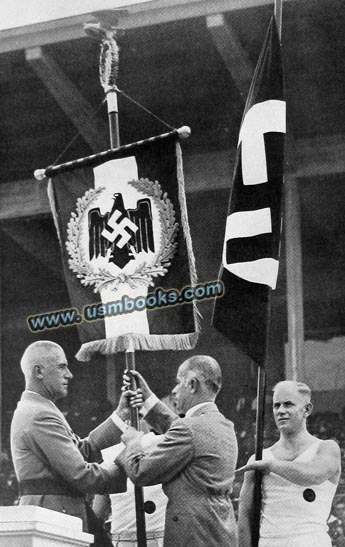 THE VERY RARE OFFICIAL NAZI COMMEMORATIVE PHOTO BOOK
1938 BRESLAU SPORT FESTIVAL
VOLK IN LEIBESÜBUNGEN - DEUTSCHES TURN- UND SPORTFEST BRESLAU 1938
(THE NATION COMPETES - GERMAN GYNASTICS- AND SPORTS FESTIVAL AT BRESLAU 1938)


The images and the entire text used on this and all other USMBOOKS web pages are the copyrighted property of USM Inc. Those images and the text may be used by others ONLY AFTER completion of a formal international licensing agreement and payment of a licensing fee! It is therefore, illegal for anyone to take any of the material found on USMBOOKS.com and use it for their own purposes without our written permission, irrespective of any excuse they may feel they have for doing so.