The images and the entire text used on this and all other USMBOOKS web pages are the copyrighted property of USM Inc. Those images and the text may be used by others ONLY AFTER completion of a formal international licensing agreement and payment of a licensing fee! It is therefore, illegal for anyone to take any of the material found on USMBOOKS.com and use it for their own purposes without our written permission, irrespective of any excuse they may feel they have for doing so.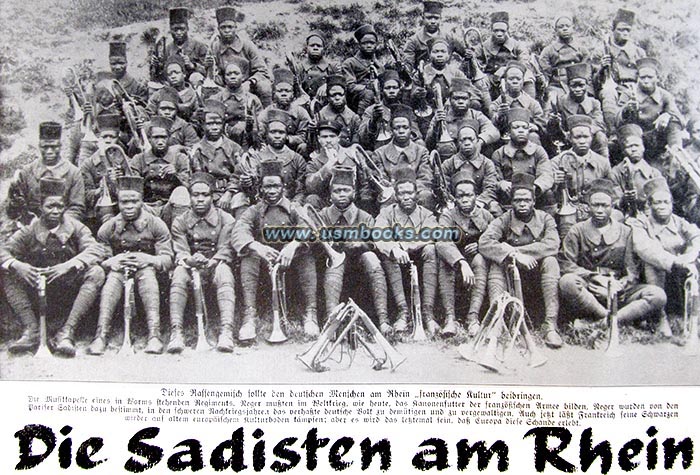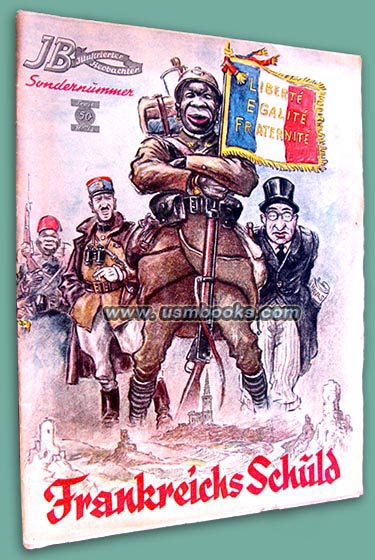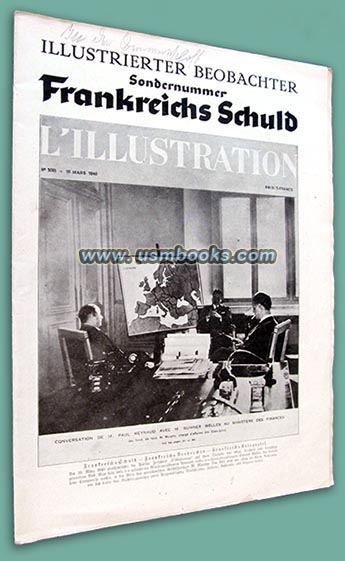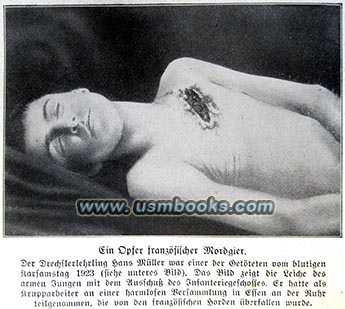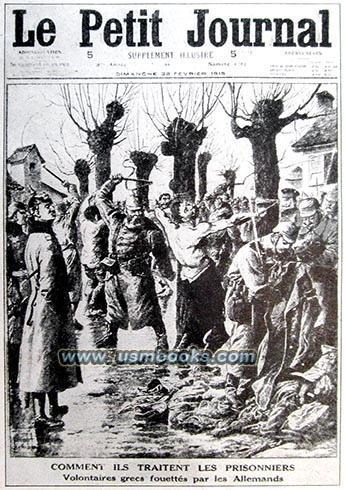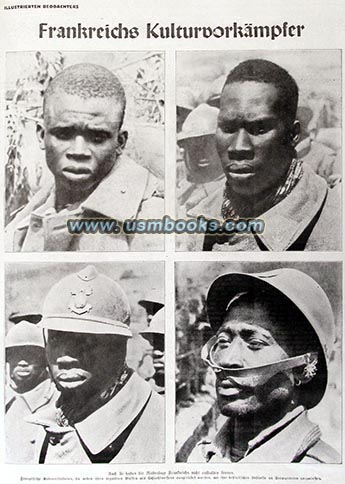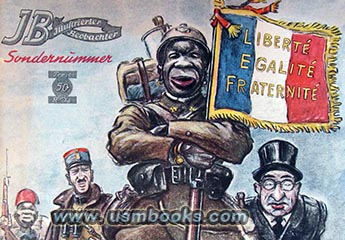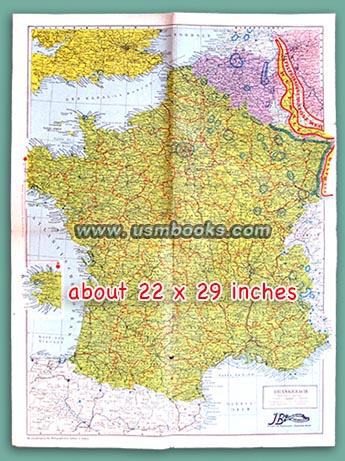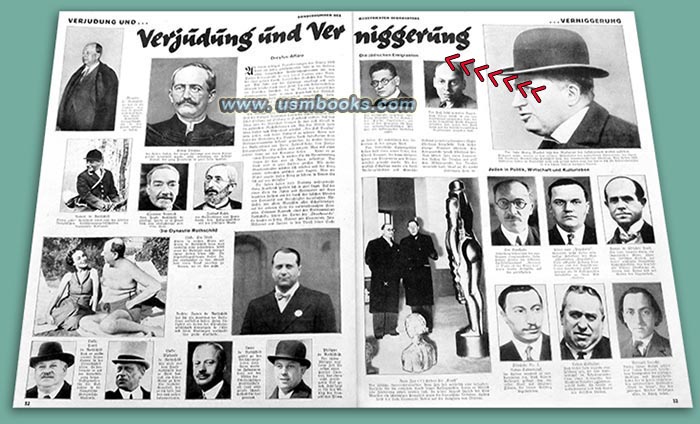 The Third Reich publication offered here was published in the spring of 1940, after the French and British had declared war on Germany but prior to the German invasion of France and subsequent debacles at Dunkirk and Compiègne. It is extremely anti-Jewish in its general content and finds Jews largely to blame for the French interference with European affairs (see headline in photo directly below).
This 11 x 14-3/4 inch publication is a Sondernummer or special edition of the Illustrierter Beobachter as published by Franz Eher Nachfolger, the Central Publishing House of the NSDAP, in Munich, Germany. It is wrapped in a large 22 x 28 inch full-color map printed on heavy paper which serves to orient the reader to places and events mentioned in the magazine. The cover (the folded-up map) depicts two French negro soldiers, Charles de Gaulle and a Jew in a top hat with a flag bearing the words Liberté, Egalité, Fraternité.
Very graphic Third Reich material! Complete and in used condition with 1-1/2 inch piece of tape (an old repair) on one page. Was once folded.
Frankreichs Schuld or "France's Guilt" is a 48 page, very, very heavily illustrated recap of the "sins of France" going back to the year 925 and including personalities like Napoleon, Laurent, Clemenceau, Foch, Poincaré, Weigand, Reynaud, De Rothschild, Dreyfus, Kahn, Salvador, Stern, Mandel, etc. The history concentrates on the Blacks and Jews in the virtually always corrupt government of France and her colonies. It explains the horror of the French occupation of the Rheinland and the Ruhr following World War I and the results of France stationing black African troops on the German Rhine.
Have a look at other Third Reich magazines and newspapers for sale on USMBOOKS.com. We are happy to combine shipping to save you money!
This anti-Jewish, anti-black special edition of the Illustrierter Beobachter
is offered for sale for $85.00 delivered by Media Mail in the continental USA.

• IF you prefer faster and safer Priority Mail shipping with USPS Tracking add $8.25.
• IF you wish to purchase highly recommended, but optional insurance, add $3.50.
• We will be happy to ship abroad at additional cost. Please inquire.
EXTREME ANTI-JEWISH, ANTI-FRENCH NAZI MAGAZINE "FRANCE'S GUILT"
SPECIAL 1940 EDITION ILLUSTRIERTER BEOBACHTER, FRANKREICHS SCHULD