The images and text used on this and all other USM web pages are the copyrighted property
of USM Inc. Those images and the text may be used by others ONLY AFTER completion
of a formal international licensing agreement and payment of a licensing fee!

---
NAZI ANTI-AMERICAN ANTI-JEWISH BOOK
AN EXTREMELY ANTI-JEWISH,
ANTI-AMERICAN NAZI BOOK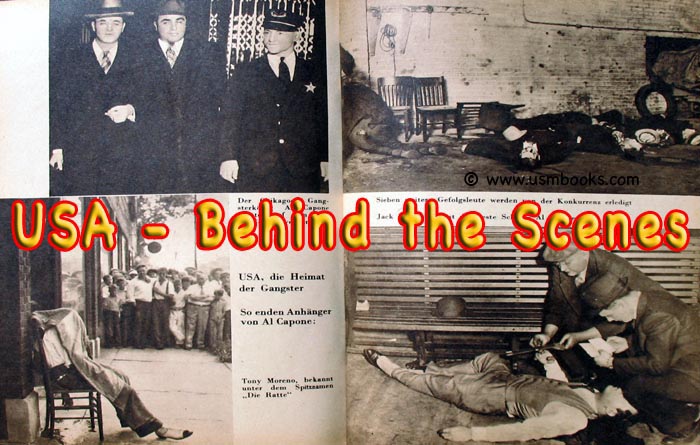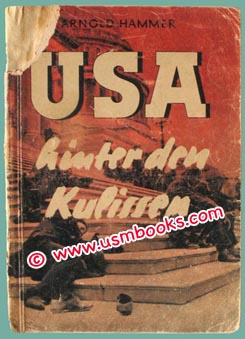 USA HINTER DEN KULISSEN
(THE USA BEHIND THE SCENES)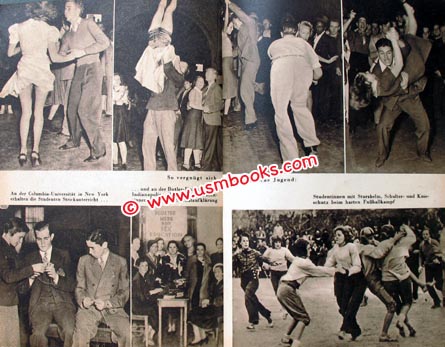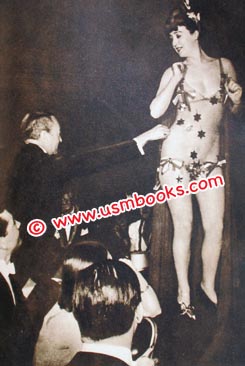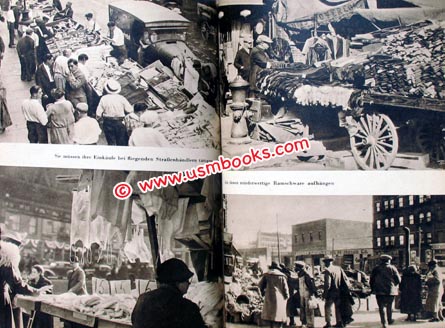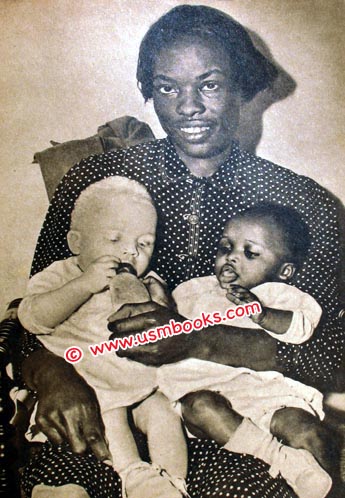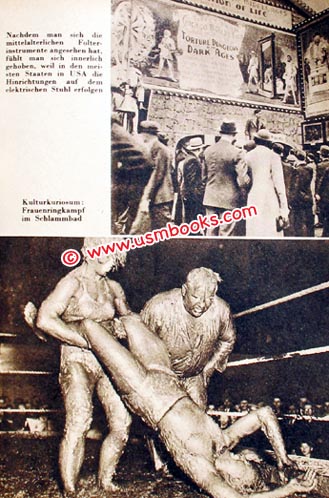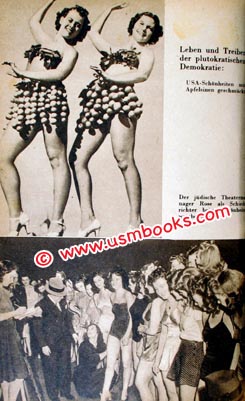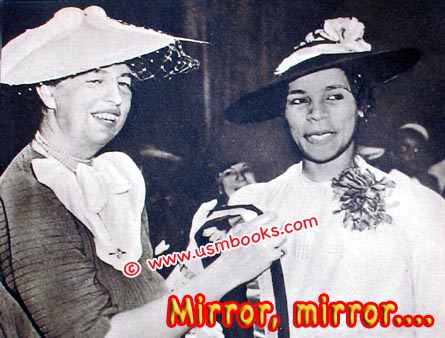 Going back to what he describes as American President Wilson's "14 Point Swindle" at the end of World War I, the author roasts virtually every American politician from Franklin D. Roosevelt and his Jewish "advisors" to Kelly in Chicago, Curley in Boston, Wilson in Philadelphia, the Pendergast machine in Kansas City, Senator Langer of North Dakota, etc.
Hammer reserves his greatest tirades for "real Americans" like
This is a nice very, very rare example of the 6-1/4 x 8-7/8 inch, very heavily illustrated 164 or so (unnumbered) page soft cover book USA hinter den Kulissen (America Behind the Scenes) by Arnold Hammer as published by Verlag Scherl in Berlin, Germany in 1942.
Bullett, Ickes, Hines, Frank Cohen, Tommy "the Corck" Corcoran, Dutch Schultz (Flegenheimer), Louis B. Mayer, Walter Winchell, Al Capone, Weintraub, Hirsch, Wolf, Weinberg brothers, Samuel Insull, LaGuardia, etc.
Beyond disliking Jews, politicians and gangsters, Arnold Hammer also loathed fancy negroes, billboard advertising, dancing girls, horned-toad races, frog jumping contests, female mud wrestlers, multimillionaires, restaurants in which the main attraction was the building and not the food, street vendors, sharecroppers, sex education, jitterbug dancing, the glorification of crime, Prohibition and all the latest fads.
Hammer uses big, clear full-page photographs of all the worst in America and none of the best. He shows vagrants on the steps of the US Capitol, sleeping congressmen, multiracial children, religious zealots, "Okies", trash, shacks, slums, and a very uncomplimentary picture of Eleanor Roosevelt and the negro singer Marian Anderson over a satirical caption of the German verse equivalent to "Mirror, mirror on the wall, who is the fairest of them all?"
This is not a pretty book. It is a very rare historical Nazi era document, virtually unobtainable 65 years after it was printed.
One of the most interesting aspects of the book is that the very American things author Hammer was railing against in 1942 are now perfectly common in the country where this book was printed - in the Federal Republic of country where this book was printed - in the Federal Republic of Germany. Except for the missing small piece of the upper left corner of the front cover this book is in very good condition.
This example of USA HINTER DEN KULISSEN is
**SOLD**
We are happy to insure or ship abroad at additional cost. Please inquire.
USM book # 67
This USM Books website is Copyright © 2013 by USM, Inc., and the text and images on it are fully protected by international copyright law. It is therefore, illegal for anyone to take any of the material found here and use it for their own purposes without our written permission, irrespective of any excuse they may feel they have for doing so.