The images and the entire text used on this and all other USMBOOKS web pages are the copyrighted property of USM Inc. Those images and the text may be used by others ONLY AFTER completion of a formal international licensing agreement and payment of a licensing fee! It is therefore, illegal for anyone to take any of the material found on USMBOOKS.com and use it for their own purposes without our written permission, irrespective of any excuse they may feel they have for doing so.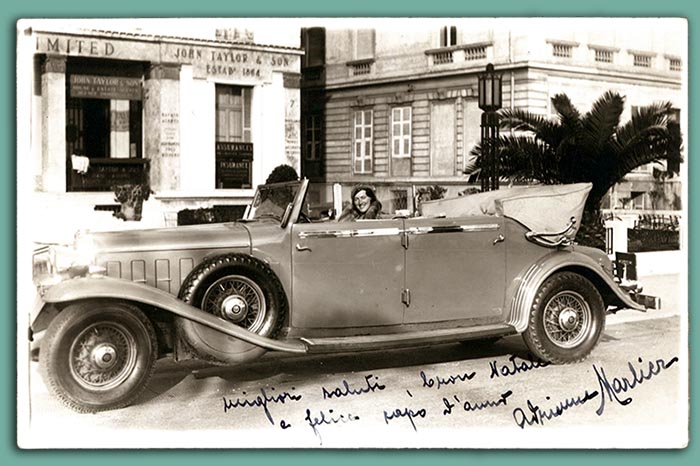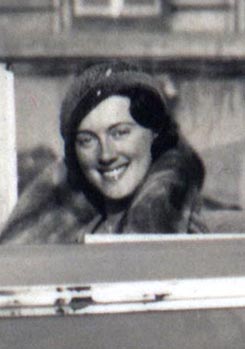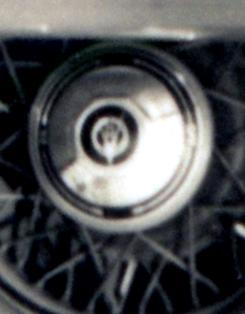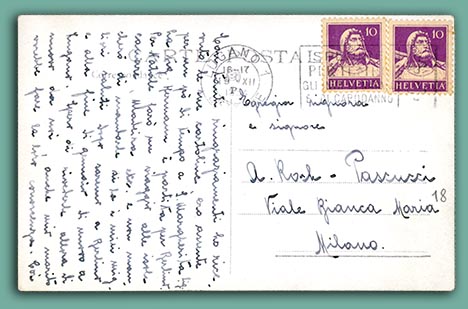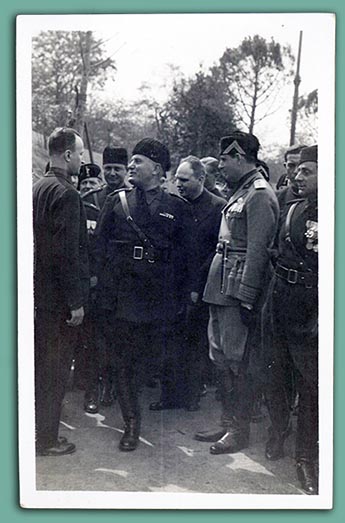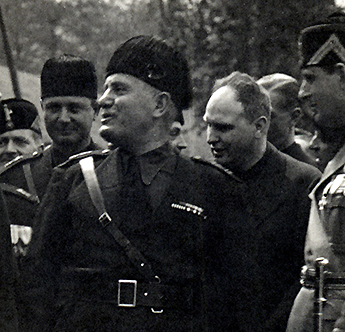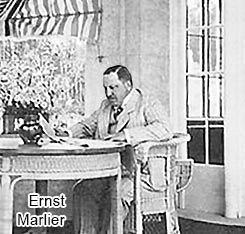 The Wannsee Villa (Am Grossen Wannsee 56–58, Berlin) was designed by architect Paul Baumgarten (a favorite architect of Hitler) and built in 1914-15 for merchant, factory owner, Privy Commercial Counselor and pharmaceutical producer Ernst Ferdinand Emil Marlier. Ernst Marlier (shown right for reference) and his wife Margarete (née Margarete Josephine Luise Wünsch) lived at Wannsee for some years. In 1905 the Pharmaceutical Institute of Berlin determined that Marlier's medicines consisted of nothing more than tartaric acid, citric acid, sodium chloride, and egg yolk. In 1907 the German government forbade the sale of Marlier's Antipositin and Antineurasthin. He was also charged with assault and disturbing the peace on several occasions and paid hefty fines.
With the Marlier postcard came an unused 3-½ x 5-3/8 inch candid photographic postcard showing Il Duce, Benito Mussolini with several other high ranking Italian Fascists. There is no writing on the back of this Italian "Cartolina Postale" and our research suggests the photo has probably never before been published.
In November 1940, Friedrich Minoux sold the Villa Wannsee to Reinhard Heydrich's Nordhav Foundation at the fair market price of 1,950,000
Reichsmarks
for use for
"Official Functions and as a Holiday Resort."
On 20 January 1942, a conference was called at Villa Wannsee by Chief of the RSHA
(Reichssichterheit Hauptamt)
SS General Reinhard Heydrich to discuss "the Final Solution of the Jewish Question." Heydrich owned a large home near Villa Wannsee and very near to one owned by Nazi
Abwehr
Chief, Admiral Canaris. After
Heydrich was assassinated
in Prague the house was sold in February 1943 to the RSHA for use as a recreation center for officers and men of the security police.
It is rare that anyone comes up with ephemera that is in any way even obliquely connected with Villa Wannsee, and it is never on the market for long. A wonderful subject for further research!
* On August 15, 1941, Minoux was convicted of defrauding the Berlin Gasworks. At the time this was considered the largest business swindle of the Nazi era. He was sentenced to 5 years imprisonment and hefty fines. From his jail cell in Berlin, Minoux sold Wannsee House to the Stiftung Nordhav, a foundation controlled by Reinhard Heydrich. Subsequently, the property became an important center of operations for the SS Security Service and the Reich Security Main Office. It was there that the Wannsee Conference would eventually be held on January 20, 1942. Today the villa is a museum dedicated to the remembrance of the Holocaust.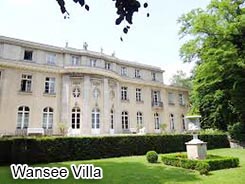 Due to business, legal and financial problems Ernst Marlier sold the Wannsee Villa (shown left for reference) and land on 6 September 1921 to a firm belonging to the industrialist Friedrich Minoux* for 2,300,000 Marks. Marlier's wife divorced him in 1922 saying that he beat her.

Around 1926 Marlier moved to Basel in Switzerland and police records show he was there from 22 December 1922 through 7 August 1928. Then he moved to Lugano where his trail went dead until the discovery of this photo / postcard lot in a Berlin antique shop near Friedrichstrasse Station more than three decades ago.
The 3-½ x 5-½ inch photographic postcard of the beautiful young lady wearing a fur coat, sitting in what appears to be a (1930 or so) 4-door V-16 Cadillac convertible, and was written by Adrianne Marlier and was mailed from Lugano to an address in downtown Milan in 1934. Our research suggests that the woman in the car photo is Adrianne Marlier who was Ernst Marlier's second wife.
The message in Italian mentions upcoming travels to the Canary Islands and Madeira for Christmas, and a return to Lugano by the end of January. The message also mentions that "Hermann has left for Berlin". From the message on the card it is obvious that Adrianne Marlier was well-traveled. The photo on the card shows her in front of the office of famous luxury real estate agent John Taylor & Son (established 1864) on the Cote d'Azur, probably in Cannes, France.
These two items also came with a business card of a women's clothing store named Pinelli on Via Gran Sasso in Milano, which was no doubt frequented by Mrs. Adrianne Marlier.
This unusual Marlier / Wannsee Villa ephemera lot is offered for sale
for $145.00 delivered by 1st Class Mail in the continental USA.

• IF you prefer faster and safer Priority Mail shipping with USPS Tracking add $6.75.
• IF you wish to purchase highly recommended, but optional insurance, add $3.50.
• We will be happy to ship abroad at additional cost. Please inquire.
INTERESTING RARE EPHEMERA CONNECTED WITH VILLA WANNSEE
BUILDER ERNST MARLIER
WANNSEE VILLA BUILDER ERNST MARLIER
CONNECTED MATERIAL