The images and the entire text used on this and all other USMBOOKS web pages are the copyrighted property of USM Inc. Those images and the text may be used by others ONLY AFTER completion of a formal international licensing agreement and payment of a licensing fee! It is therefore, illegal for anyone to take any of the material found on USMBOOKS.com and use it for their own purposes without our written permission, irrespective of any excuse they may feel they have for doing so.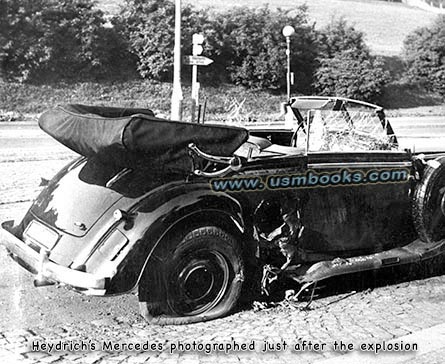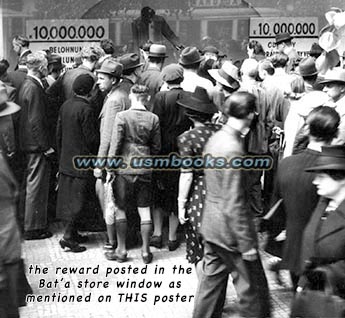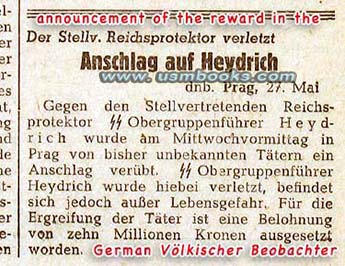 When Acting Nazi Reichsprotector, German SS and Police General Reinhard Tristan Eugen Heydrich was attacked in Praha (Prag, Prague) on 27 May 1942, all Geheime Staatspolizei (Gestapo or State Secret Police) agents in the Protectorate of Bohemia and Moravia were mobilized in the search for his assassins.

Everyone from Adolf Hitler and Reichsführer-SS Heinrich Himmler, down to SS Generals Karl H. Frank and Kurt Daluege were consumed with the immediate need to find those involved in the attempt to kill Reinhard Heydrich.
This original Nazi broadside poster is an enormously significant piece of German, Czech, National Socialist, European, Reinhard Heydrich and world history and is from the collection of Ray Cowdery, author of the heavily illustrated book Reinhard Heydrich: Assassination!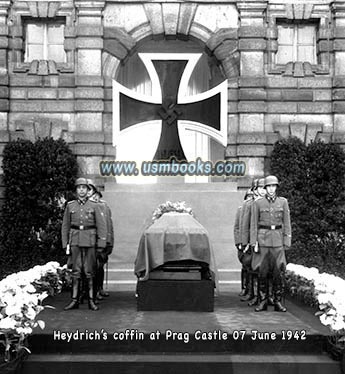 British SOE trained Operation Anthropoid Czechoslovakian sabotage agents Josef Gabcik and Jan Kubis, Operation Silver A agent Josef Valcik and Operation Out Distance agent Adolf Opalka had carried out the attempt on Heydrich's life.

On the sunny morning of 27 May 1942, Gabcik, Kubis, Vlacik and Opalka waited on a street corner in the Praha suburb of Kobilisi for the approach of Heydrich's car. At 10:30 Valcik signaled the others with a mirror that Heydrich's SS Mercedes-Benz car was approaching. At the critical moment Gabcik's Sten gun misfired so Kubis tossed a large grenade at the open car, and it was responsible for ending Heydrich's life.
The location and details of the attack, the men involved (their physical appearance, clothing, bicycle, weapons, briefcase, the direction in which they fled, etc.) are all spelled out on this extremely rare original German/Czech language red broadside poster published the day after the Attentat on 28 May 1942.

At that time the perpetrators were unknown and on the run, and this red 18-3/4 x 24-3/4 inch (47.5 x 63 cm) reward poster offers a reward of ten million Crowns (the equivalent of $350,000!) to anybody who could supply useful details that would lead the SS and Nazi police to the capture of the assailants. Who knows or saw the perpetrators in or near the Klein-Holeschowitzstrasse? Who owns the ladies bicycle, coat, hat and briefcase that were left at the scene of the crime?
Anybody who could supply important information was assured that the information would remain confidential. Notification could be made in person at any police station in the Protectorate, by letter or by telephone. The poster also states that people who knew the assailants and/or details about the attack and who did not come forward, would be hung along with their families.
When this Nazi reward poster was printed, Heydrich was still alive at the Bulovka Hospital in Prague (and according to the Völkischer Beobachter article shown for reference above, hurt but not in danger of dying). SS-Obergruppenführer und General der Polizei Heydrich died there on 4 June 1942 as a result of sepsis. The man whose name is at the bottom of this poster, Karl Hermann Frank, was the head of police of Bohemia and Moravia and Heydrich's Deputy. In close cooperation with Kurt Daluege, Heydrich's successor, Police General Karl Frank and the Gestapo, response was swift and heavy-handed.

A curfew and a state-of-siege was imposed immediately while a house-to-house sweep of the surrounded city of Prague was undertaken. Reprisals like none ever seen before began. The towns of Lidice and Lezaky were removed from the face of the earth, and hundreds of Czechs were either shot or sent to concentration camps and shot there. Nazi wanted posters were printed and distributed (but very few have survived).
All four of Heydrich's assassins went underground, eventually secreting themselves in the burial niches in the crypt beneath the Orthodox Cathedral of Saints Cyril and Methodius on Resslova Street in Prague. They were eventually identified, and following a savage battle at and inside the church, all died there. Most historians have never seen an example of this, the earliest of Heydrich assassination reward posters. It is printed on light, weather-resistant red paper and folded three times.

THE POSTER WE OFFER HERE IS AN EXTREMELY RARE AND AUTHENTIC EXAMPLE THAT WAS ACTUALLY POSTED IN THE GERMAN PROTECTORATE OF BOHEMIA AND MORAVIA ON 28 MAY 1942.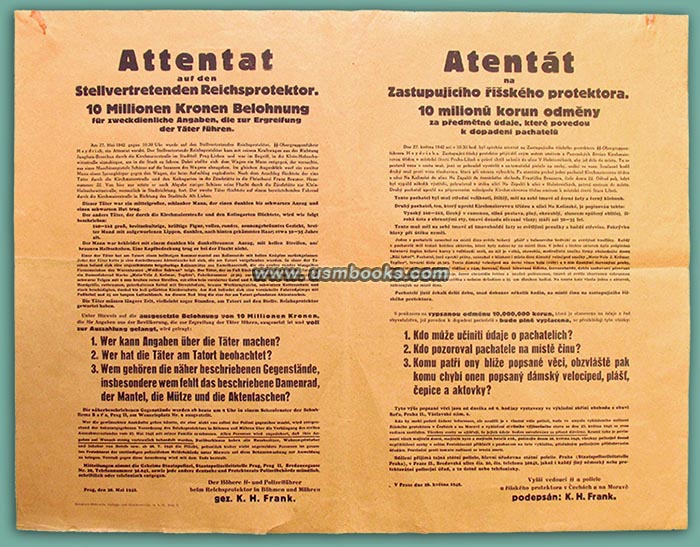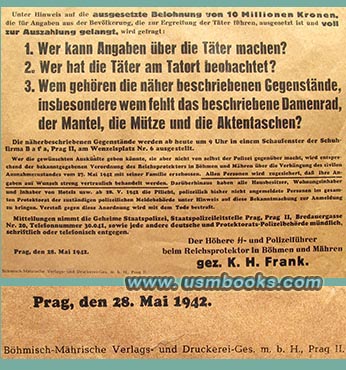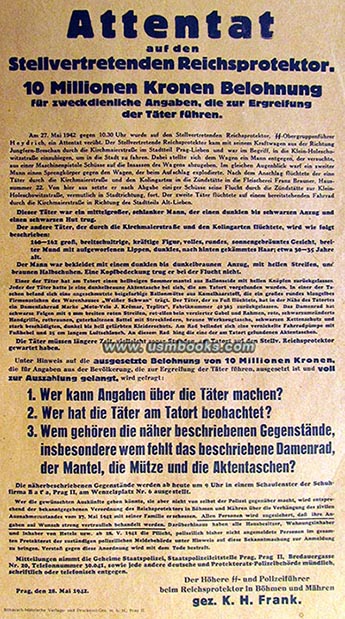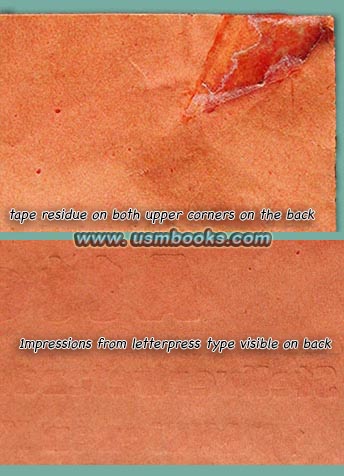 The photo left shows tape residue in the upper right corner of the backside of this poster (both upper corners have tape residue). IT IS NOT residue from "scotch" tape, but from what used to be called "library tape" and as the type of tape used at the time to repair torn pages in books. This poster is creased where it was folded two times by the person who originally took it down back in 1942.
The poster was once the color shown in the photo above, but the front side has faded to tan (see photo at the top of this USMBOOKS web page) from being on display in a window.
This very rare original 1942 Heydrich Attentat reward poster is **SOLD**

• IF you prefer faster and safer Priority Mail shipping with USPS Tracking add $6.95.
• IF you wish to purchase highly recommended, but optional insurance, add $12.95.
• We will be happy to ship abroad at additional cost. Please inquire.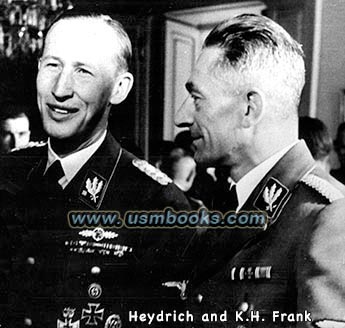 100% ORIGINAL MAY 1942 NAZI REWARD POSTER
REINHARD HEYDRICH ASSASSINATION!
AN ABSOLUTELY AUTHENTIC NAZI REWARD POSTER OFFERING 10 MILLION CROWNS REWARD TO ANYBODY WHO COULD SUPPLY INFORMATION ABOUT THE PERPETRATORS OF THE ATTACK ON ACTING REICHSPROTEKTOR, GERMAN SS AND POLICE GENERAL REINHARD TRISTAN EUGEN HEYDRICH. THE REWARD
WAS OFFERED OVER THE NAME OF HEYDRICH'S
DEPUTY, KARL H. FRANK