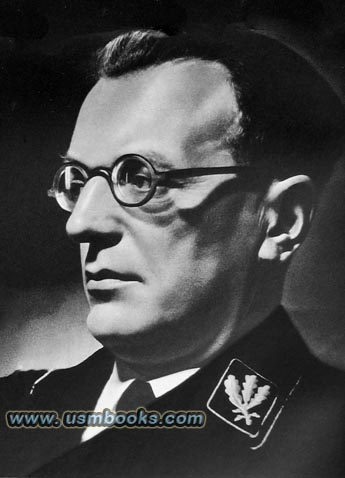 A successful lawyer in Vienna, World War I veteran Arthur Seyss-Inquart was heavily involved with the reunification of Austria with Nazi Germany in 1938 and was appointed Reichsstatthalter by Adolf Hitler. He received an honorary SS rank of Gruppenführer, became a minister without portfolio in Hitler's cabinet and after the Nazi invasion of Poland in 1939, Seyss-Inquart became a deputy to the Governor General Hans Frank.


This lot consists of two file copies of letters from the office archive of illusive Nazi Regierungspräsident Wien Dr. Hans Dellbrügge (himself an SS Brigadeführer) and is composed of two related letters on 6 pages. The first is from the office of the Reichsstatthalter in Wien (Baldur von Schirach) and is dated 24 October 1941. That letter fully informs Reichsführer-SS Heinrich Himmler in Berlin of alleged misuse of a Nazi Mercedes-Benz assigned to Reichsminister Seyss-Inquart.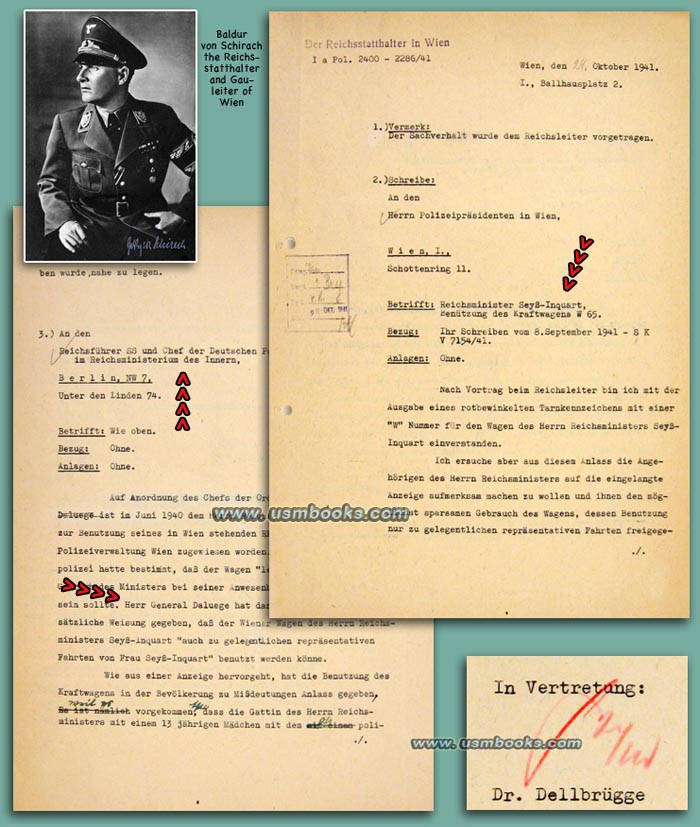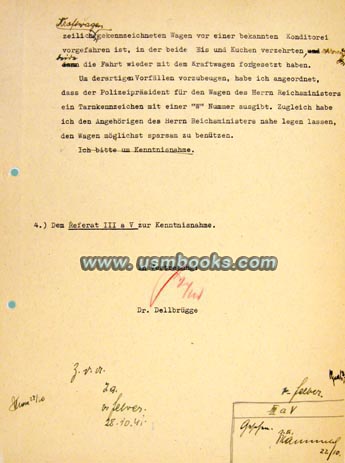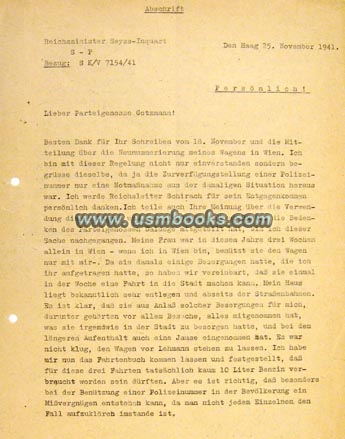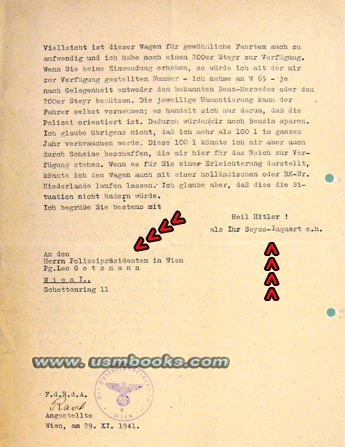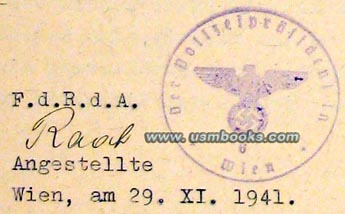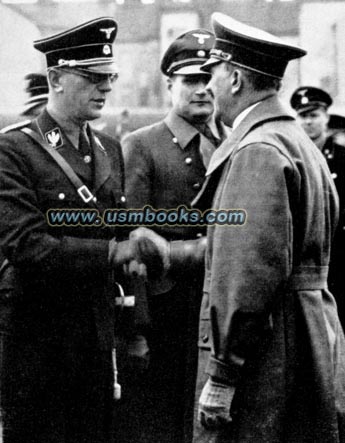 Seyss-Inquart wearing an Allgemeine SS-Gruppenführer
(or General) uniform, SS visor cap and SS sword
greeting Adolf Hitler in Vienna in March 1938.
Note Rudolf Hess in the background.
Known as a very capable administrator and an ardent Nazi, Seyss-Inquart was appointed Reichskommissar for the Occupied Netherlands following the capitulation of the Holland and Belgium in May 1940. The administration of the country was controlled by Seyss-Inquart and he answered directly to Hitler. He was arrested in Hamburg on 7 May 1945, tried at Nuremberg, found guilty and sentenced to death. Seyss-Inquart was the last person to be hung on the night of 16 October 1946, after Julius Streicher, Hans Frank, Wilhelm Frick, Alfred Jodl, Ernst Kaltenbrunner, Wilhelm Keitel, Joachim von Ribbentrop, Alfred Rosenberg, and Fritz Sauckel.
When this exchange of correspondence offered here took place in 1941, Arthur Seyss-Inquart was the Reichskommissar of occupied Holland, the highest ranking Nazi Official in the Netherlands. However, the letters between the Reichsstatthalter of Vienna, the Head of Police of Vienna and the Head of German Police all concern the government vehicle, a Mercedes-Benz that was at Seyss-Inquart's disposal while in Vienna.

The situation regarding the government vehicle is explained in the letter to Reichsführer-SS und Chef der Deutschen Polizei im Reichsministerium des Innern (Heinrich Himmler, Head of the Nazi Police). The letter from the office of the Reichsstatthalter in Wien (the highest Nazi government authority in Vienna, the second largest city in Nazi Germany) is dated 24 October 1941 and explains that in June 1940 SS-Obergruppenführer and Chef der Ordnungspolizei Kurt Daluege had offered Reichsminister Seyss-Inquart a car with police license plates for his personal use while he was in Vienna (often). In July 1940, Daluege had added the stipulation that Mrs. Seyss-Inquart, who resided permanently in Vienna, could also use this car if she was representing her husband.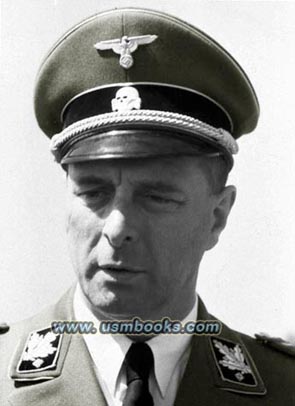 SS-Gruppenführer Hanns Rauter, General-
kommissar für das Sicherheitswesen (State
Secretary for of security forces) and Höherer SS-
und Polizeiführer (Highest SS and Police Leader)
for the German occupied Netherlands.
According to this correspondence, his office
informed Seyss-Inquart of the complaints
regarding improper use of the "company car".
As a result of complaints from civilians who had observed Mrs. Seyss-Inquart and a 13 year old girl eating ice cream and cake at the very upscale downtown Vienna Konditorei Lehmann (while the government car with official police license plates was parked waiting for them), it was decided that the police in Vienna should issue a license plate with a W prefix (for Wien - Vienna) to Seyss-Inquart's car (instead of the police plates with a P in front of the number). The letter also mentions that it had been requested that Seyss-Inquart and his family use the government car as little as possible.
This rare Nazi correspondence lot also includes the very interesting Dr. Hans Dellbrügge file copy of a letter Reichskommissar Arthur Seyss-Inquart wrote to Pg. Leo Gotzmann, the Polizeipräsident or Head of Police in Vienna at Schottenring 11 on 25 November 1941. Seyss-Inquart thanks Parteigenosse (Party Member) Gotzmann for his letter of 18 November regarding the new license plates with the W prefix for his Mercedes-Benz car in Vienna. He also mentions his gratitude to Reichsleiter Baldur von Schirach for his cooperation in the matter.
In his letter (shown above and right) Seyss-Inquart (himself a SS-Gruppenführer) mentions the matter of the complaints received from the office of SS-Gruppenführer Hanns Rauter (shown below, Rauter was the highest SS and Police Leader in German Occupied Holland, Seyss-Inquart was his direct superior) regarding the personal use of the car by his wife Gertrud, and he clearly wants to explain the situation.
Seyss-Inquart wrote he had looked into the matter and found out that his wife had used the car while doing errands for him while he was away from Vienna for three weeks. He states that the three trips by his wife from his house outside the city into Vienna had taken up less than 10 liters of gasoline, but that a car with police license plates parked outside a restaurant may have given a bad impression to the civilian population! To avoid any misunderstanding by the civilian population he could possibly use his personal Steyr 200 car in the future to which the W65 license plate could be attached if necessary. In that case, police should be notified to avoid any problems for him or his family!
Reichskommissar Seyss-Inquart further writes that he believes he didn't use more than 100 liters of gas with his government car per year. If gas use was the issue, he could easily circumvent that by using Scheine or gas purchase certificates issued to him in Holland by the Reich, but unused. Another option to avoid problems / criticism would be to use Dutch license plates on his government Mercedes-Benz in Vienna. The letter is marked "Personal!" at the top and Seyss-Inquart signed off with "Heil Hitler!".

Rare, absolutely original Third Reich Reichsstatthalter file copy correspondence of a rather controversial nature between some of the highest ranking Nazi officials of Greater Germany! Obtained in Vienna, where they were destined to be shredded by city officials bent on destroying any connection of Austria with Nazi Germany. Absolutely original condition with punch holes - see photos above.


The images and the entire text used on this and all other USMBOOKS web pages are the copyrighted property of USM Inc. Those images and the text may be used by others ONLY AFTER completion of a formal international licensing agreement and payment of a licensing fee! It is therefore, illegal for anyone to take any of the material found on USMBOOKS.com and use it for their own purposes without our written permission, irrespective of any excuse they may feel they have for doing so.
This very rare Third Reich correspondence regarding the license plates of
the government vehicle of Arthur Seyss-Inquart is offered for sale
for $295.00 delivered by 1st Class Mail in the continental USA.

• IF you prefer faster and safer Priority Mail shipping with USPS Tracking add $6.95.
• IF you wish to purchase highly recommended, but optional insurance, add $4.95.
• We will be happy to ship abroad at additional cost. Please inquire.
RARE 1941 NAZI CORRESPONDENCE FILE COPIES REGARDING
THE LICENSE PLATES OF REICHSKOMMISSAR SEYSS-INQUART'S NAZI GOVERMENT ISSUED MERCEDES-BENZ BETWEEN THE REICHSSTATTHALTER WIEN, HEAD OF POLICE IN VIENNA, HEAD OF GERMAN POLICE IN BERLIN, REICHSFÜHRER-SS HIMMLER