The images and the entire text used on this and all other USMBOOKS web pages are the copyrighted property of USM Inc. Those images and the text may be used by others ONLY AFTER completion of a formal international licensing agreement and payment of a licensing fee! It is therefore, illegal for anyone to take any of the material found on USMBOOKS.com and use it for their own purposes without our written permission, irrespective of any excuse they may feel they have for doing so.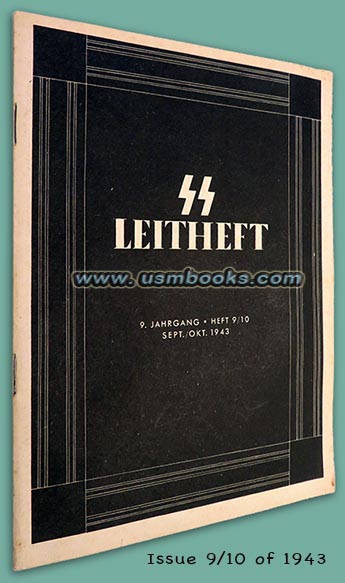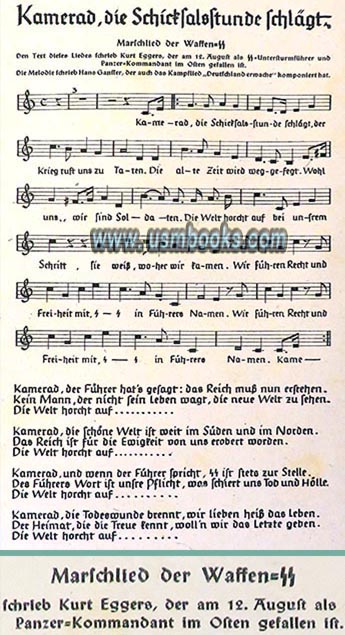 The magazine SS Leitheft or SS Leadership Magazine was published by the Reichsführer-SS at the SS-Hauptamt Berlin-Wilmersdorf for circulation among the SS and SS sponsored and affiliated organizations in Greater Germany and German occupied countries. Its purpose was to teach and to reinforce a belief in the superior nature of Germanic people and their values throughout history. Its message was that in the end, it was responsibility of the SS to ensure the survival of Germanic people.

This is a nice clean German language example of the SS Leitheft number 9 / 10, the September and October 1943 issues combined due to the war, according to information inside the front cover. The 6-3/8 x 8-3/4 inch magazine contains 32 pages of text and 16 pages of black & white photographs on higher quality enamel paper (total 48 pages).

This example comes with a special insert of the Marschlied der Waffen-SS with lyrics (shown left) by the late and famous SS-Untersturmführer und Panzer-Kommandant Kurt Eggers.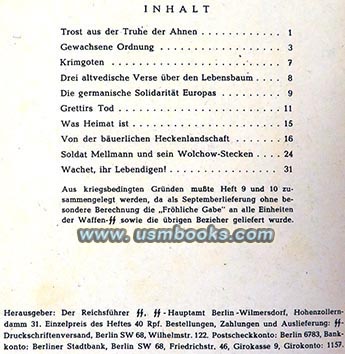 Articles in this nearly 75 year old issue of SS Leitheft are about ancestry, Germanic solidarity of Europe, a Nazi soldier and his Wolchow-Stock or Wolchow walking stick, Farm Scenery in the East, as well as poems and song lyrics.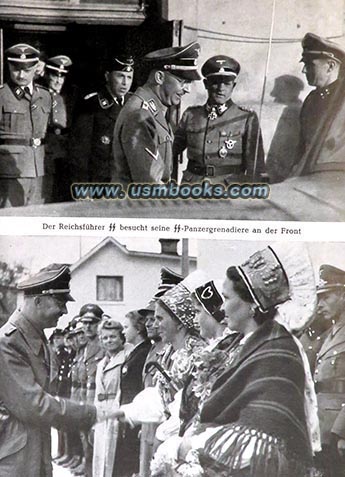 Pictures include Auguste Rodin's sculpture "The Kiss", a Rembrandt etching, rolling hill scenery in eastern Europe, farm furniture and modern German interior design as well as a portrait photos of Reichsführer-SS and Interior Minister of Nazi Germany, Heinrich Himmler, and Himmler visiting with ethnic Germans and with SS General Josef "Sepp" Dietrich visiting 'his' SS-Panzergrenadiere at the front.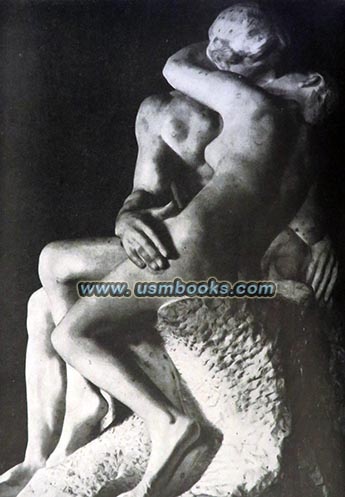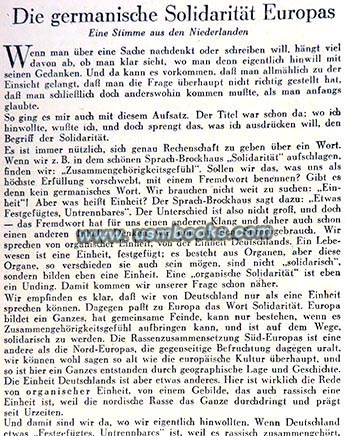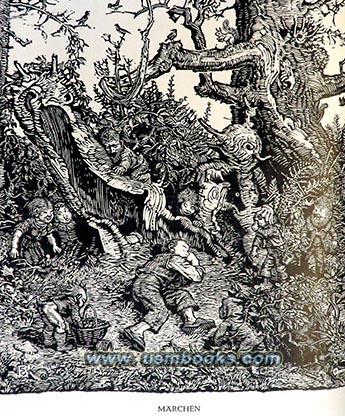 This original Third Reich issue of SS Leitheft is complete with the rare Marschlied der Waffen-SS insert and in very nice used condition but with a technical drawing on the back cover. No odor.
This 1943 double-issue of SS Leitheft with the Marschlied der Waffen-SS
insert is for sale for $195.00 delivered by Media Mail in the continental USA.

USM book #872a
• IF you prefer faster and safer Priority Mail shipping with USPS Tracking add $6.95.
• IF you wish to purchase highly recommended, but optional insurance, add $3.50.
• We will be happy to ship abroad at additional cost. Please inquire.
SEPTEMBER / OCTOBER 1943 SS LEITHEFT - 100% ORIGINAL
ISSUE 9 / 10 OF 1943
RARE ILLUSTRATED SS LEADERSHIP PUBLICATION SS LEITHEFT