The images and the entire text used on this and all other USMBOOKS web pages are the copyrighted property of USM Inc. Those images and the text may be used by others ONLY AFTER completion of a formal international licensing agreement and payment of a licensing fee! It is therefore, illegal for anyone to take any of the material found on USMBOOKS.com and use it for their own purposes without our written permission, irrespective of any excuse they may feel they have for doing so.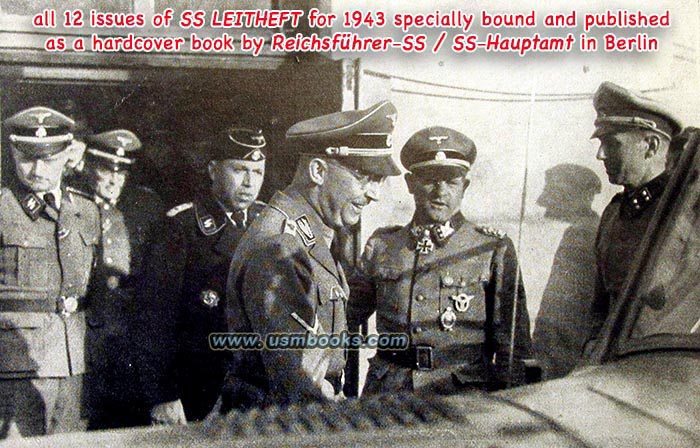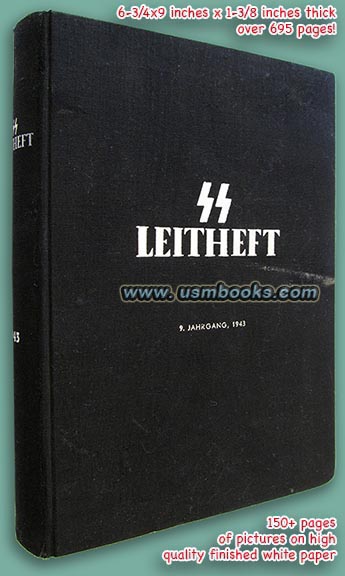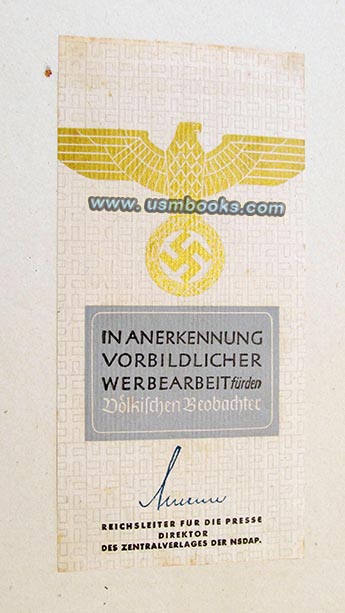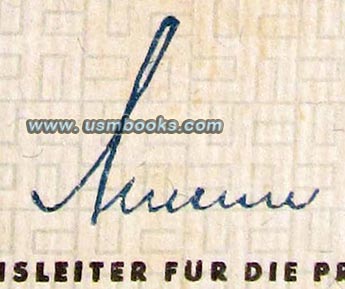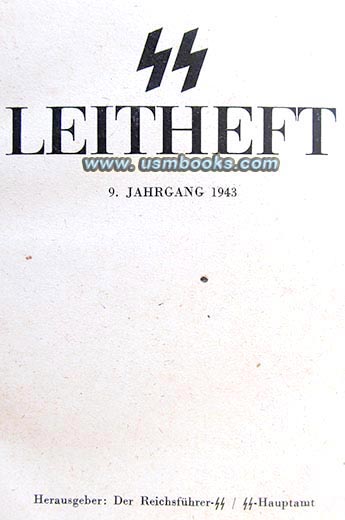 This is a very rare black linen bound Third Reich hardcover book with silver blocking, that contains all 1943 issues of the SS Leitheft, published by the Reichsführer-SS / SS-Hauptamt in Berlin for members of the SS.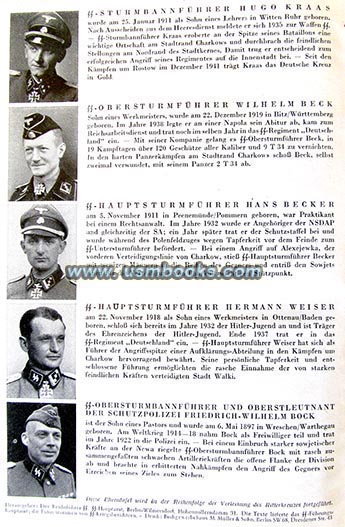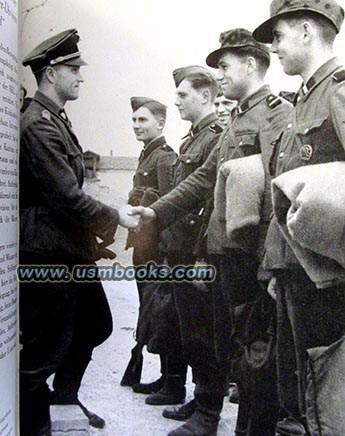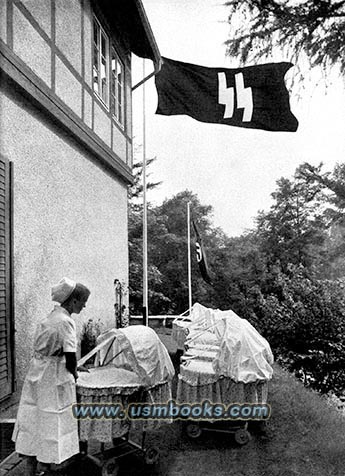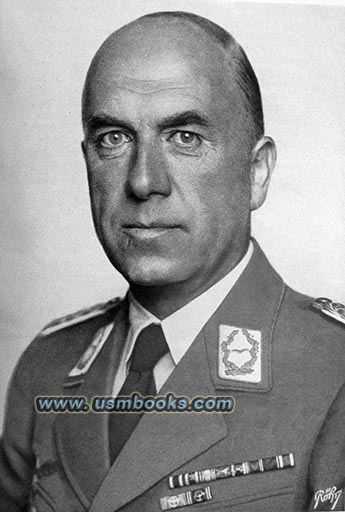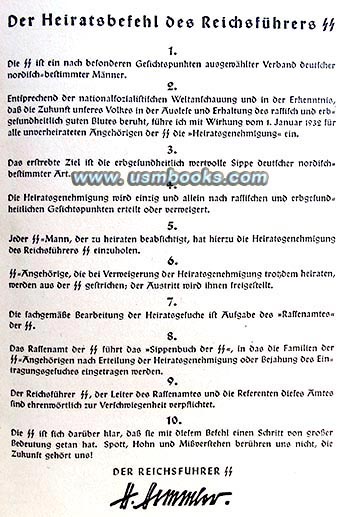 Unlike single softcover issues of SS Leitheft, this 6-¾ x 9 inch hardcover book is fully indexed by subject and by author of all articles.

The index shows this mid-war book contains articles on das Heiratsbefehl des Reichsführers SS (Himmler's official requirements for marriage of SS men, shown left), the Death of SS-Obergruppenführer und General der Waffen-SS Theodor Eicke, Hitler during World War I, the Biological Side of Total War, the German Influence in the History of Holland, Prague and Bohemia and Moravia, the Honor of the Germanic Woman, the Philosophy of Soldier Life, the SS Community and SS View of the New World, the 50th Anniversary of the Diesel Engine, Ritterkreuzträger der Waffen-SS (a list with photos of the latest recipients of the Knights Cross of the Iron Cross, including SS-Sturmbannführer Max Wünsche), Volunteers in the Waffen-SS from Denmark, Hungary and Finland, War without Mercy, etc., etc.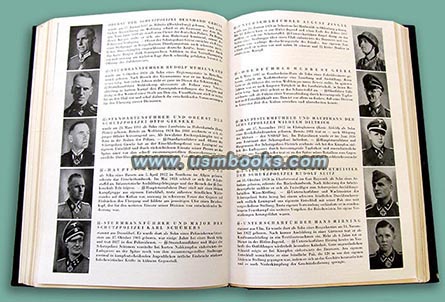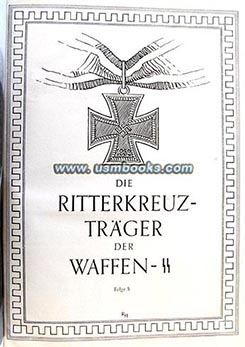 There are excerpts from Mein Kampf and excerpts from Feldpost letters sent home by SS men on active duty, patriotic quotes by Hitler, Himmler and Goethe, as well as a letter written by the wife of a fallen SS soldier with the title, "My Husband is Not Dead, He Lives on in my Children".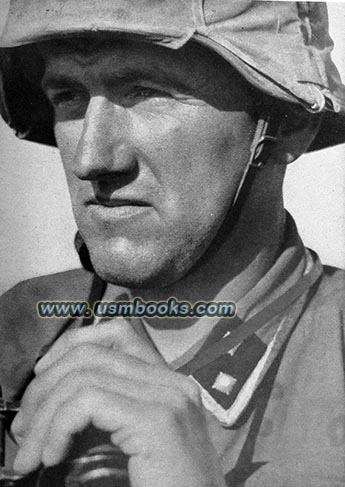 This rare SS book contains several photos of Reichsführer-SS Heinrich Himmler, as well as Fritz Todt, Aryan babies and children, the SS-Junkerschule in Bad Tölz, a Willrich illustration of a Nordic Woman, Tannenberg, babies in a Lebensborn home, war art by SS-Kriegsberichter on the East Front, runic symbols, nude sculptures by Georg Kolbe and Fritz von Graevenitz, the Reichsautobahn, Karlstein Castle near Prague, Hitler Youth volunteers, the grave of SS-Obergruppenführer und General der Waffen-SS Theodor Eicke, frontline photos from Wolchow, many recipients of the Knights Cross, etc., etc.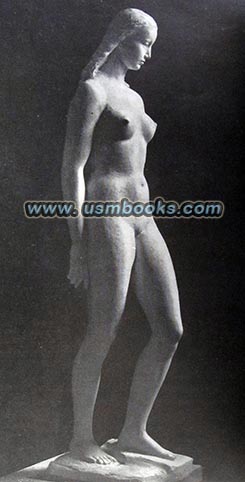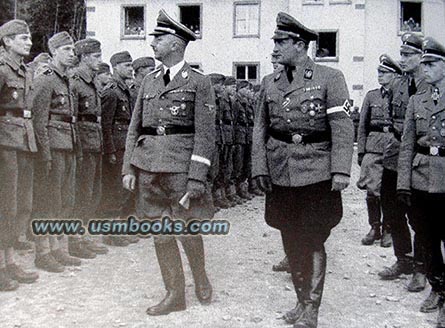 SS Leitheft issues 1 through 9/10 each have 32 numbered pages and several unnumbered pages on whiter paper. Issue 9/10 is the only double issue and issues 11 and 12 each have 46 numbered pages and several unnumbered pages on whiter paper.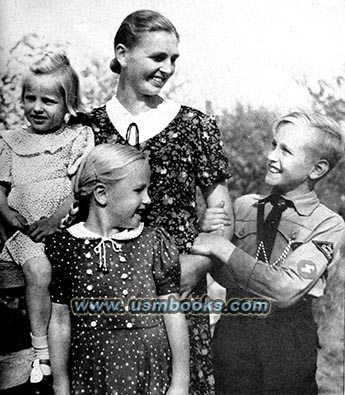 This rare book comes with a special bookplate inside the front cover showing it was given in acknowledgement of exemplary work for the Nazi Party's Völkischer Beobachter newspaper by Max Amann, the Reichsleiter für die Presse and Director of the Zentralverlag der NSDAP, the Central Publishing House of the NSDAP Franz Eher (since 1922). The rare 3 x 6-¼ inch bookplate (shown at the top of this USMBOOKS web page) has a swastika background motif, a Nazi eagle and swastika printed in gold ink, and the hand-signed signature of Reichsleiter Amann, who gave the book as a gift. Many will remember that SS-Gruppenführer Amann served with Hitler as his Sergeant during World War I and one of Hitler's oldest friends and was awarded the Blood Order.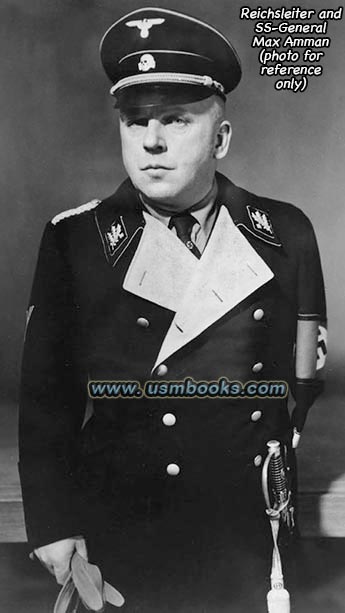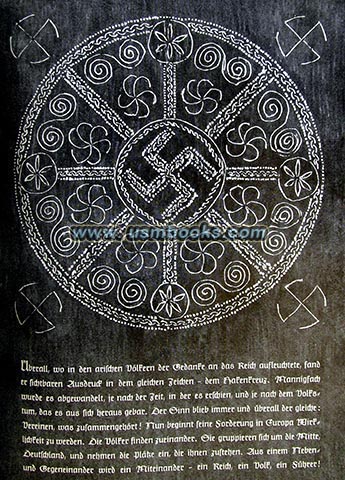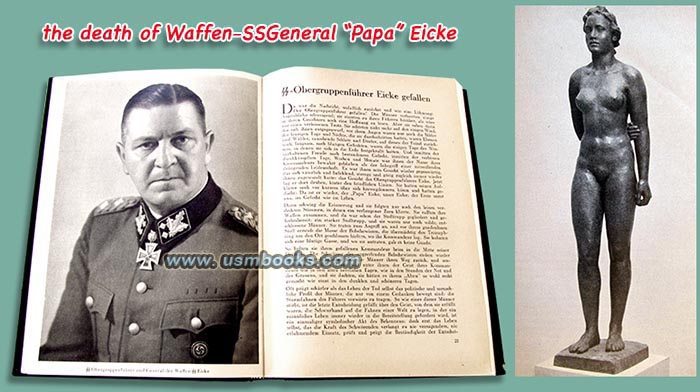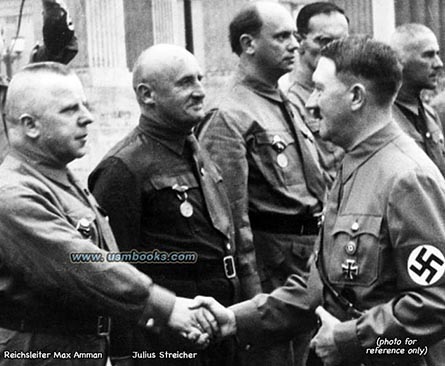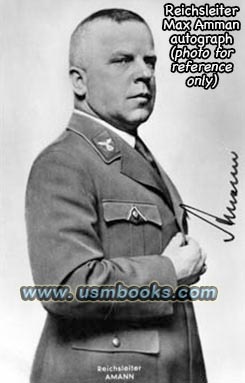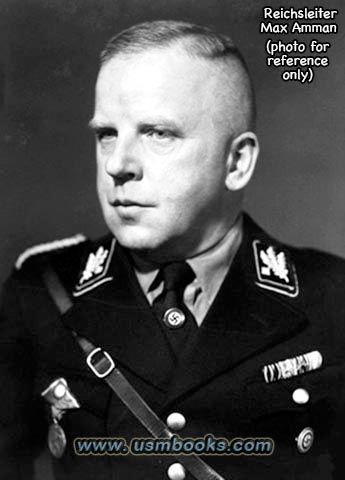 This is a very rare opportunity for someone to acquire all of the SS Leitheft issues for 1943, publisher bound in hard black linen covers with SS runes in silver blocking on the front cover. Will you ever see a rarer example? Excellent, lightly used condition.
This rare hardbound Nazi book with all 1943 issues of SS Leitheft is **SOLD**

USM book #872
• IF you prefer faster and safer Priority Mail shipping with USPS Tracking add $7.25.
• IF you wish to purchase highly recommended, but optional insurance, add $15.00.
• We will be happy to ship abroad at additional cost. Please inquire.
ALL 1943 ISSUES OF SS LEITHEFT HARD BOUND AS A BOOK - AUTOGRAPHED!
ULTRA RARE HARDBOUND 1943 EXAMPLES OF
SS LEITHEFT
WITH A FANCY SWASTIKA BOOKPLATE SIGNED BY REICHSLEITER AND SS GENERAL MAX AMANN