The images and the entire text used on this and all other USMBOOKS web pages are the copyrighted property of USM Inc. Those images and the text may be used by others ONLY AFTER completion of a formal international licensing agreement and payment of a licensing fee! It is therefore, illegal for anyone to take any of the material found on USMBOOKS.com and use it for their own purposes without our written permission, irrespective of any excuse they may feel they have for doing so.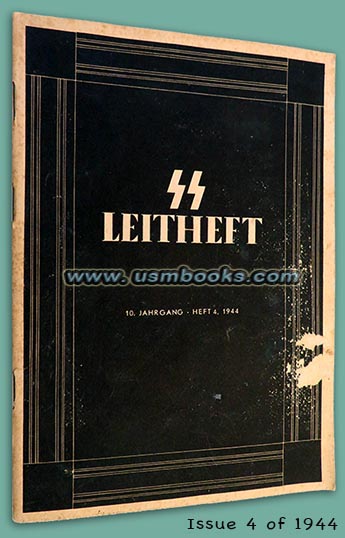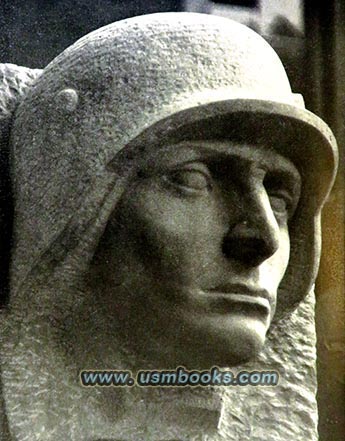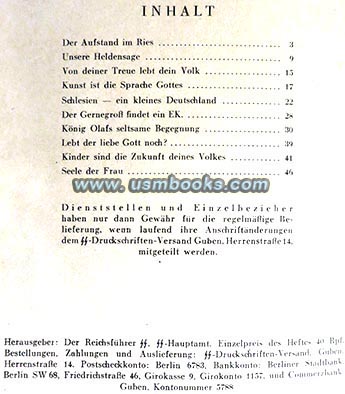 The magazine SS Leitheft or SS Leadership Magazine was published by the Reichsführer-SS at the SS-Hauptamt Berlin-Wilmersdorf for circulation among the SS and SS sponsored and affiliated organizations in Greater Germany and German occupied countries. Its purpose was to teach and to reinforce a belief in the superior nature of Germanic people and their values throughout history. Its message was that in the end, it was responsibility of the SS to ensure the survival of Germanic people.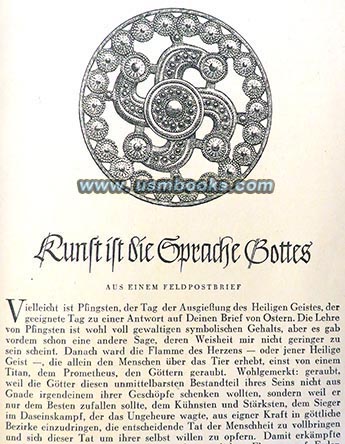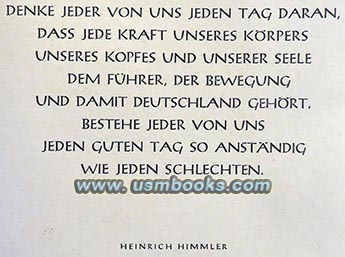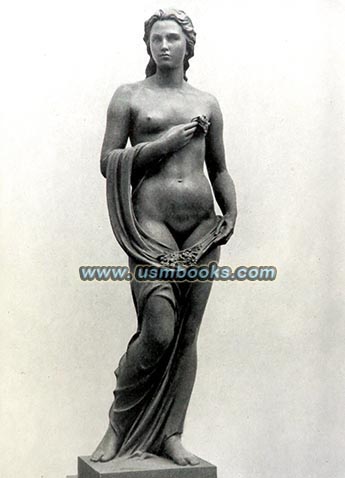 Pictures include an etching of Götz von Berlingen, wells and water fountains on village squares in Braunschweig and Berchtesgaden, a heroic soldier sculpture by Professor Scheibe, runic art design, scenery in Schlesien and the beautiful city hall in Breslau, a nude sculpture by Oswald Hofman (shown above), etc.

Complete and in very nice condition. There are some penciled notes inside the back cover and the front cover has some damage on the right side, but the interior pages are in very nice used condition. No odor.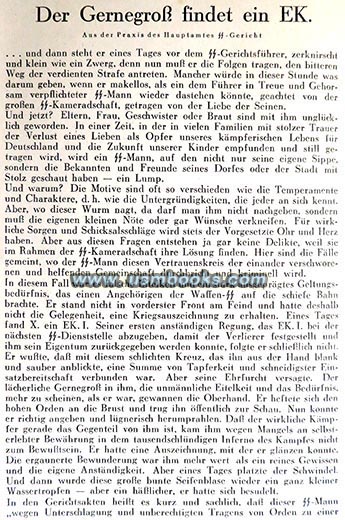 This is a nice clean German language example of the SS Leitheft number 4, the April 1944 issue. The 6-3/8 x 8-7/8 inch magazine contains 46 pages of text and 16 pages of black & white photographs on higher quality enamel paper (total 62 pages).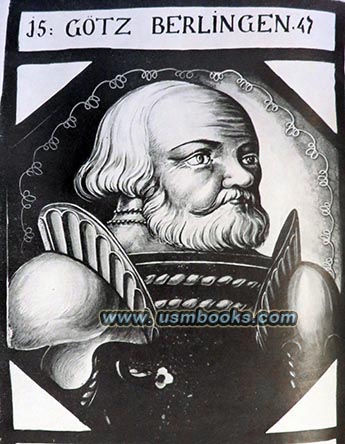 Articles in this original Third Reich issue of SS Leitheft are about our Heroic Saga, Silesia - a Small Germany, Children are the Future of a Nation, the Soul of Women, a patriotic quote by Heinrich Himmler. as well as an interesting story (part of it shown below) about a Waffen-SS man who did not serve at the front but found an Iron Cross and became a show-off with it instead of turning it in. The truth came out about this example of 'stolen valor' and he was convicted - the unauthorized wearing of the EK. I landed him in prison.
This original April 1944 SS Leitheft is offered for sale for
$155.00 delivered by Media Mail in the continental USA.


USM book #916
• IF you prefer faster and safer Priority Mail shipping with USPS Tracking add $6.95.
• IF you wish to purchase highly recommended, but optional insurance, add $3.50.
• We will be happy to ship abroad at additional cost. Please inquire.
APRIL 1944 SS LEITHEFT - 100% ORIGINAL
ISSUE 4 OF 1944
RARE ILLUSTRATED SS LEADERSHIP PUBLICATION SS LEITHEFT