The images and the entire text used on this and all other USMBOOKS web pages are the copyrighted property of USM Inc. Those images and the text may be used by others ONLY AFTER completion of a formal international licensing agreement and payment of a licensing fee! It is therefore, illegal for anyone to take any of the material found on USMBOOKS.com and use it for their own purposes without our written permission, irrespective of any excuse they may feel they have for doing so.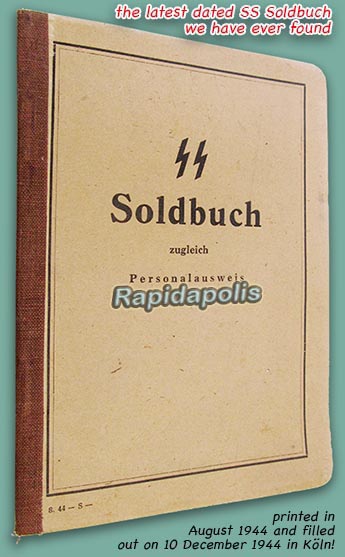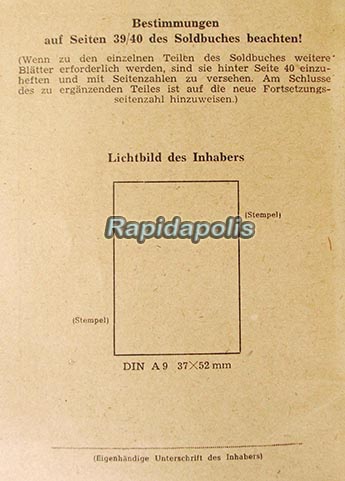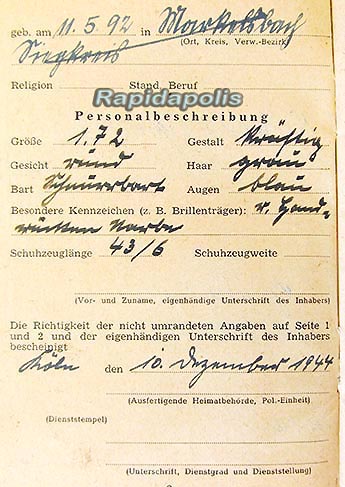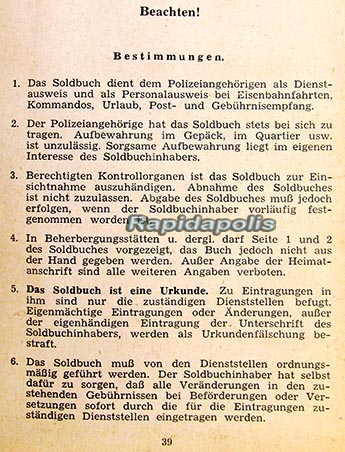 This is a 100% authentic SS Soldbuch printed by the Kommando-Druckerei in Berlin NW7 in August 1944. Soldbücher from the latter half of 1944 are very unusual, and this one is more unusual in that it was actually filled out in the name of Hauptwachtmeister der Gendarmerie Heinrich Hollinder of Cologne. On page 2 above the date 10 December 1944 it mentions he was born 11 May 1892, was 1.72 meter tall, had a round face, a powerful build, gray hair, blue eyes and wore 43/6 shoes.
THIS SS SOLDBUCH WAS ISSUED LESS THAN ONE WEEK PRIOR TO THE GERMAN ASSAULT ON AMERICAN POSITIONS ALONG THE BELGIAN-GERMAN FRONTIER, KNOWN TO ENGLISH SPEAKERS AS 'THE BATTLE OF THE BULGE'.
While the impending German attack was a closely guarded secret, it is clear from this Soldbuch that the Waffen-SS was enlisting people over the normal service age in anticipation of the need for additional personnel when the battle began. Hauptwachtmeister Hollinder was a logical candidate for enlistment in the Waffen-SS at such a late date because of his police experience. Hollinder surrendered his Soldbuch to an American Counter Intelligence GI during the Battle of the Bulge and we bought it from an antique dealer who got it with the estate of the GI.
No doubt, because of the need for secrecy about the impending assault on American positions on 16 December 1944, Hauptwachtmeister Hollinder was given a SS Soldbuch zugleich Personalausweis (SS Paybook and Personal Identity Document) without the usual steps of issuing a different rank, a Wehr number, a security photo or even a Erkennungsmarke (dog tag). That is no doubt because he was already a policeman who had a police identity document and a police dog tag, so there was no need for considerations that would have been normal under different circumstances.
Most people have never seen a late-war (after July 1944) SS Soldbuch and they are different from earlier versions. The covers are flat, light brown stiff paper, not the heavily textured water-repellent paper used on earlier Soldbücher. Of course, they contain much of the same information such as clothing, weapon and equipment issues, immunizations, hospitalizations, leaves, pay, etc. but in a somewhat different format. Pages 39 and 40 of the ID provide very detailed instructions about its use.

There are no other entries in this 4-1/2 x 5-7/8 inch, 40-page Soldbuch other than those shown in our photographs. Fine condition, very rare.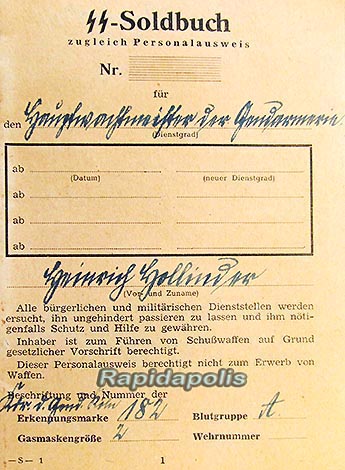 This rare, late-war SS Soldbuch is **SOLD**

• IF you prefer faster and safer Priority Mail shipping with USPS Tracking add $6.65.
• IF you wish to purchase highly recommended, but optional insurance, add $3.50.
• We will be happy to ship abroad at additional cost. Please inquire.
GENUINE NAZI SS SOLDBUCH ISSUED 10 DECEMBER 1944!
AN AUTHENTIC
AUGUST 1944 DATED
SS SOLDBUCH FILLED
OUT BY THE OWNER
ON 10 DECEMBER 1944!