This is a fine example of the very rare 5-1/2 x 8-3/4 inch, full-color heavily illustrated overview of traffic education called Verkehrserziehung im Nationalsozialistischen Kraftfahrkorps (Traffic Education for the National Socialist Motorized Transport Corps) as printed by Bildgut Verlag in Essen for the Leadership of the NSKK in 1938.

With less than two pages of written introduction, this soft cover book cuts right to the problem illustrating the street and sidewalk traffic laws of Nazi Germany with realistic full-color cartoon-like characters that do a far better job than photos ever could. The last three pages of the 40-page book show all the traffic signs current in Germany just prior to World War II.
The laws covered in this book deal with subjects far beyond the knowledge of typical collectors today, such as license plates with red numbers, special armbands for the disabled, obsolete signal lamps, horses in traffic, boarding the tram, documents required of drivers, the right of way for Nazi paramilitary units, etc.


This rare illustrated NSKK traffic law education book is offered
for sale for $75.00 delivered by 1st Class Mail in the continental USA.

.
USM book # 85b
• IF you prefer Priority Mail shipping with USPS Tracking add $6.45.
• IF you wish to purchase highly recommended, but optional insurance, add $3.25.
• We will be happy to ship abroad at additional cost. Please inquire.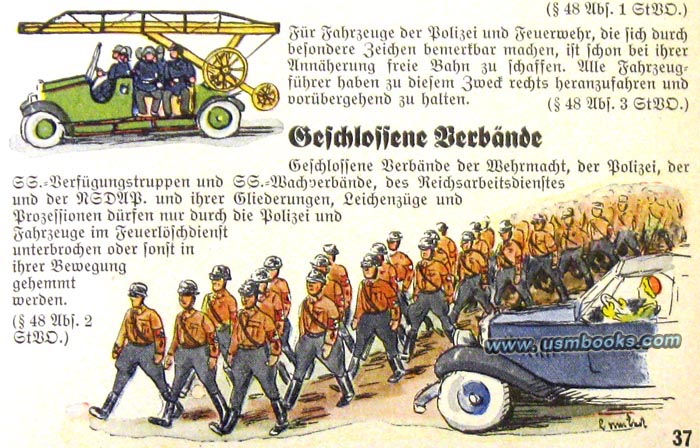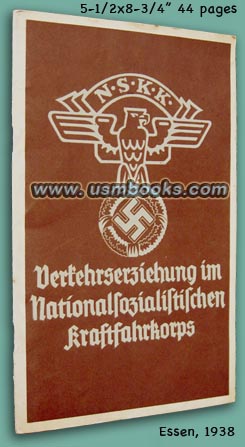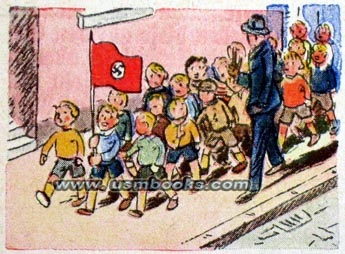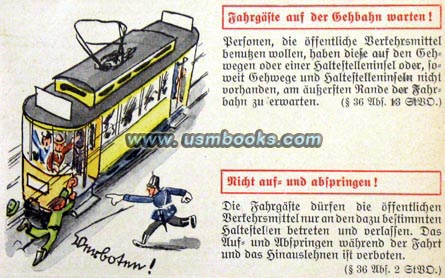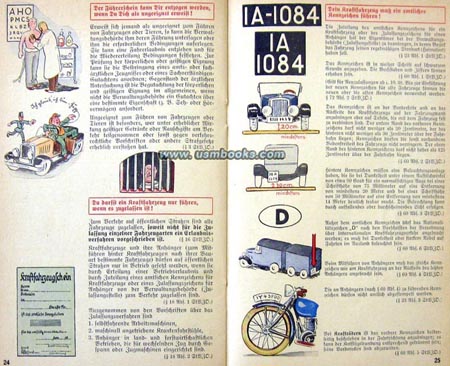 This is the best overview of Nazi traffic laws that we are aware of. Should be reprinted! Rare and in very good condition.
NAZI TRAFFIC LAWS - ILLUSTRATED - BY THE NSKK
A FINE EXAMPLE OF THE VERY RARE VERKEHRSERZIEHUNG IM NATIONALSOZIALISTISCHEN KRAFTFAHRKORPS (TRAFFIC EDUCATION FOR THE NATIONAL SOCIALIST MOTOR CORPS) 1938


The images and the entire text used on this and all other USMBOOKS web pages are the copyrighted property of USM Inc. Those images and the text may be used by others ONLY AFTER completion of a formal international licensing agreement and payment of a licensing fee! It is therefore, illegal for anyone to take any of the material found on USMBOOKS.com and use it for their own purposes without our written permission, irrespective of any excuse they may feel they have for doing so.