The images and the entire text used on this and all other USMBOOKS web pages are the copyrighted property of USM Inc. Those images and the text may be used by others ONLY AFTER completion of a formal international licensing agreement and payment of a licensing fee! It is therefore, illegal for anyone to take any of the material found on USMBOOKS.com and use it for their own purposes without our written permission, irrespective of any excuse they may feel they have for doing so.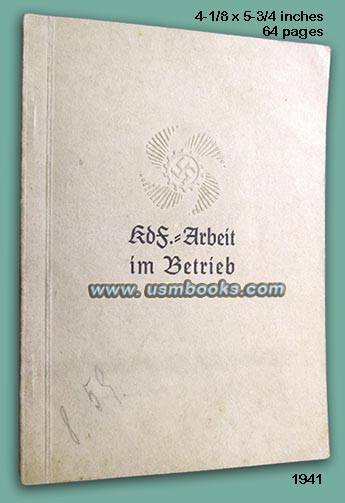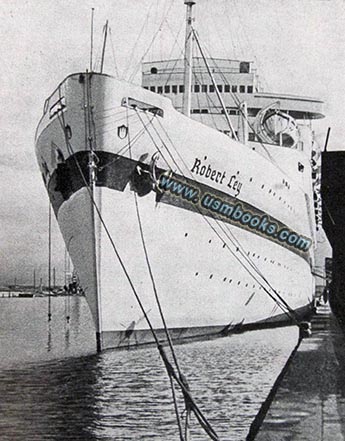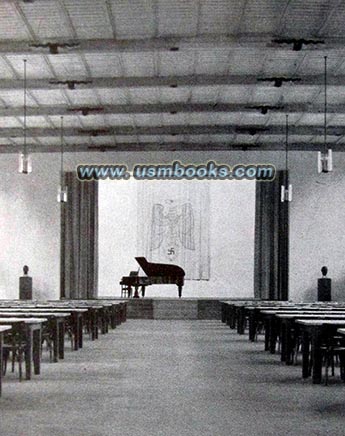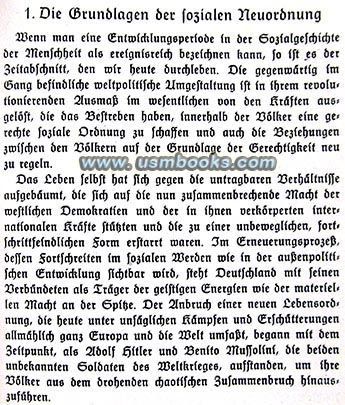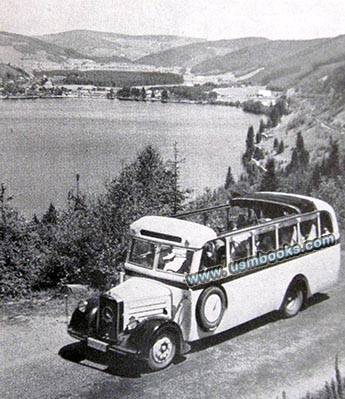 Photos show an art exhibition organized by the KdF for workers at a large industrial company, a splendid shot of the KdF cruise ship Robert Ley, modern, clean and light work facilities, a cook in a modern kitchen preparing meals for workers at a large industrial company, workplace sport and leisure facilities, a worker's library, and a KdF tour bus during a KdF organized holiday.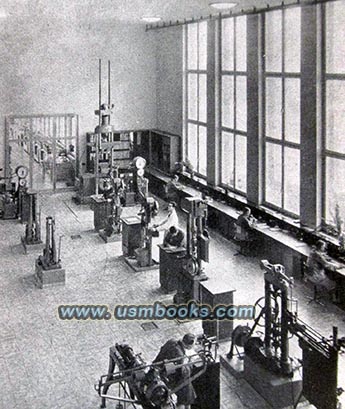 The author, Anatol von Hübbenet, Hauptabteilungsleiter der Reichsamtleitung Kraft durch Freude, published several other books about the KdF during the Third Reich, but this one is rather obscure. None can be found online, none are offered for sale on the internet!
This is the 1941 edition of KdF Arbeit im Betrieb (Strength Through Joy Management Effort) by Anatol von Hübbenet. It is a 4-1/8 x 5-3/4 inch, 64 page softcover book with an embossed KdF swastika logo on the cover.
This rare Kraft durch Freude (KdF or Strength Through Joy) publication was produced to explain the mission of the KdF organization and its management efforts on behalf of workers in factories and elsewhere. It has has chapters called the Fundamentals of the New Social Order, From Company Streamlining to Human Resource Management, Strength Through Joy, the Beauty of Labor, After-Work Leisure Activities, the Education of the Work Force, Exercise in the Workplace, and Creating Worker Vacations.
The text highlights all the improvements made by KdF management for the average German worker as a result of the work by the KdF since the National Socialist were voted into power in 1933. The KdF, part of the Deutsche Arbeitsfront (DAF or German Labor Front) was responsible for better working conditions, health insurance, unemployment benefits, medical care, education possibilities, after-work activities and sport facilities, child care, affordable vacations for men and women of the German workforce.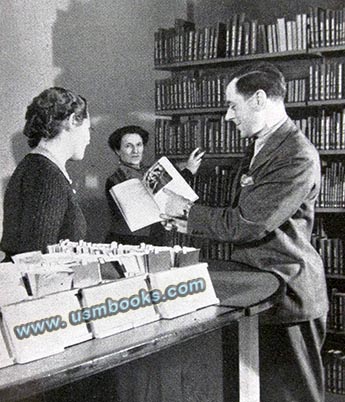 Our example of KdF Arbeit im Betrieb is complete and in very good used condition. It has the name of a pervious owner stamped on the title page. Cover is somewhat dirty.
This 1941 edition of KdF Arbeit im Betrieb is
**SOLD**


USM book #904
• IF you prefer faster and safer Priority Mail shipping with USPS Tracking add $6.75.
• IF you wish to purchase highly recommended, but optional insurance, add $3.25.
• We will be happy to ship abroad at additional cost. Please inquire.
RARE 1941 NAZI BOOK ABOUT THE MISSION OF THE KDF -
IMPROVED WORKER WELFARE
KdF ARBEIT IM BETRIEB -
A SELDOM ENCOUNTERED STRENGTH THROUGH JOY WORKER-WELFARE PUBLICATION