The images and the entire text used on this and all other USMBOOKS web pages are the copyrighted property of USM Inc. Those images and the text may be used by others ONLY AFTER completion of a formal international licensing agreement and payment of a licensing fee! It is therefore, illegal for anyone to take any of the material found on USMBOOKS.com and use it for their own purposes without our written permission, irrespective of any excuse they may feel they have for doing so.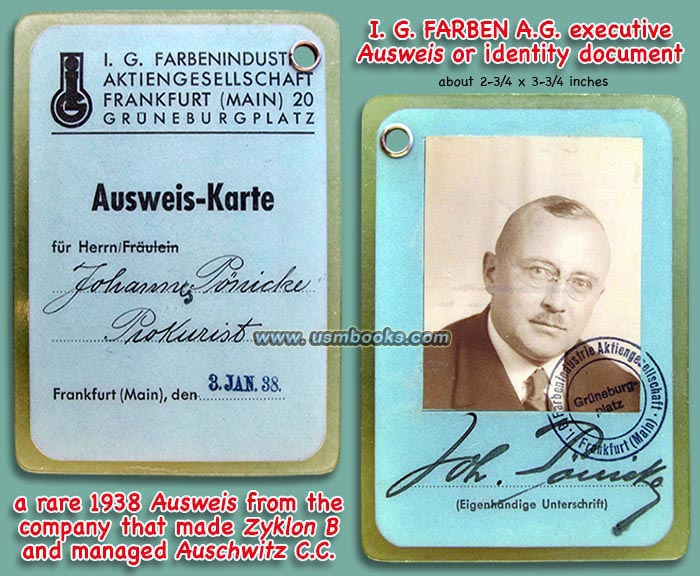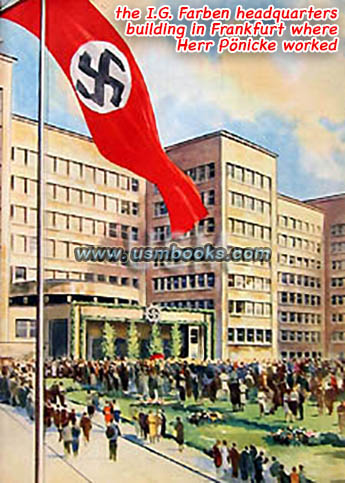 This is an extremely rare original two-sided Third Reich identity card issued on 3 January 1938 to Johannes Pönicke, a Prokurist (high-level manager) at the huge headquarters of I.G. Farbenindustrie Aktiengesellschaft on the Grüneburgplatz in Frankfurt am Main (shown left for reference), the largest chemical enterprise on earth at the time.

The 79 year old, 2-¾ x 3-¾ inch 1938 Ausweis-Karte has the original ID photo of Pönicke and is plastic laminated, a process used at that time by very few companies outside of international chemical giants such as I.G. Farben. The ID or Ausweis is in very good, original condition.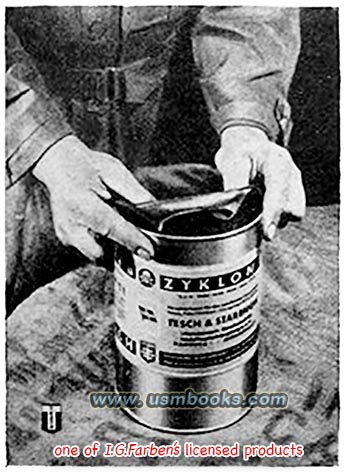 The names of subsidiaries and licensees of IG Farben read like a Who's Who of the largest chemical and pharmaceutical firms on earth - names like Bayer, BASF, Agfa, Hoechst, Degesch, Zyklon B, Leuna, Buna, etc. IG Farben AG innovated products such as Buna synthetic rubber and Leuna synthetic gasoline from coal, and were at the same time very important contributors to Adolf Hitler's Nazi Party.

In 1940 the IG Farben board of directors decided to erect new plants for the production of Buna rubber and synthetic fuels at or in the vicinity of Auschwitz where up to 10,000 Konzentrationslager Auschwitz (KLA or Auschwitz Concentration Camp) prisoners could be provided by the SS to build the new facilities. At its peak in 1944, the SS was providing over 80,000 Auschwitz Concentration Camp prisoners as workers for the IG Farben industries in the Auschwitz area. In trials at the end of World War II, the IG Farben cartel was dismantled and many people were convicted for their part in crimes against humanity.


I.G. Farbenindustrie AG, the name of this huge chemical and pharmaceutical conglomerate, is the shortened version of Interessen Geimeinschaft Farbenindustrie or "Dye Industry Community of Common Interest", the cartel outgrowth of its business origins earlier in the century.
As another interesting historical side-note, American military forces occupied the IG Farben headquarters (where Johannes Pönicke, the original owner of this ID worked) at the end of World War II and it also became the headquarters for the CIA in Germany. In 2001 the former IG Farben properties, designed by famous architect Hans Poelzig, became the Westend Campus of Frankfurt's Goethe University, with the original IG Farben building housing the Humanities Department.
This rare 1938 Nazi IG Farben employee ID is **SOLD**
• IF you prefer faster and safer Priority Mail shipping with USPS Tracking add $6.65.
• IF you wish to purchase highly recommended, but optional insurance, add $7.05.
• We will be happy to ship abroad at additional cost. Please inquire.
ORIGINAL NAZI 1938 IG FARBEN EMPLOYEE PHOTO IDENTITY CARD
I.G. FARBENINDUSTRIE AUSWEIS-KARTE ISSUED IN JANUARY 1938 TO A COMPANY EXECUTIVE