This rare IG Farben company overview produced for the 1937 Paris Expo
is for sale for $145.00 delivered by Media Mail in the continental USA.


USM book # 565
• IF you prefer Priority Mail shipping with USPS delivery confirmation add $6.95.
• IF you wish to purchase highly recommended, but optional insurance, add $3.45.
• We will be happy to ship abroad at additional cost. Please inquire.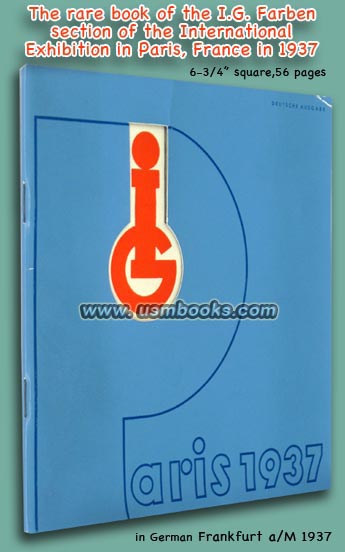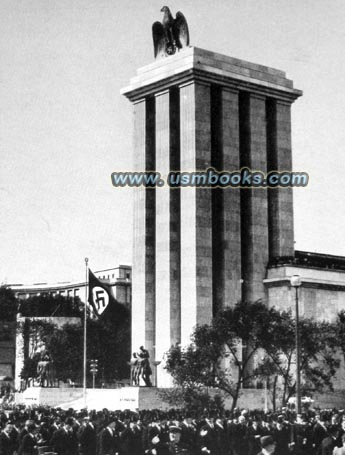 The 1937 International Exposition of Arts and Applied Science in Modern Life in Paris (Paris Exposition des Arts et Techniques dans la Vie Moderne) featured an enormous German exhibition hall on the banks of the Seine river with a giant eagle and swastika on top. Inside, visitors were treated to gorgeous displays of the latest advancements in German arts and applied science.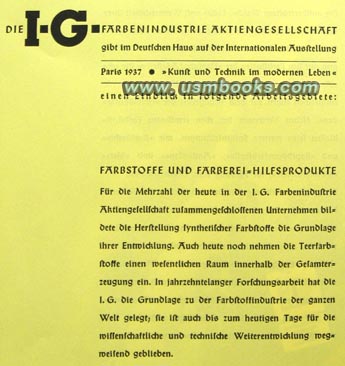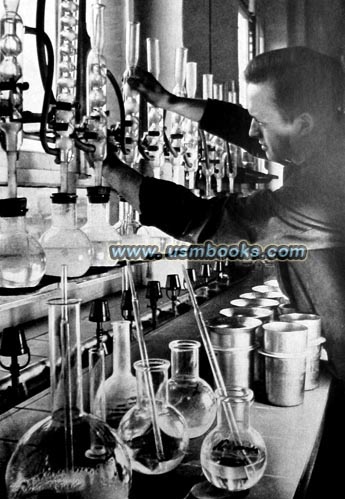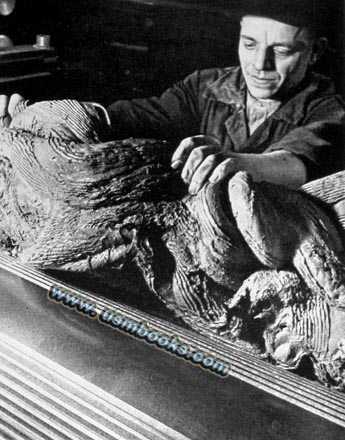 At the forefront of exhibitors was the huge German chemical conglomerate I.G. Farbenindustrie Aktiengesellschaft, better known simply as IG Farben. As the name implies the company got its start and made its name in chemical dyes of all kinds, especially indigo color dyes. A research oriented company, IG Farben owned Bayer pharmaceutical company, Agfa photographic products, the Leuna gasoline company, Beuna synthetic rubber industries, light metal manufacturing industries, synthetic gemstone manufacturing, insulation companies, waterproofing and mothproofing companies, etc., etc. Names like Bayer, Agfa, Leuna, Beuna and Celophane were household brands known worldwide at the time of the Third Reich. IG Farben was an industry leader in every field they entered. In 1937 the company had over 17,000 employees.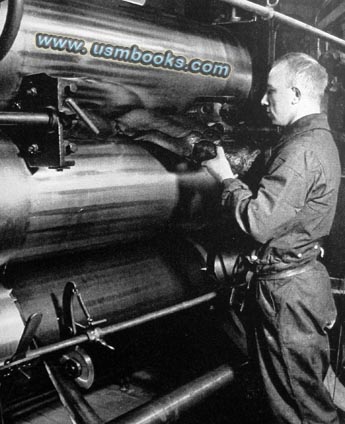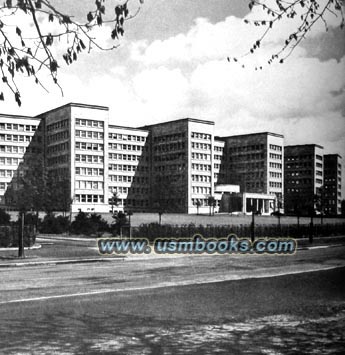 During World War II their Leuna synthetic gasoline production facilities were prime US 15th Air Force and US 8th Air Force bombing targets. The entire concentration camp at Auschwitz was built around the Beuna synthetic rubber manufacturing facilities there which were built, managed and run on a day-to-day basis by IG Farben.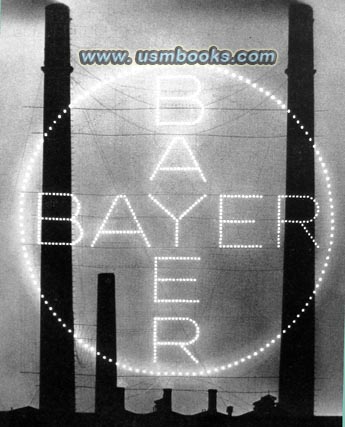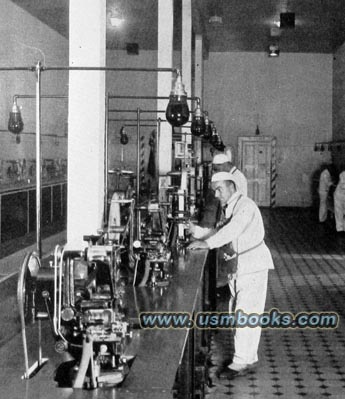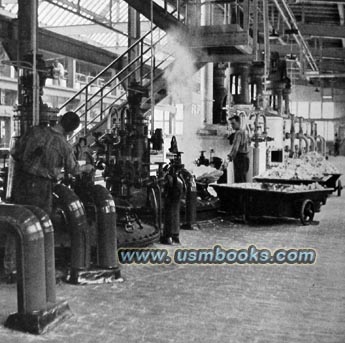 The 6-3/4 x 6-3/4 inch book we offer here does a beautiful job of explaining the history of the company and the amazing results of their research and development. There are many excellent photographs documenting the manufacturing processes and products of the company. There is no mention that we could find of their famous Zyklon B poison gas pellet business and of course, Konzentrationslager Auschwitz and the Beuna synthetic rubber production facilities there were not yet built.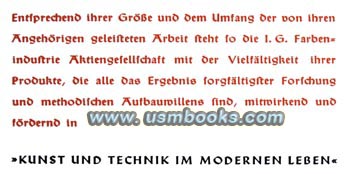 At the end of World War II it was decided by the victorious Allies that IG Farben was guilty of many sorts of crimes, and the company was disassembled with parts and pieces sold off to other manufacturers or claimed by various German enemies as war reparations. An excellent examination on one of the most important German industrial concerns of the Third Reich period. Very difficult to find and in very good used condition.
RARE IG FARBEN PARIS EXHIBITION COMPANY OVERVIEW
1937 PARIS EXHIBITION
IG FARBEN COMPANY MANUFACTURING OVERVIEW
FROM THE COMPANY THAT MANUFACTURED ZYKLON B AND RAN AUSCHWITZ CONCENTRATION CAMP INDUSTRIES


The images and the entire text used on this and all other USMBOOKS web pages are the copyrighted property of USM Inc. Those images and the text may be used by others ONLY AFTER completion of a formal international licensing agreement and payment of a licensing fee! It is therefore, illegal for anyone to take any of the material found on USMBOOKS.com and use it for their own purposes without our written permission, irrespective of any excuse they may feel they have for doing so.