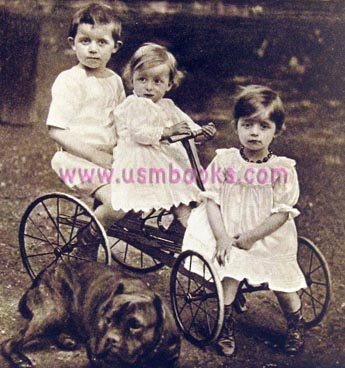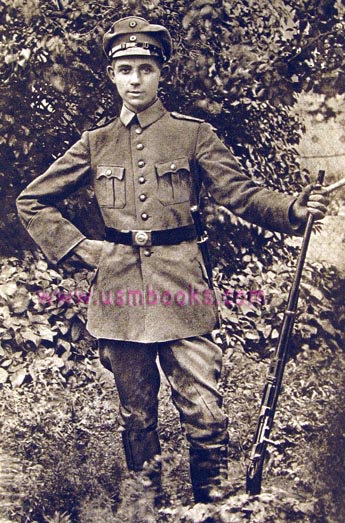 This is a fine example of the very, very rare early Nazi book Horst Wessel im Bild (Horst Wessel in Pictures) as published by his sister Ingeborg Wessel and printed by Verlag Franz Eher Nachfolger of Munich in 1933.

The 6-1/4 x 9 inch, 128 page soft cover book is the final word as far as photographs of Horst Wessel are concerned. Wessel's death at the hands of Communists in combination with his fame as the composer of the Nazi anthem Die Fahne Hoch! made him one of the Nazi Party's earliest super heroes. So important to the Nazi Movement was the legend of Horst Wessel that enemies of the NSDAP felt they had to create the most negative image of his possible. The effect of that propaganda is still felt whenever the name of Horst Wessel is raised today.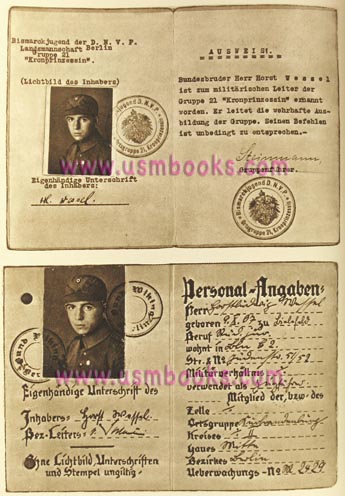 In reality Horst Wessel was a son of a well-respected German family and his father Dr. Ludwig Wessel was a minister. The father served on the West Front on the staff of the King of Bavaria during World War I so the young Wessel was acutely aware of the humiliation of the country of Germany that came with its military surrender in 1918.

As a student Horst and his brother Werner Wessel were active in scouting, hiking and dueling societies. As soon as they were able the brothers served in military and paramilitary units, Horst Wessel joining the Nazi Party on 12 January 1928. Both were members of SA Sturm 1, Standarte IV in Berlin.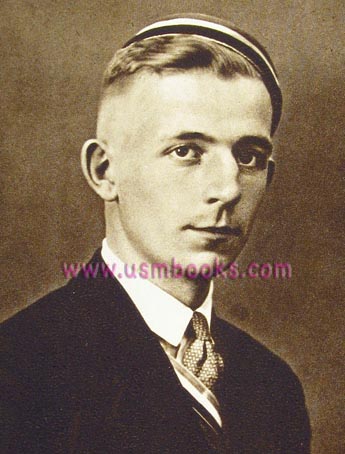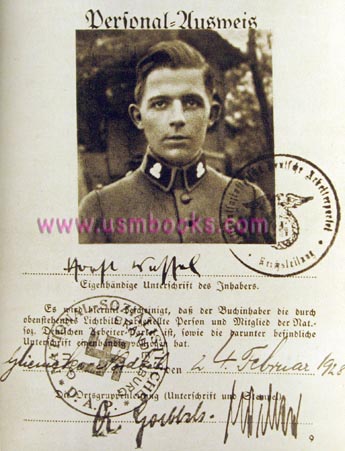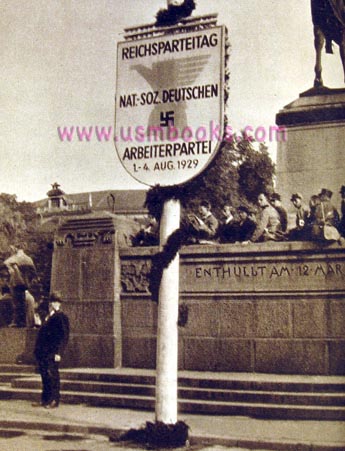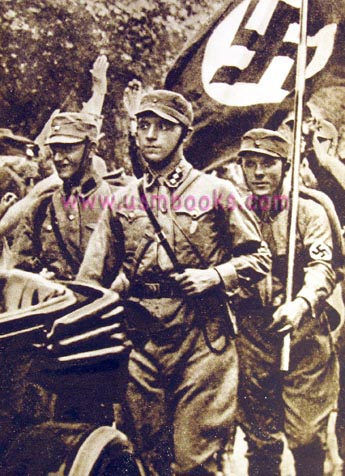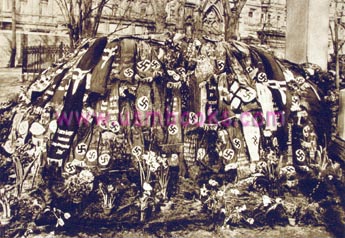 There is a famous picture of SA-Sturmführer Horst Wessel at the head of Sturm 5 in August 1929 at Reichsparteitag (Nazi Party Day) in Nürnberg. Werner Wessel died in a snow storm in December 1929 and was buried in the family plot at St. Nikolai Cemetery in Berlin. Horst Wessel was assassinated in February 1930 when shot in the face by Albrecht Höhler, an active member of the local Communist Party, when answering his door.

After a wake in his mother's house at Judenstraße 51/52, Wessel received an enormous Nazi funeral attended by Hermann Göring, Dr Joseph Goebbels and Prince August Wilhelm of Prussia (Auwi) after which he was buried in the family plot.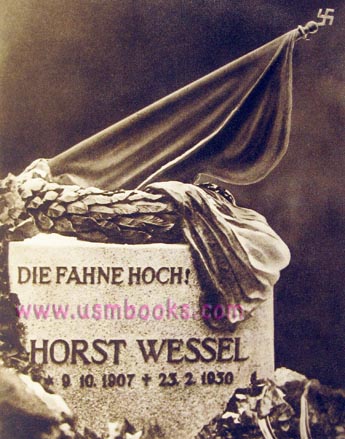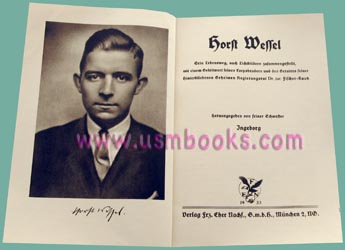 This 1933 biography of Nazi martyr Horst Wessel is **SOLD**.


USM book # 265
• IF you prefer Priority Mail shipping with USPS delivery confirmation add $5.75.
• IF you wish to purchase highly recommended, but optional insurance, add $5.45.
• We will be happy to ship abroad at additional cost. Please inquire.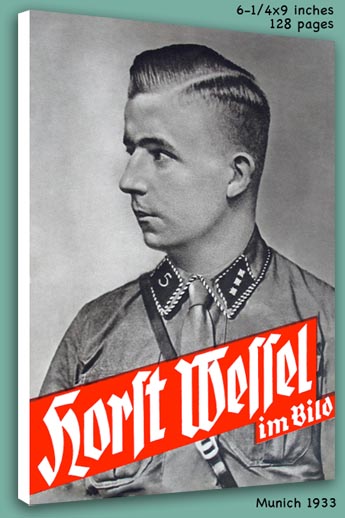 This example of Horst Wessel im Bild is complete and in very good condition with the name of a construction company in Oberdonau stamped on the front flyleaf. It comes enclosed in a perfect facsimile of an original Third Reich dust jacket.
Have a look at a beautifully printed version of the "Nazi Anthem"
the Horst Wessel Lied, for sale on USMBOOKS.com.


The images and the entire text used on this and all other USMBOOKS web pages are the copyrighted property of USM Inc. Those images and the text may be used by others ONLY AFTER completion of a formal international licensing agreement and payment of a licensing fee! It is therefore, illegal for anyone to take any of the material found on USMBOOKS.com and use it for their own purposes without our written permission, irrespective of any excuse they may feel they have for doing so.
NAZI HORST WESSEL IN PICTURES BOOK
BY FAR THE BEST BIOGRAPHY OF
NAZI MARTYR,
SA LEADER HORST WESSEL