This rare 1938 Hitler Youth Career Competition book is **SOLD**.


USM book #445
• IF you prefer Priority Mail shipping with USPS delivery confirmation add $5.95.
• IF you wish to purchase highly recommended, but optional insurance, add $4.95.
• We will be happy to ship abroad at additional cost. Please inquire.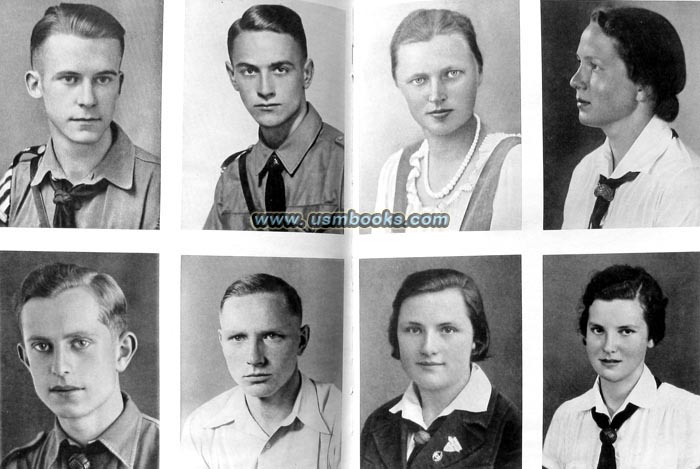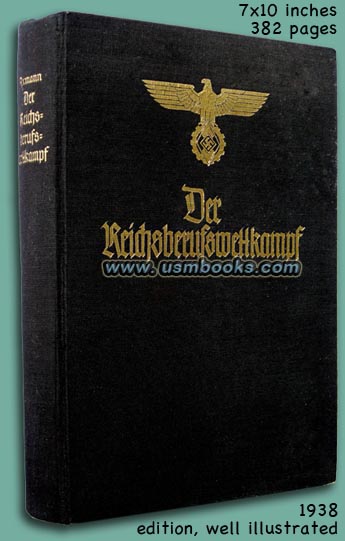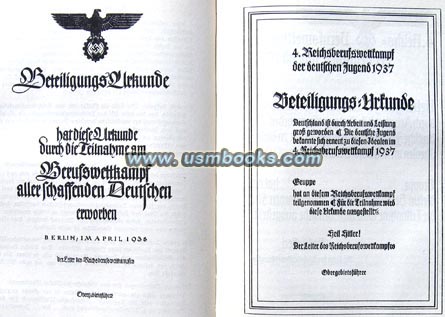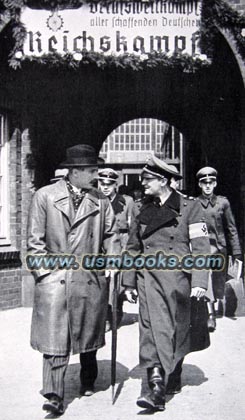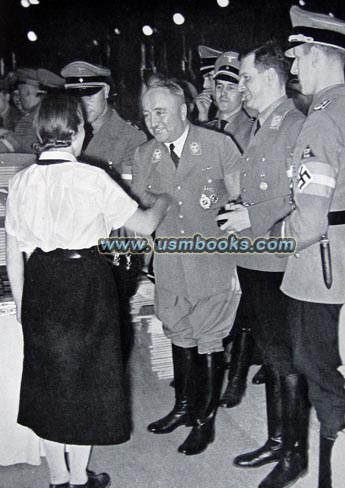 This is a wonderful example of the very rare 7 x 10 inch, 382 page very well-illustrated hard cover 1938 First Edition of Der Reichsberufswettkampf (State Career Competition) by Obergebietsführer Arthur Axmann, Leader of the Career Competitions in Nazi Germany as published by Junker und Dünnhaupt Verlag in Berlin.
This is a virtual encyclopedia of both the depth of vocational and career competitions in Nazi Germany as well as the finely detailed inner workings of the sponsoring organization and the competitions themselves. The very detailed text is interspersed with dozens of photos of individuals striving to be best they could be in fields as diverse as upholstering, woodworking, farming, weaving, cooking, fishing, mining, chimney sweeping, stonework, metal work, violin making, ceramics, hair styling, aviation, shoe making, nursing, roofing, designing, and many other fields.

The book also contains many maps and charts as well as a complete list of occupational categories and the point system used to determine the winner in both theoretical and practical competitions.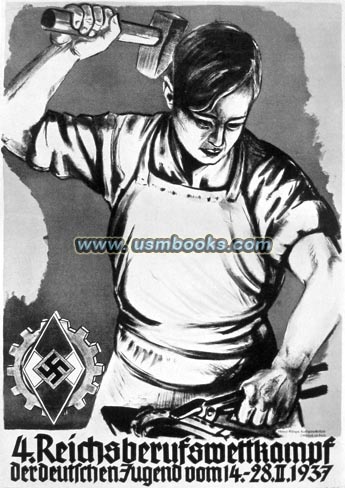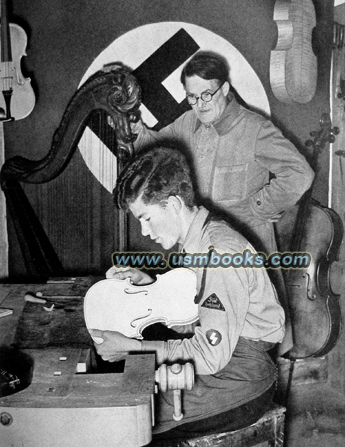 There are pictures of the awards and the highest leaders of the Nazi Party (Adolf Hitler, Dr. Robert Ley, Baldur von Schirach, etc.) involved in making awards to the proud young competition winners. No program was more important to the creation of pride in the young people of Nazi Germany, than was the annual Reichsberufswettkampf. To win even last place in an individual competition required a competency, dedication and determination possessed by only a small part of the population. It drove young people to strive harder, much harder, to be an important cog in the building of the New Germany!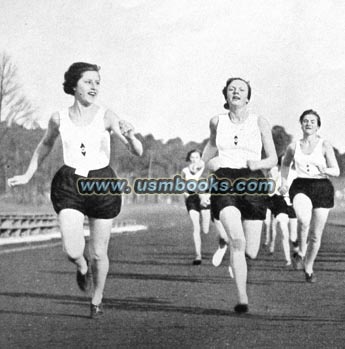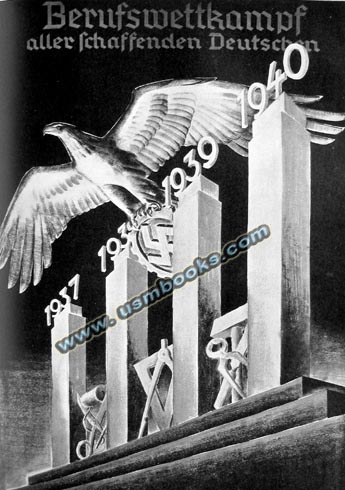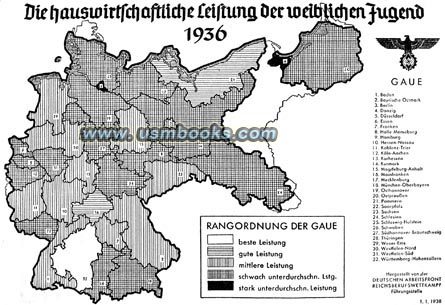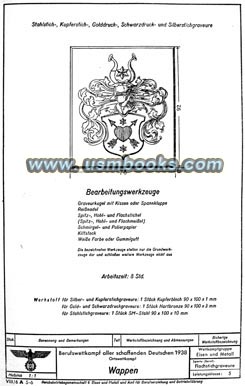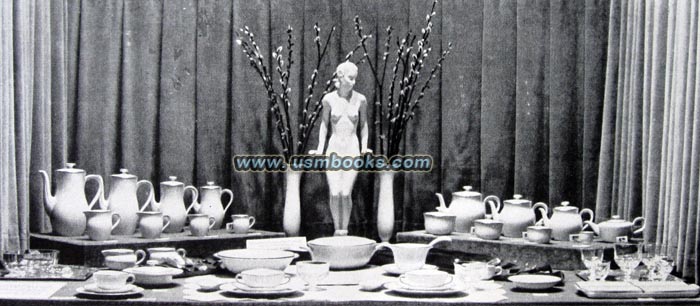 Somewhere somebody must be working on a book that documents the methodology and achievements of the Reichsberufswettkampf as a portion of the success of the Nazi management of the population in Germany. This book is the only source we know of for a complete review of that process. Very rare and in excellent used condition.


The images and the entire text used on this and all other USMBOOKS web pages are the copyrighted property of USM Inc. Those images and the text may be used by others ONLY AFTER completion of a formal international licensing agreement and payment of a licensing fee! It is therefore, illegal for anyone to take any of the material found on USMBOOKS.com and use it for their own purposes without our written permission, irrespective of any excuse they may feel they have for doing so.
ORIGINAL 1938 NAZI CAREER COMPETITION PAPERWORK
& WINNING FEMALE PARTICIPANT CERTIFICATE BERLIN
This unusual six-piece grouping consists of Third Reich paperwork related to the Reichsberufswettkampf 1938, specifically the Wettkampfgruppe Banken und Versicherungen, or the group of male and female participants testing is the "Bank and Insurance Group" on Wednesday 23 March 1938 on Mauerstrasse 82 in Berlin. There are three A4 size (8.3 x 11.7 inch) documents advertising the Wettkampf or competition, its different age classes and subjects as well as a very rare actual 6-panel sign-up form (not filled out).
Shown left is the original Reichsberufswettkampf 1938 Beteiligungsurkunde or award certificate was issued to Helga Döring for her winning performance in the Bank & Insurance group number 3 during the 1938 Berlin Gauwettkampf or Gau competition. Inside the Urkunde with the 3 inch Nazi eagle and HJ insignia on the cover is a quote from a speech Adolf Hitler made before Parliament on 20 February 1938, about his goals for German workers.
The striking 6 x 8-¼ inch two-sided leaflet with the eagle that says Reichsberufswettkampf aller schaffenden Deutschen at the top, has detailed information on the back about who could participate in the Berufswettkampf (only Aryan people allowed! - see image below), categories, what to bring to the competition (pen, ruler, eraser, etc.), prize notification, etc.
Participation in the competition was free of charge and one could take off a day of from school or work to attend. Rare and in very good condition.
This rare lot of Reichsberufswettkampf 1938 material is offered for sale
for $145.00 delivered by 1st Class Mail in the continental USA.

• IF you prefer Priority Mail shipping with USPS delivery confirmation add $5.95.
• IF you wish to purchase highly recommended, but optional insurance, add $3.45.
• We will be happy to ship abroad at additional cost. Please inquire.
HJ REICHSBERUFSWETTKAMPF OR CAREER COMPETITION MANUAL
& DOCUMENTS FROM A WINNING FEMALE PARTICIPANT
RARE HITLER YOUTH CAREER COMPETITION ILLUSTRATED GUIDEBOOK FROM 1938
DER REICHSBERUFSWETTKAMPF