The images and the entire text used on this and all other USMBOOKS web pages are the copyrighted property of USM Inc. Those images and the text may be used by others ONLY AFTER completion of a formal international licensing agreement and payment of a licensing fee! It is therefore, illegal for anyone to take any of the material found on USMBOOKS.com and use it for their own purposes without our written permission, irrespective of any excuse they may feel they have for doing so.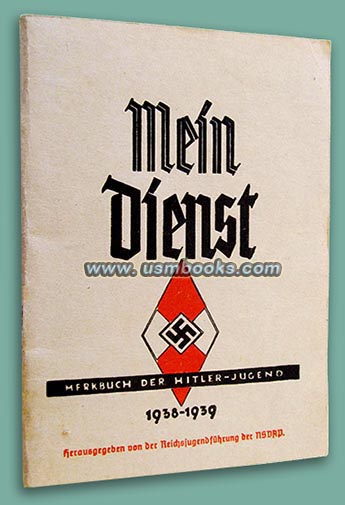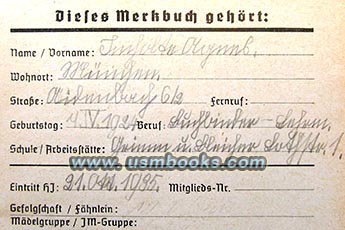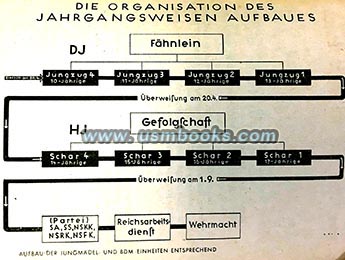 Aside from the pencilled in owner information (a girl from Munich), there is no writing anywhere in this nearly 80 year old Merkbuch der Hitler-Jugend. It is complete and in very nice condition.
This HJ Merkbuch starts with a photo of Adolf Hitler and Reichsjugendführer Baldur von Schirach, and a quote by Hitler Youth Leader von Schirach about what is necessary for service in the Hitler Youth: selflessness, honesty, character and a strong belief in National Socialism, among other things.
This is an original 4 x 5-¾ inch, 64-page example of an original Mein Dienst Merkbuch der Hitler-Jugend 1938-1939, a HJ pocket reference book published by the Reichsjugendführung, the Leadership of the Hitler Youth.
This HJ Merkbuch contains a calendar for the year 1938-1938. It has important dates (birthday of Hitler, Hess, Von Schirach, Himmler, Goebbels, Dietrich Eckart, Göring, etc.), as well as anniversaries of historical events such as the official opening of the first stretch of Reichsautobahn, the founding of the HJ and NSDAP, the Nürnberg Racial Laws, Hitler's speech at the Bürgerbräukeller in Munich, Hitler's release from Landsberg Prison, etc. Deaths of historical figures and important National Socialists (Hindenburg, Horst Wessel, Wilhelm Gustloff, Dietrich Eckart, etc.) are also pre-printed on the calendar.

The following section covers the history of the HJ, official laws pertaining to the Hitlerjugend and the organizational structure of the Hitler Youth. There is information about membership increases, sport performance requirements, the Health Services of the HJ, uniform requirements for boys and girls, HJ Abzeichen, books about service in the HJ and BdM, as well as addresses of HJ offices all over Greater Germany.
This original Merkbuch der Hitler-Jugend is **SOLD**.


USM book #887
• IF you prefer faster and safer Priority Mail shipping with USPS Tracking add $6.75.
• IF you wish to purchase highly recommended, but optional insurance, add $3.50.
• We will be happy to ship abroad at additional cost. Please inquire.
MEIN DIENST MERKBUCH DER HITLERJUGEND 1938/39
ORIGINAL NAZI HITLER YOUTH POCKET ALMANAC 1938 - 1939