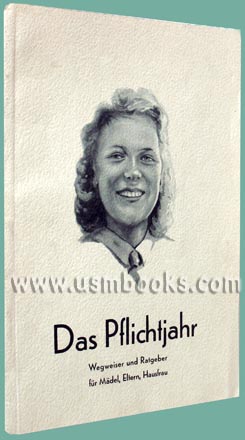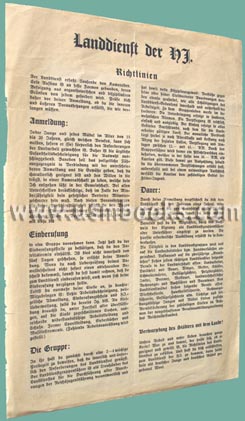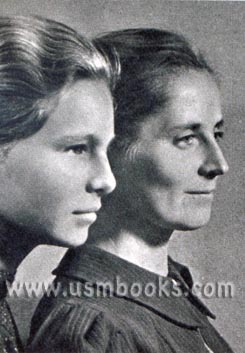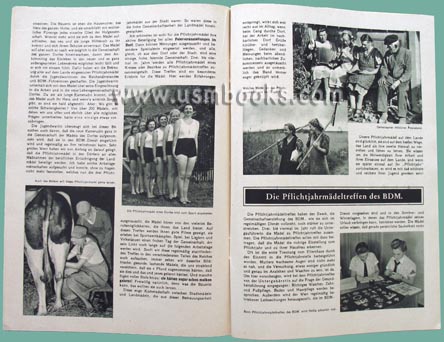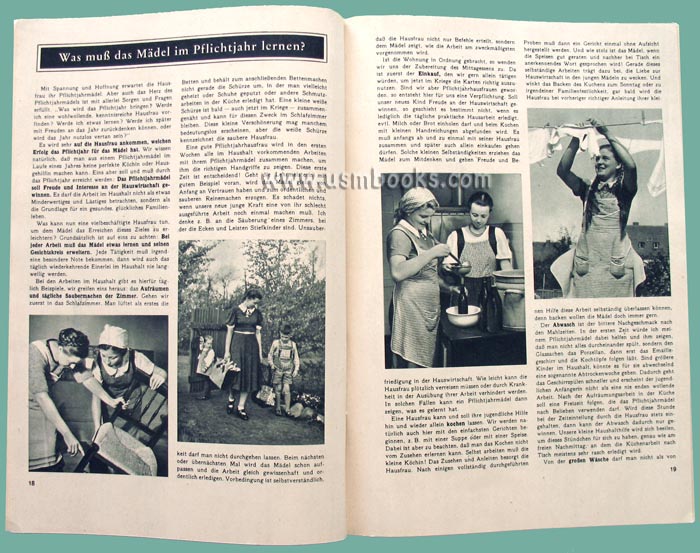 Most people knowledgeable about circumstances in the Third Reich of Adolf Hitler are aware that in 1938 Ministerpräsident Reichsmarschall Hermann Goering directed that all Mädchen or young women contribute a year of their life (Pflichtjahr) in service to their country.
This excellent 6-3/4 x 9-1/2 inch 48 page heavily illustrated soft cover book Das Pflichtjahr was printed as a guide / advice book for the girls, their parents and the housewives with whom they might be working. The single, extremely well thought-out book answers all those questions that might be asked by those involved in the Pflichtjahr of an ordinary German girl.
Typical questions asked and answered are Who is required to perform a year of obligatory duty to the country? (all girls under 25 on 1 March 1938), What kind of work must the girl do?, What should she pack before leaving her home?, How hard is the work?, What will the girl get out of it?, How much of the year is spent on the land? (8 weeks of farm work), What amount of free time is provided?, What changes has war brought?, etc.
The book ends with an essay on Duty Year Girls of Today - Homemakers of Tomorrow. In addition to the book there is a rare 8-1/4 x 11-3/4 inch hand out (shown right) explaining the Landdienst der HJ or Agricultural Service of the Hitler Youth.

Rare and in very good condition.
Interested in other orignal Third Reich Hitlerjugend material?
Click HERE.
This rare Nazi guidebook for HJ girls is offered for sale for
$145.00 delivered by Media Mail in the continental USA.

USM book #230
• IF you prefer Priority Mail shipping with USPS delivery confirmation add $6.95.
• IF you wish to purchase highly recommended, but optional insurance, add $3.45.
• We will be happy to ship abroad at additional cost. Please inquire.
NAZI HJ DUTY YEAR GUIDEBOOK
DAS PFLICHTJAHR
A GUIDEBOOK FOR TEENAGE HITLER YOUTH GIRLS EMBARKING ON THEIR YEAR OF SERVICE


The images and the entire text used on this and all other USMBOOKS web pages are the copyrighted property of USM Inc. Those images and the text may be used by others ONLY AFTER completion of a formal international licensing agreement and payment of a licensing fee! It is therefore, illegal for anyone to take any of the material found on USMBOOKS.com and use it for their own purposes without our written permission, irrespective of any excuse they may feel they have for doing so.