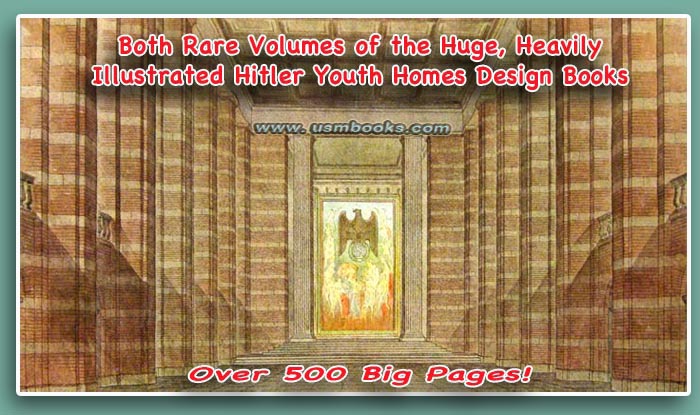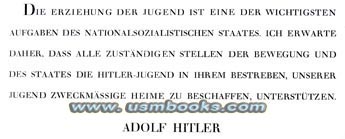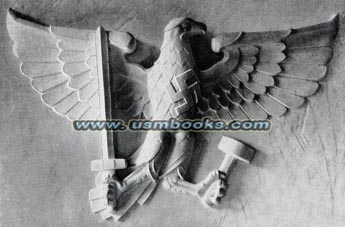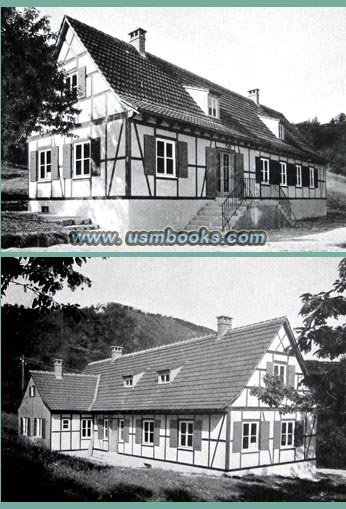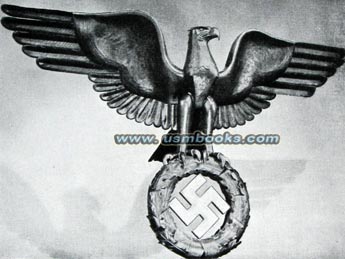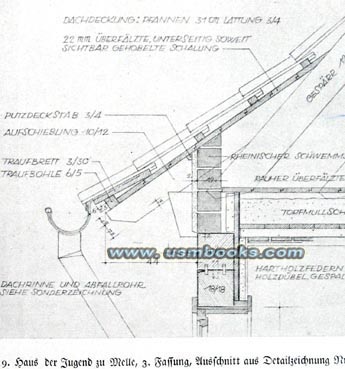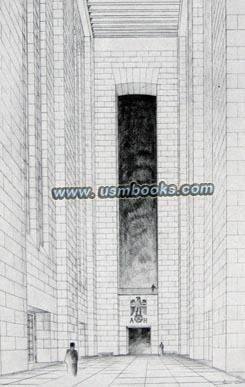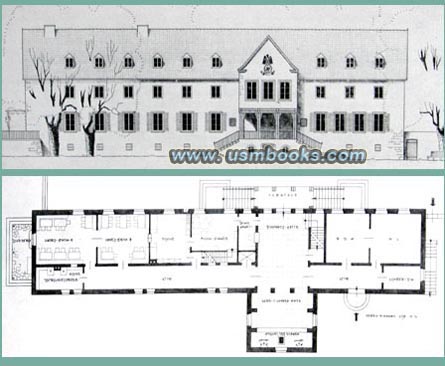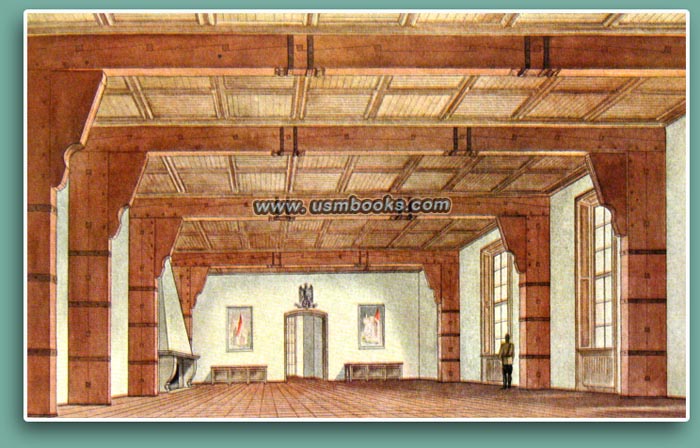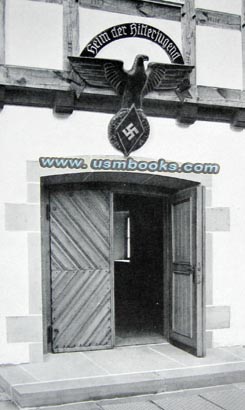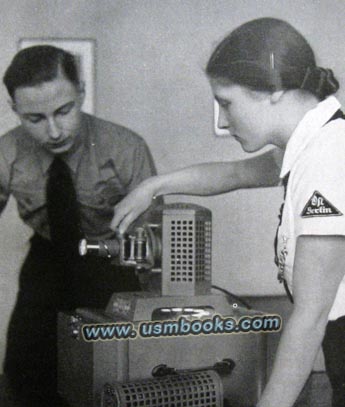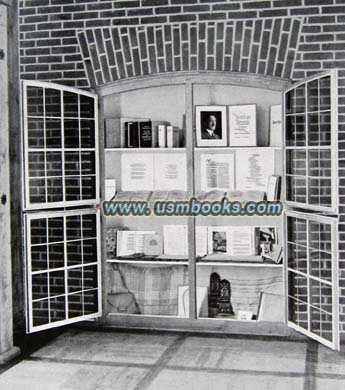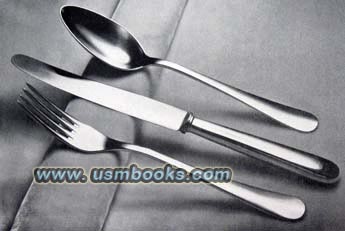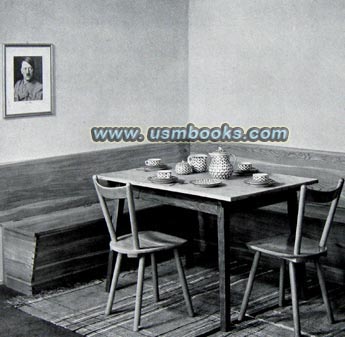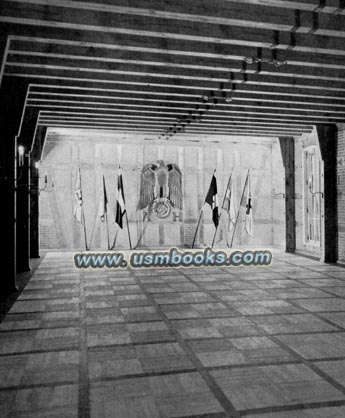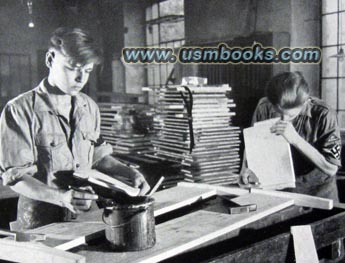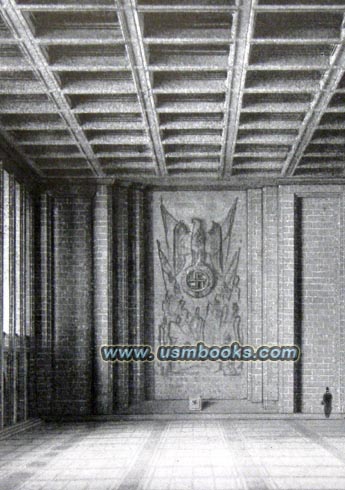 To people unfamiliar with them, these two rare, heavily illustrated Hitler Youth Leadership books look like architecture and design books about Hitler Youth Homes, but they are far more important than that. The thought behind both books is to document the importance of properly designed and built Hitler Youth Homes in the fostering of German youth, asserting that the correct venue was very important in providing the right education and indoctrination, which would result in healthy humans with the correct principles, ideally suited to determine the future of the Nazi Party and the German Reich, and thereby the German Race.
If you are not familiar with these books you should know that by the time they were published, the Nazi Party was totally in charge of everyone and everything in Germany and preparing the very groundwork for its Thousand Year Reich. These were not preliminary ideas about what a HJ Home should look like, but very well formed concepts of bringing up the future leadership of the German Nation in an atmosphere of very reserved, but very elegant surroundings complimented with heavy Nazi eagle and swastika graphics so that no one who entered any of the buildings would have any doubt about who was responsible for its design and construction.
On this USMBOOKS webpage we are offering Werkhefte für den Heimbau der Hitler-Jugend Band I und II (Work Books for the Building of Hitler Youth Homes Volume I and Volume II) published by the Reichsjugendführung der NSDAP in 1937 and 1938. The translation of the titles does not accurately describe the content of these two amazing books, as it is does not explain the enormous depth of detail these publications contain about the organization of the Hitler Youth, the structure of the HJ, the goals of the Hitlerjugend, and the thought behind the design and building of permanent facilities for the HJ.
Werkhefte für den Heimbau der Hitler-Jugend Volume I is a soft cover book that starts with an introduction by Adolf Hitler about the importance of cultivating the German Youth, educating them, getting the best out of each individual for a successful German future. There are also forewords by Hermann Göring (who as Head of the Four Year Plan was involved and focussed on the job creation aspect of building HJ Homes), Dr. Frick, Dr. Karl Fiehler, Dr. Joseph Goebbels, and a much longer introduction by Reichjugendführer, HJ Leader Baldur von Schirach dated 1 January 1937.
This section is followed by an explanation and depictions of the organizational structure of the HJ, BdM, and the growth of these youth groups after the Nazi Party was placed in charge of Germany. With growth came the need for additional and larger, more modern purpose-built Hitler Youth facilities all over Nazi Germany. As with the design of the Reichsautobahn system, the importance is stressed that these new HJ-Heime should reflect their geographical area of the country of Germany and they should blend in with the landscape in which they were built, and that local craftsmen should be used and that their traditions should be given great consideration. These HJ buildings were intended to be used for a very long time.
The detail of this book is amazing! The examples of HJ Homes in it are shown from the design stage, to architectural drawings of various details from many angles, revisions and models, and in some case photos of the finished products.
Pictured in this book are the Reichsakademie für deutsche Jugendführung in Braunschweig, Reichsmotorsportschule Sandersheim (Harz) and Hitler Youth facilities in Eberswalde, Herringen, Westick, Melle, Gleitwitz and others. There are superb design details for roofs, windows and doors, eagle and swastika decorations as well as simple furniture samples in the first Volume of the set. very heavily illustrated.
Werkhefte für den Heimbau der Hitler-Jugend Volume 2 picks up where Volume I left off. The hardcover book starts with an introduction by Hitler about the obligation of the German Nation to support its youth in any way possible to ensure a safe future for Germany. This is followed by a photo portrait of HJ Leader Baldur von Schirach and his introduction.
The main portion of this incredible book is a detailed, illustrated examination of the composition, form and interior design of new Hitler Youth Homes from design drawings to building details to finished product: wall, floor and ceiling design, stairs, eagle and swastika decorations, dining room furniture, doors and windows (and their hardware), colors, light fixtures, simple and fancy tableware (plates, mugs, cups and saucers, silverware), decorative ironwork, and functional, sturdy chairs, benches and other furniture.
All these details are shown for different rooms: the Leadership room, meeting room, bedrooms, dining rooms, HJ shops, as well as for facilities for HJ Flieger, HJ Navy, Motorized HJ, etc.
There is a chapter called "From HJ Home to the Homes of the German People" and a very extensive illustrated Appendix of tools, manufacturers, how to care for parquet floors, rules of Luftschutz or air raid shelters, practical magazines for builders and interior design, etc., etc. Hundreds of photos and illustrations.

The condition of both Band I and Band II of Werkhefte für den Heimbau der Hitler-Jugend is very good. Band I is a soft cover edition and Band II a hard cover edition, the only editions published. Both were published for the Reichsjugendführung by Verlag Erwin Skacel of Leipzig.


The images and the entire text used on this and all other USMBOOKS web pages are the copyrighted property of USM Inc. Those images and the text may be used by others ONLY AFTER completion of a formal international licensing agreement and payment of a licensing fee! It is therefore, illegal for anyone to take any of the material found on USMBOOKS.com and use it for their own purposes without our written permission, irrespective of any excuse they may feel they have for doing so.
This set of rare, fundamental Hitler Youth Books is offered for sale
for $395.00 plus postage (see below).


USM book #642
• Priority Mail shipping with USPS Tracking $13.60
OR
Media Mail (no tracking) $9.45.
• IF you wish to purchase highly recommended, but optional insurance, add $5.95.
• We will be happy to ship abroad at additional cost. Please inquire.
INCREDIBLY RARE THIRD REICH SET OF SUPERBLY ILLUSTRATED
HITLER YOUTH HOMES STANDARDS BOOKS 1937 + 1938
copyright © 2014 USM Inc.
A VERY RARE SET OF NAZI BOOKS EXPLAINING THE LONG TERM GERMAN CONCEPT OF PROPERLY BUILT HOMES FOR THE HITLER YOUTH