The images and text used on this and all other USM web pages are the copyrighted property
of USM Inc. Those images and the text may be used by others ONLY AFTER completion
of a formal international licensing agreement and payment of a licensing fee!
This superb comprehensive document grouping is
**SOLD**.

We will be happy to ship abroad at additional cost. Please inquire.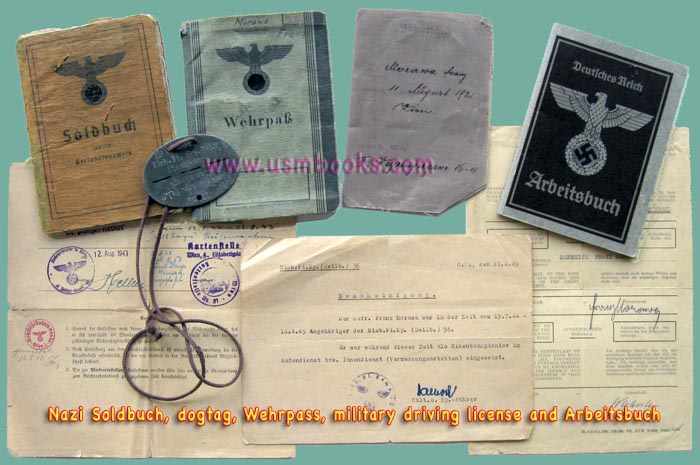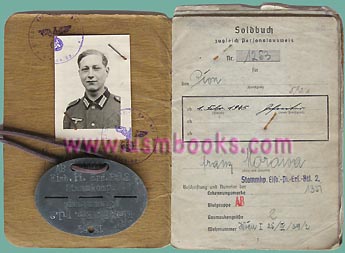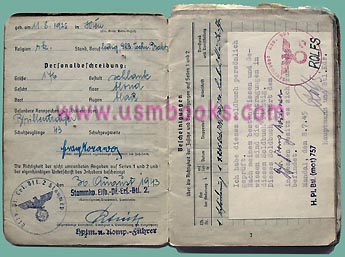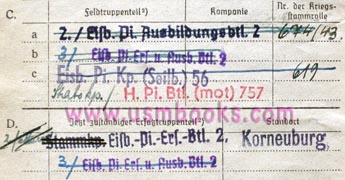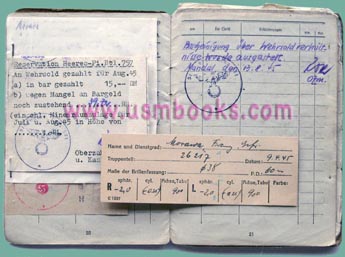 The set of documents offered here consists of several groups of documents all issued to the same German Landser during and after his service in one of only four Eisenbahn Pioniere (Railway Engineering) units in the German Army during World War II. He was Gefreiter Franz Morawa.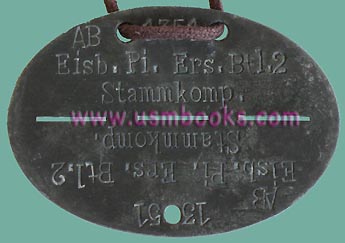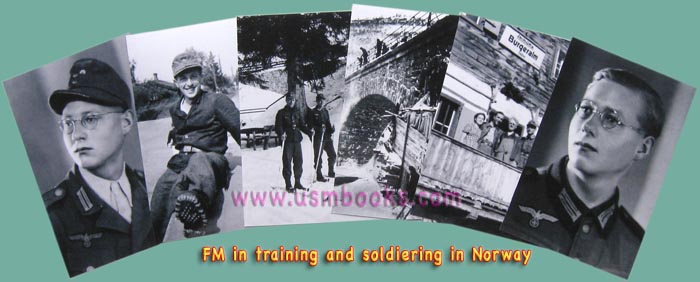 The first group consists of Morawa's Soldbuch, Erkennungsmarke (dogtag), Wehrpass, Nazi driving license, Arbeitsbuch and ancillary military documents.
The second group consists of a war-time and POW diary kept by Morawa as well as correspondence to and from his family at the time he was a Prisoner of War in the hands of the French government.

A third group consists of photo prints from war-time and POW pictures of Morawa in service and as a POW in France. A last group of documents consists of postwar passes, documents, newspaper clippings and a passport all in the name of Franz Morawa.
In total there are no less than 25 separate original items in this lot plus about 16 prints of war-time photographs showing Morawa, his family, companions, etc.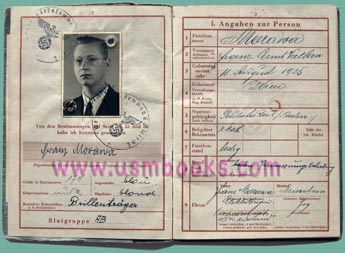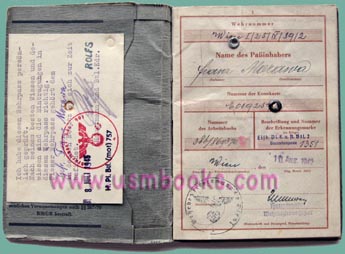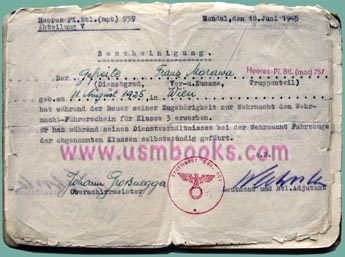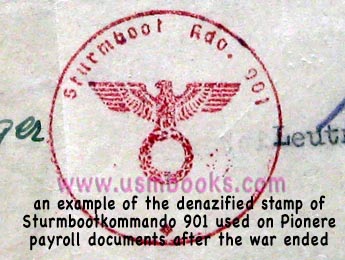 A full story of the training, service, POW incarceration and post-war civilian life of this Wehrmacht Landser may be found on a separate web page and will be of very substantial interest to anyone interested in the document lot. Please be sure to have a look. Click HERE.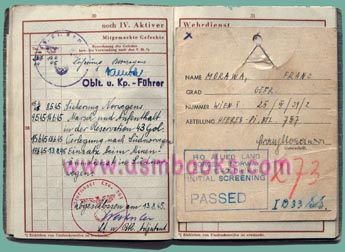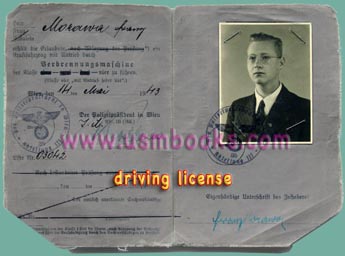 Everything in this lot is absolutely original to Franz Morawa but the photographs are post-war copies, not original war-time prints. All this material came from the estate of the now-deceased Landser but we did not get any original war-time photographs - only very fine post-war reprints from the original photographs.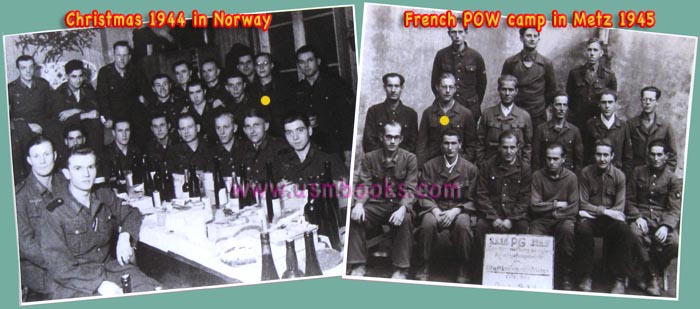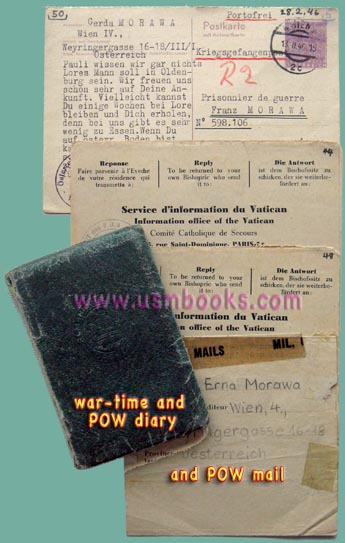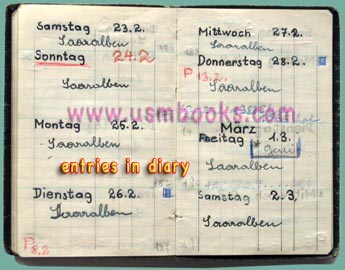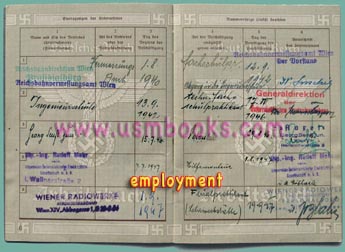 Because there were so few Eisenbahn Pioniere units in the German Army during World War II and because all of this material was kept together over the past 65+ years, it must be considered very rare. It is made rarer yet by some of the small but important details in the history of this man's life. Franz Morawa's father, a civil engineer in the Luftwaffe, was building airfields when he was killed in action at Stalingrad. Another extremely interesting aspect to the immediate post-war inclusions in these documents involves the pay records of the men in Morawa's engineering outfit. Because of its remote outpost in Norway, for pay purposes Morawa's Pionier unit fell under the authority of Sturmboot Kommando 901, and their stamps can be found throughout the Soldbuch. After the Allies captured the German forces in Norway the Sturmbootkommdo commander Hauptmann Rolfs was still in charge and still stamping the Soldbuch with the Nazi unit stamp but with the swastika removed from the wreath beneath the eagle!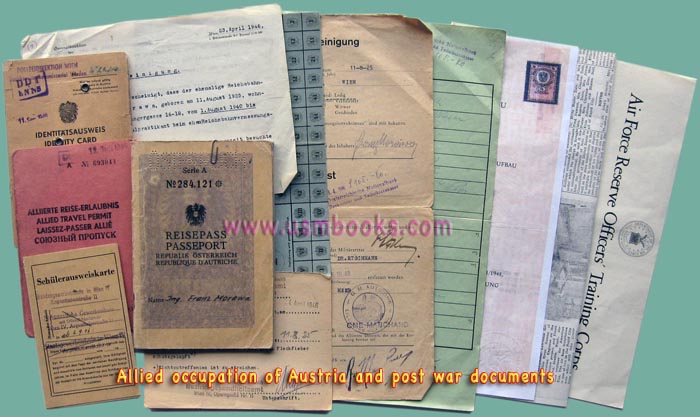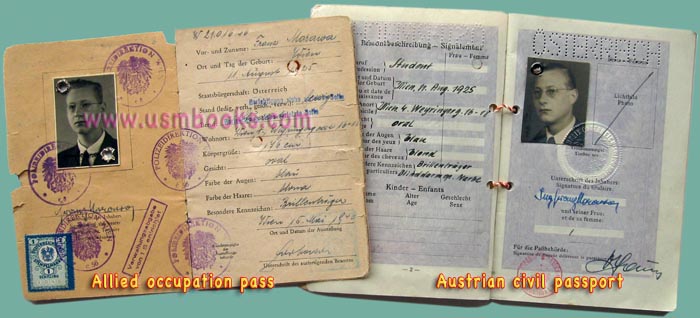 The original Eisenbahn Pioniere Ersatz Battalion dogtag in this lot is very rare all by itself, to say nothing of the matching Soldbuch. A superb lot in very good condition.
Also for sale on usmbooks.com, Morawa's Wehrmacht engineering tools.
Click HERE.
NAZI RAILWAY PIONEER DOCUMENTS / POW GROUPING
AN EXTREMELY COMPREHENSIVE SET OF ORIGINAL DOCUMENTS FROM A GERMAN WEHRMACHT ENGINEER TRAINED IN THE ALPS, WHO SERVED IN NORWAY, AND BECAME A POW IN FRANCE AT THE END OF WORLD WAR II
This USM Books website is Copyright © 2009 by USM, Inc., and the text and images on it are fully protected by international copyright law. It is therefore, illegal for anyone to take any of the material found here and use it for their own purposes without our written permission, irrespective of any excuse they may feel they have for doing so.