The images and text used on this and all other USM web pages are the copyrighted property
of USM Inc. Those images and the text may be used by others ONLY AFTER completion
of a formal international licensing agreement and payment of a licensing fee!
The items on this web page came from the estate of the man shown below, an engineering student from Vienna who was drafted into the Wehrmacht, trained as a combat engineer and sent to Norway to build bridges and aerial tramways. After the war he emigrated to the United States where he continued working in the field of civil and electrical engineering. He died in September 2008. For more information about Franz M., click HERE.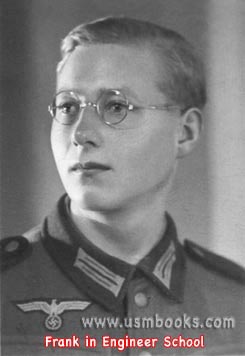 For sale on this web page:
1) WEHRMACHT MAP SCALE (sold)
2) GERMAN ARMY MARCH COMPASS
3) ROTARY ENGINEERING TOOL CASE
4) MILITARY ELECTRICAL METER (sold)
5) 1939 ELECTRICAL HANDBOOK (sold)
WICHMANN BERLIN WEHRMACHT MAP SCALE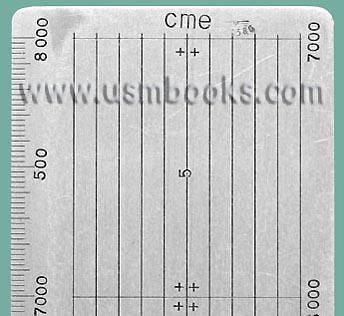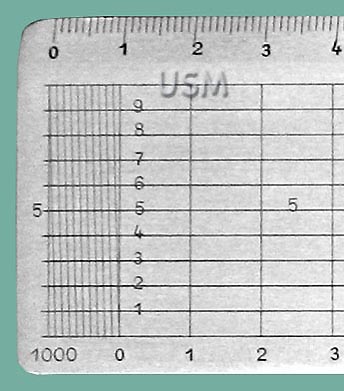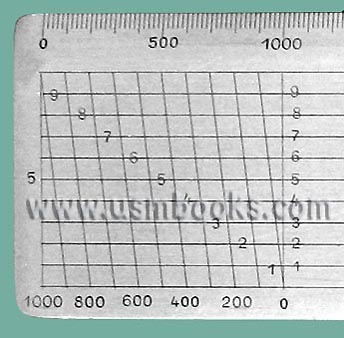 This is a beautifully made 5 x 33 cm (2 x 13 inch) German Army map scale in excellent used condition. In addition to the various scales and conversions on the tool it is marked with the three letter manufacturer code cme (Gebrüder Wichmann of Berlin) as well as a small eagle above the Waffenamt number A380.
This genuine Wehrmacht map scale is in very good condition. **SOLD**.
We are happy to ship abroad at additional cost. Please inquire.
BUSCH RATHENAU GERMAN ARMY MARCH COMPASS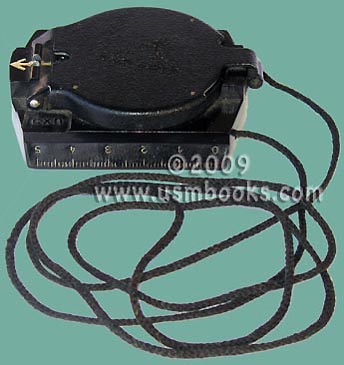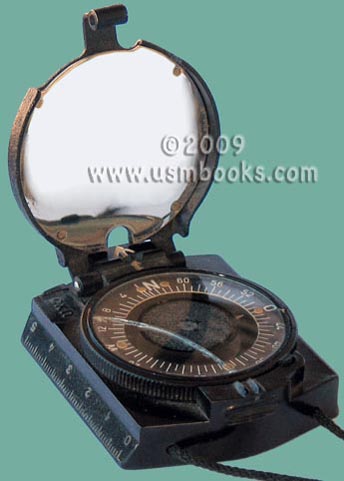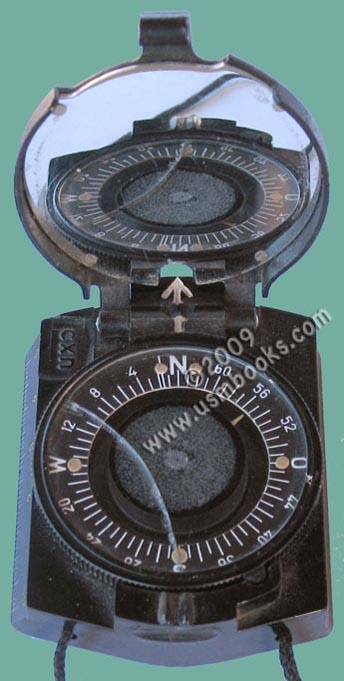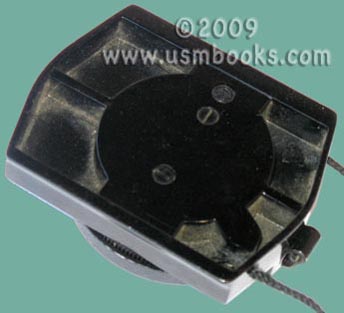 This is a very nice example of a standard German military march compass of the sort carried by officers, senior NCOs and engineers in the Wehrmacht during World War II.

It is about 2 inches wide x 2-3/4 inches long and the lid opens to reveal a bright reflective surface and the rotatable dial of the compass. Along the left edge is a scale from 0 to 5 centimeters marked in millimeters. The compass has a 21 inch neck cord attached to it.
This specific compass has the Nazi manufacturing code cxn (Emil Busch AG of Rathenau) manufactured into the case above the numbers 4 and 5 on the scale. Except for a cracked glass on the compass dial (easily replaced) this compass is in very nice original condition.
This genuine Busch Rathenau march compass is offered for sale
for $150.00 delivered in the continental United States.
We are happy to ship abroad at additional cost. Please inquire.
ROTARY ENGINEERING TOOL CASE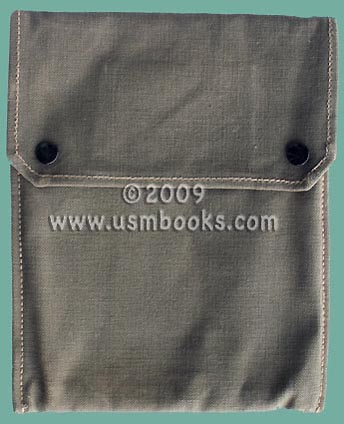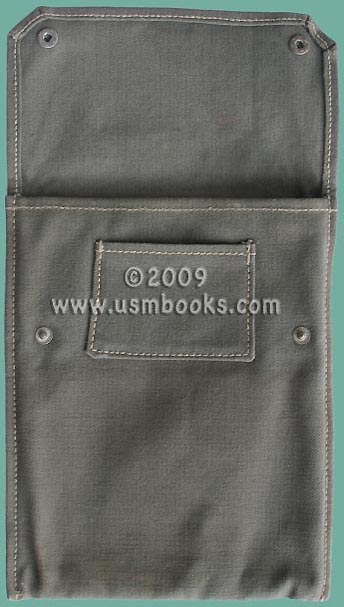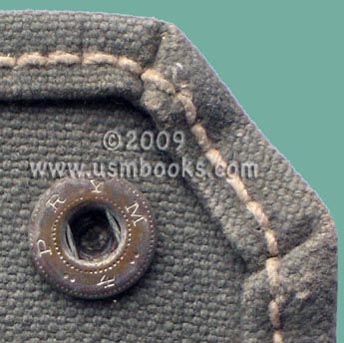 This gray-green case measures about 19 x 23 cm (7-1/4 x 9 inch) closed with its two snap fasteners. Inside there are two compartment divided by gray felt and a small pocket under the flap. The Landser shown above said that he used it in Norway as a protective case for a circle shaped engineering tool, a sort of a slide rule. Very good condition. Case only.
This WW2 Nazi engineering tool case is offered for sale for $20.00 delivered in the USA.
We are happy to ship abroad at additional cost. Please inquire.
HARTMANN & BAUER STANDARD GERMAN MILITARY
ELECTRICAL METER & 1939 HANDBOOK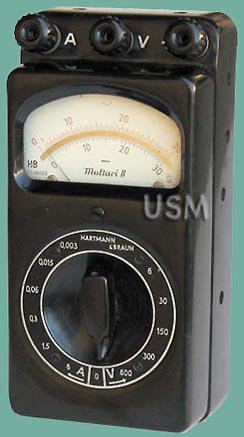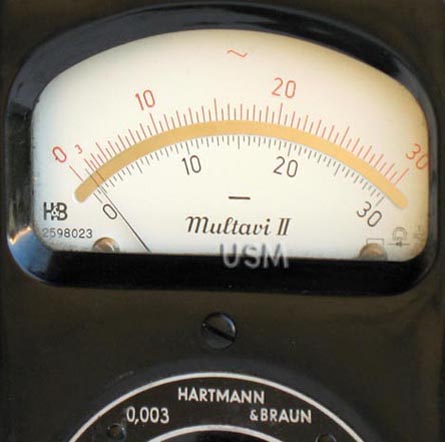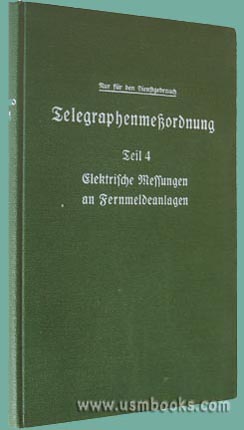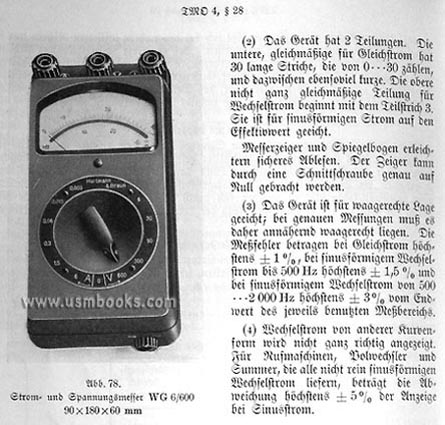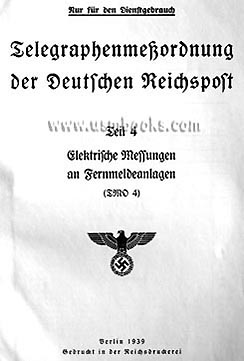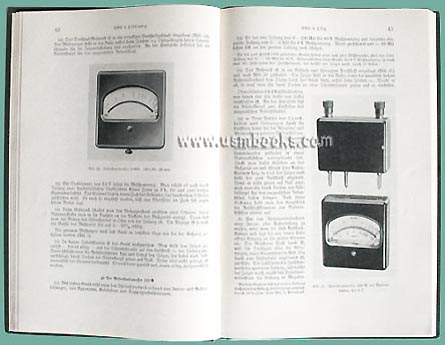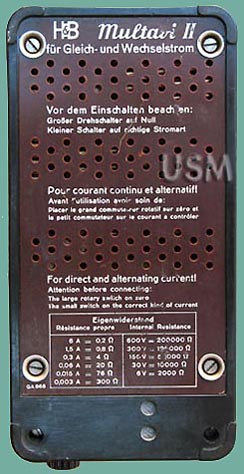 This 55 x 85 x 185 mm (2-1/8 x 3-3/8 x 7-1/4 inch) Hartmann und Braun Multavi II electrical tester for direct and alternating current came from the same Landser shown above who brought it with him from Germany as with the other two items.

It comes with the handbook explaining it, Telegraphenmeßordnung der deutschen Reichspost (Volume 4), Elektrische Messungen an Fernmeldeanlagen as published by the State Press in Berlin in 1939. In addition to dealing with this particular apparatus the book covers many other standard German electrical meters of the era.
Both the book and the heavy Multavi II electrical tester
are inexcellent condition. **SOLD**
---
WEHRMACHT PIONIER OR ENGINEER EQUIPMENT
This USM Books website is Copyright © 2013 by USM, Inc., and the text and images on it are fully protected by international copyright law. It is therefore, illegal for anyone to take any of the material found here and use it for their own purposes without our written permission, irrespective of any excuse they may feel they have for doing so.