• POSTAGE: 1 magazine $5.00, 2 - 5 magazines $7.50, 6 or more magazines $10.00.
• IF you wish to purchase optional insurance, add $2.75.
• We will be happy to ship abroad at additional cost. Please inquire.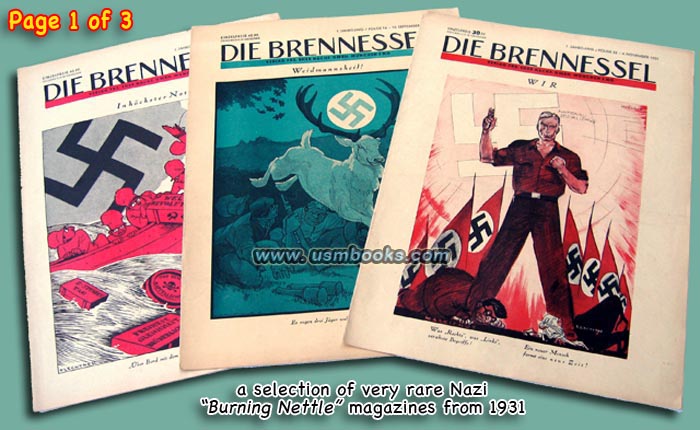 Die Brennessel or The Burning Nettle was a National Socialist publication that used satire and humor to ridicule the International Jewry, the Weimar Republic, and International Communism, government bureaucrats, Churchill, Roosevelt, France, modern art and called attention to the stern sacrifices of the SA and the Nazi Party in general. Even caricatures of Mickey Mouse and Charlie Chaplin made an appearance in the 10 June 1931 edition. It contained satirical articles and caricatures, often very anti-Semitic in the extreme. Very well done full-page and smaller illustrations addressed issues important to the Nazis in a hard-hitting way that no written information could. In the same way burning nettles sting the skin, the magazine was intended to burn those that were the object of its derision.

The 11-1/4 x 15 inch, 12 page magazine was published bi-weekly by Franz Eher Nachfolger of Munich from January 1931 until December 1938 and contained artwork by artists such as Eugen Osswald, Karl Prühäusser, Helmut Rothe, Otto Flechtner, Kurt Heiligenstaedt, Schondorff, Albert Reich, and others. The editor was SA-Obergruppenführer Wilhelm Weiß, one of the first members of the Nationalsozialistische Deutsche Arbeiterpartei or Nazi Party and participant in the Beer Hall Putsch and the march on the Feldherrnhalle in November 1923.

There is a good deal of early advertising for Nazi rings, swastika charms and other products that were no longer allowed once the Nazis took control in Germany.

Naturally, any issue of Die Brennessel must be considered rare and they are seldom offered for sale. Early issues in fine condition such as these, are highly sough after by libraries and museums. Many collections don't contain a single example. This is a rare opportunity to own one or more 80 year old issues published before the National Socialists came to power in Germany.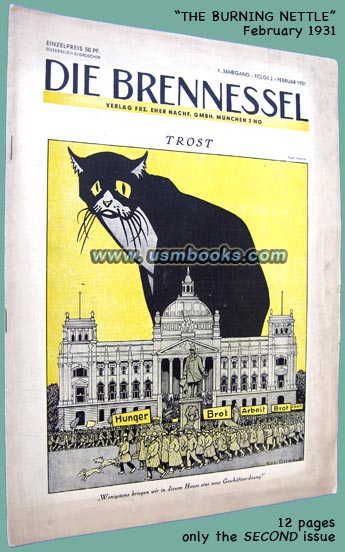 Die Brennessel
February 1931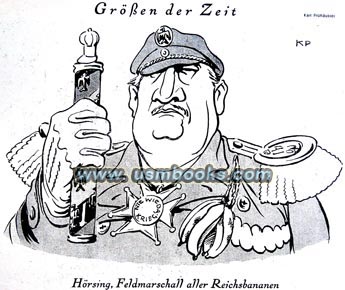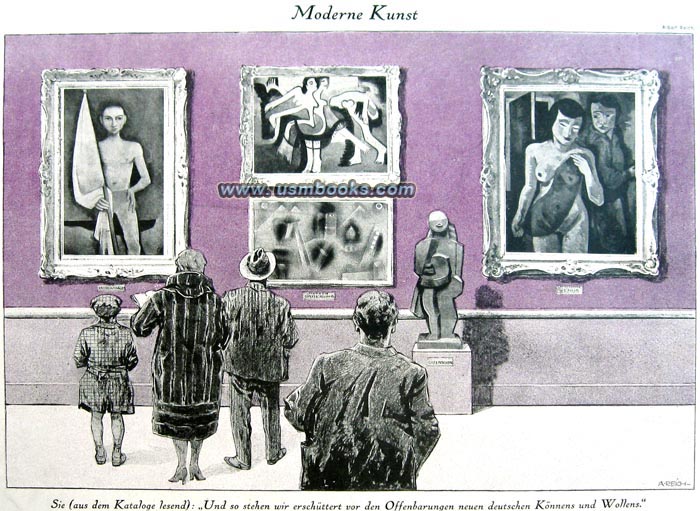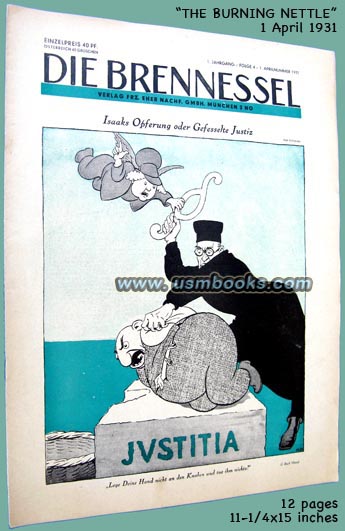 Die Brennessel
1 April 1931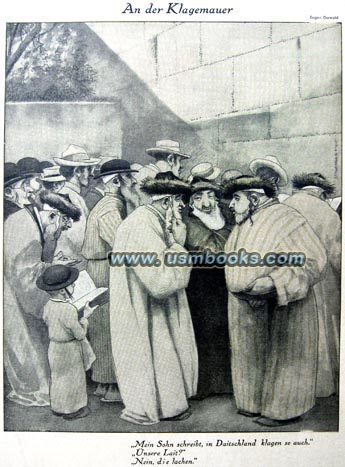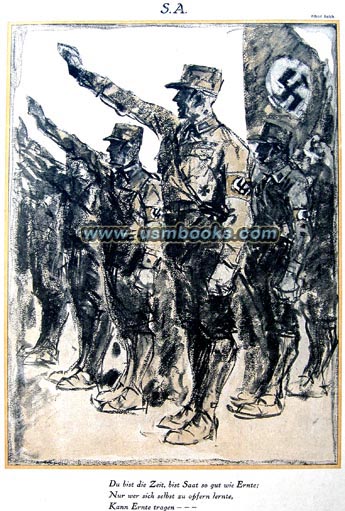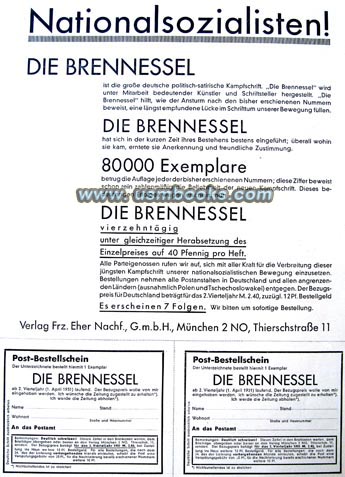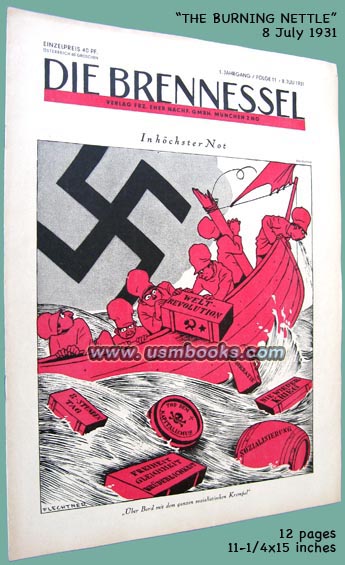 Die Brennessel
8 July 1931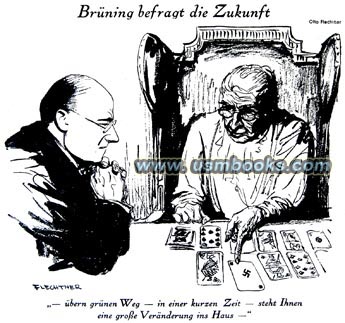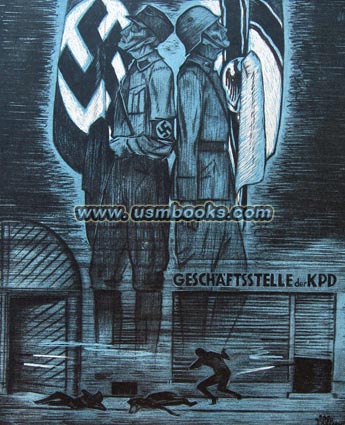 Superb political satire, cartoons, great advertising, and more.
$75.00 plus postage (see bottom of this web page)
$ 95.00 plus postage (see bottom of this web page)
Superb 100th anniversary Foreign Legion illustration, anti-Jewish cartoons, great advertising, fine SA illustration and a remarkably anti-Jewish cartoon on the back cover. Special 4-page center advertising section (magazine actually has 16 pages total).
$80.00 plus postage (see below)
Nazi prophecy cartoon, nice advertising, Nazi memorial illustration, eagle over Danzig and more.
ORIGINAL NAZI BURNING NETTLE MAGAZINES FROM 1931
DIE BRENNESSEL - THE BURNING NETTLE
ORIGINAL NATIONAL SOCIALIST HUMOROUS SATIRICAL MAGAZINES FROM THE FIRST YEAR OF PUBLICATION


The images and the entire text used on this and all other USMBOOKS web pages are the copyrighted property of USM Inc. Those images and the text may be used by others ONLY AFTER completion of a formal international licensing agreement and payment of a licensing fee! It is therefore, illegal for anyone to take any of the material found on USMBOOKS.com and use it for their own purposes without our written permission, irrespective of any excuse they may feel they have for doing so.