The images and the entire text used on this and all other USMBOOKS web pages are the copyrighted property of USM Inc. Those images and the text may be used by others ONLY AFTER completion of a formal international licensing agreement and payment of a licensing fee! It is therefore, illegal for anyone to take any of the material found on USMBOOKS.com and use it for their own purposes without our written permission, irrespective of any excuse they may feel they have for doing so.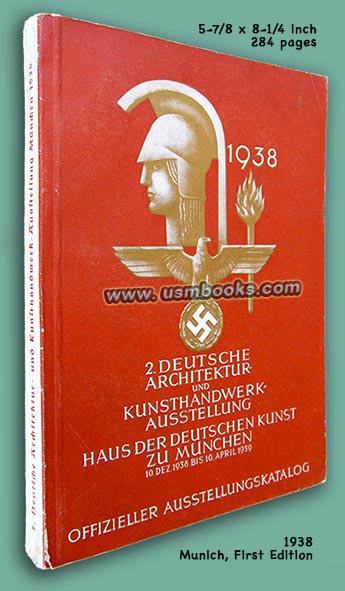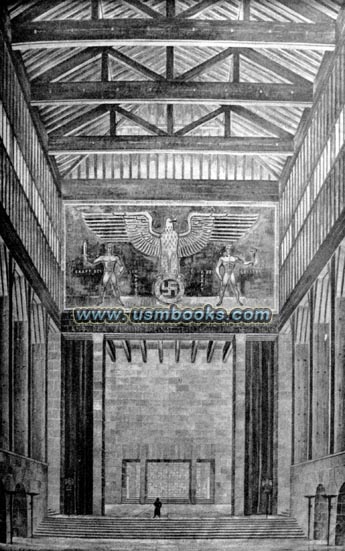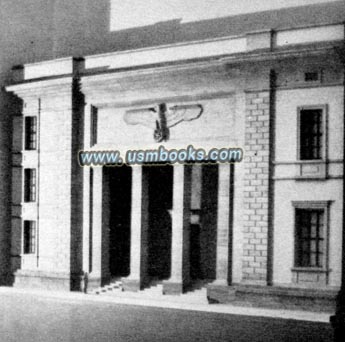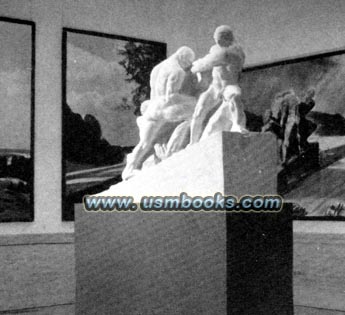 Offered for sale on this USMBOOKS web page is the SECOND full exhibition catalog for the Deutsche Architektur und Kunsthandwerkausstellung (German Architecture and Artistic Handwork Exhibition) held from 10 December 1938 through 10 April 1939 at the House of German Art in München, Hauptstadt der Bewegung (Munich, Capital of the Nazi Movement).
The 284-page, 5-7/8 x 8-1/4 inch heavily illustrated softcover book begins with a Hitler portrait, a picture of the House of German Art and a multi-color floor plans of the Haus der Deutschen Kunst, followed by a written overview of the building and a directory of each of the artists and the works being exhibited.

This section is followed by reproductions of the principal works of the exhibition, photographs of buildings like Hitler's Berlin Reichschancellery, interiors of Ordensburg Vogelsang and Crössinsee, Adolf Hitler Schools, Hitler Youth Homes, the Ski Academy of the German Police built on the orders of Reichsführer-SS Heinrich Himmler, models of monumental Nazi building plans, Reichsautobahn bridges and artwork, wrought iron, furniture, desk sets, jewelry, etc., all one to a page.
There is advertising from renowned Nazi period firms like Rosenthal, Werkstätten Spinn, ALA Anzeigen, Löwenbräu, Hochtief, Sager & Woerner, and the magazine Die Kunst im Dritten Reich.

The book is complete and in very good used condition. There is a small amount of scotch tape on he spine.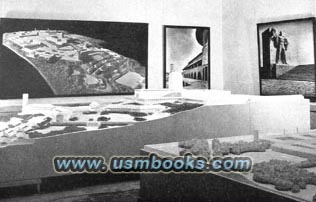 The Haus der Deutschen Kunst (House of German Art) in central München (Munich) was built on the orders of Adolf Hitler to replace the Crystal Palace Gallery which had been destroyed by fire. It was built under the direction of Professor Paul Ludwig Troost who died before it was finished. It was completed by his widow Gerdie Troost. Each year from 1937 onward paintings and sculpture of German artists from Germany and abroad were showcased at the House of German Art in summer and examples of architecture and artistic handwork were exhibited each winter.
Some of the artists with works exhibited in the 1938 show were Paul Ludwig Troost, Leonhard Gall, Albert Speer, Richard Klein, Woldemar Brinkmann, Kleemann, Junghanns, etc.

This rare Third Reich book was the first that most of the world knew of the Albert Speer's designs for Hitler's new Reichskanzlei or State Chancellery in Berlin, or the Speer designs for the complete rebuilding of Berlin along the East-West Axis. Photos of the Speer models for both are included.
This 1938 catalog to the 2nd Nazi architecture and
handwork
exhibition is

**SOLD**

USM book #119b
• IF you faster and safer prefer Priority Mail shipping with USPS Tracking add $6.45.
• IF you wish to purchase highly recommended, but optional insurance, add $2.95.
• We will be happy to ship abroad at additional cost. Please inquire.
1938 / 39 NAZI ARCHITECTURE EXHIBIT CATALOG MUNICH
OFFICIAL 1938 NAZI CATALOG FOR THE 2nd ARCHITECTURE AND ARTISTIC HANDWORK EXHIBITION IN MUNICH