The images and the entire text used on this and all other USMBOOKS web pages are the copyrighted property of USM Inc. Those images and the text may be used by others ONLY AFTER completion of a formal international licensing agreement and payment of a licensing fee! It is therefore, illegal for anyone to take any of the material found on USMBOOKS.com and use it for their own purposes without our written permission, irrespective of any excuse they may feel they have for doing so.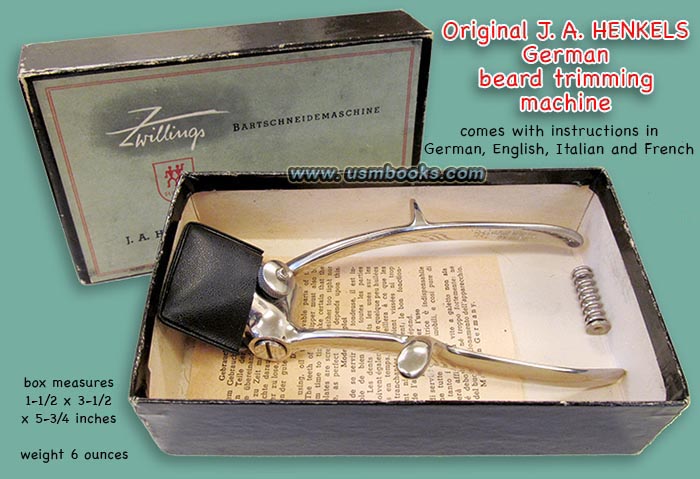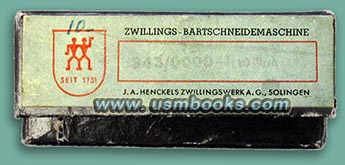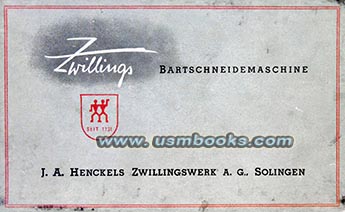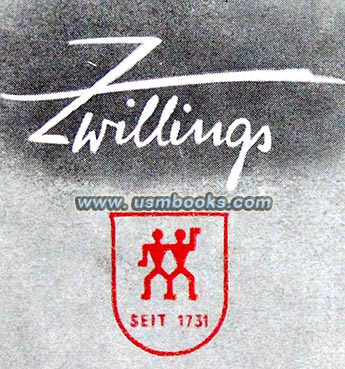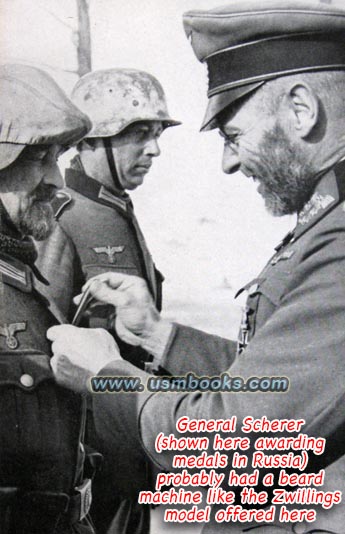 The machine was clearly made for domestic German sales as well as for export sales as the bottom of the instruction sheet is marked Made in Germany. If this Bartschneidemaschine was produced after World War II it would have been required to say "Made in West Germany".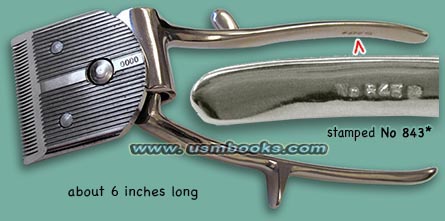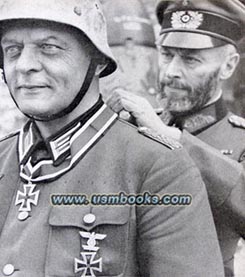 This is a wonderful vintage Zwillings Bartschneidemaschine or manual beard trimmer produced by the J.A. Henckels Zwillingswerk of Solingen during the Third Reich in Germany. It appears the beard trimmer was never used. It is still in its original box, comes with a protective cover for the trimmer head and an extra spring as well as an instruction sheet in the German, English, French and Italian languages.
During World War II the Henckels Zwillingswerk was a very significant producer of Nazi dress daggers and swords, bayonets and knives, and parts for Nazi machine guns. Their German military manufacturing's code was edg. Their weapons made the Zwilling or "Twins" symbol famous everywhere.

The Zwillings J.A. Henckels company is still in business today, manufacturing high-quality knives, cutlery, pots and pans, pocket knives, nail trimmers and other manicure tools.

Our original Third Reich Zwillings beard trimmer is in excellent condition, exactly as shown in our many photos.
This Nazi era J.A. Henckels Zwillingswerk manual beard trimmer is
**SOLD**

• IF you prefer Priority Mail shipping with USPS Tracking add $6.75.
• IF you wish to purchase highly recommended, but optional insurance, add $2.95.
• We will be happy to ship abroad at additional cost. Please inquire.
ORIGINAL NAZI ERA HENCKELS BEARD TRIMMER MADE IN SOLINGEN
IN THE ORIGINAL BOX
ZWILLINGS BARTSCHNEIDEMASCHINE,
A BEARD TRIMMER MADE BY HENCKELS IN SOLINGEN
IN ITS ORIGINAL BOX