The images and the entire text used on this and all other USMBOOKS web pages are the copyrighted property of USM Inc. Those images and the text may be used by others ONLY AFTER completion of a formal international licensing agreement and payment of a licensing fee! It is therefore, illegal for anyone to take any of the material found on USMBOOKS.com and use it for their own purposes without our written permission, irrespective of any excuse they may feel they have for doing so.
ZUCHT UND SITTE SCHRIFTEN
DIE NEUORDNUNG UNSERER LEBENSGESETZE
(RACE AND TRADITION - TEXTS ON THE
NEW ORDER OF OUR LAWS OF LIFE)
A RARELY ENCOUNTERED EXAMPLE OF THE MASTER PLAN FOR THE PERFECTION OF THE HUMAN RACE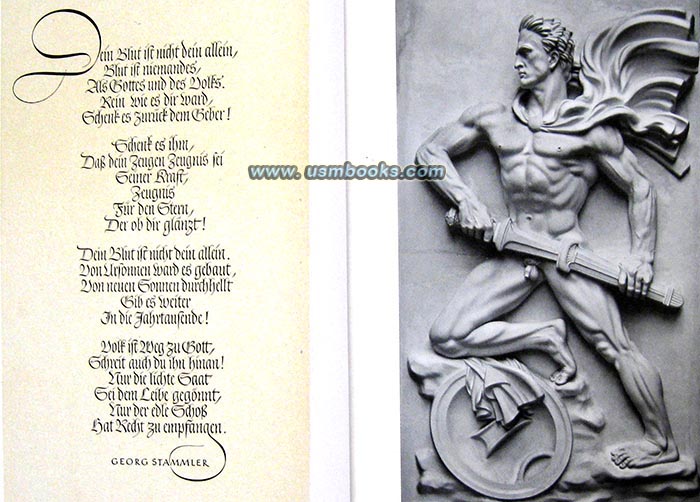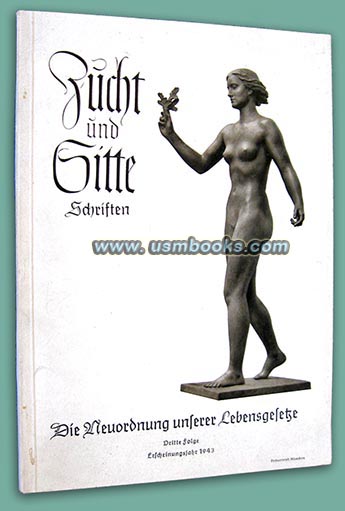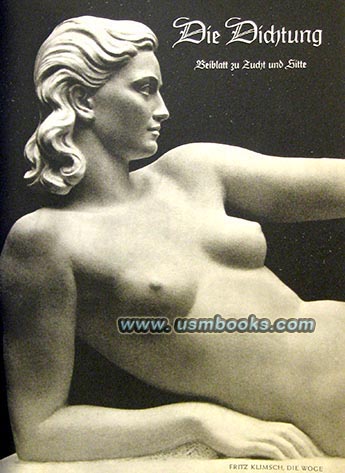 This is a special heavily illustrated Third Reich book on the specific subject of melding the natural laws of survival of the fittest and modern technical knowledge in order to create more beautiful, talented and genetically superior human beings. It is a third edition of Zucht und Sitte Schriften - die Neuordnung Unserer Lebensgesetze (Race and Tradition - Texts on the New Order of Our Laws of Life) as published by Engelhardt Verlag of Berlin in 1943.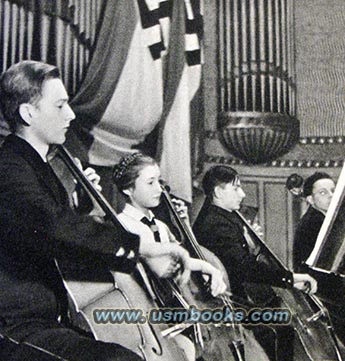 The 7-5/8 x 10-¾ inch, 96 page very heavily illustrated soft cover book contains articles about the desertification of the soul, the Olympic Laws, the German Mother, the Fabric or Texture of the German Nation, the Study of Blood Types and Racial Research as well as an article by Major Wulf Bley called Das Ja zum Leben which contains many military illustrations - a Luftwaffe pilot, a Willrich illustration of Hauptmann Werner Baumbach, an SS man, and others.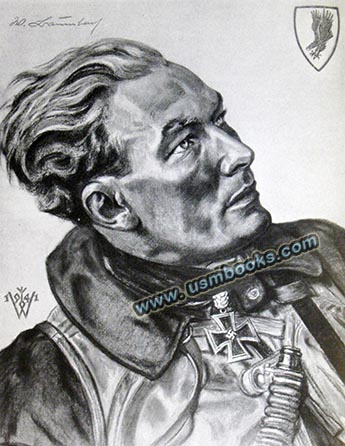 This 1943 edition of Zucht und Sitte also contains art by Professor Josef Thorak, Professor Arno Breker, Fritz Klimsch as well as a great photo of young Hitler Youth members playing Mozart.
This is not a book filled with photos of eagles and swastikas, but rather a book that approaches the subject of racial superiority from a truly "Nazi" perspective.

Complete and in very good used condition.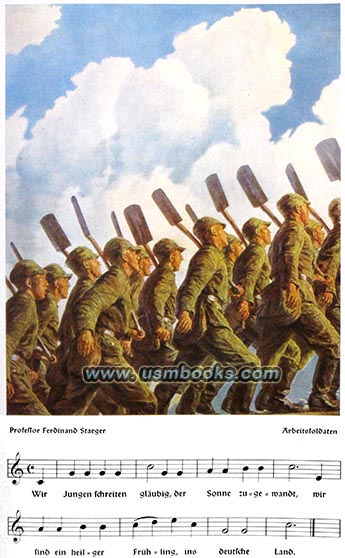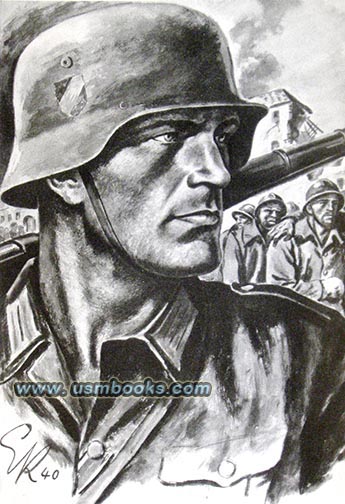 This rare 1943 Nazi book about racial laws and traditions is offered for
sale for $165.00 delivered by Media Mail in the continental USA.


USM book # 726
• IF you prefer faster and safer Priority Mail shipping with USPS Tracking add $6.95.
• IF you wish to purchase highly recommended, but optional insurance, add $3.45.
• We will be happy to ship abroad at additional cost. Please inquire.
NAZI RACIAL PURITY AND GERMAN RACE TRADITION BOOK 1943