This Third Reich Wolf Willrich portrait book is offered for sale
for $195.00 delivered by Media Mail in the continental USA.


USM book # 407
•IF you prefer faster and safer Priority Mail shipping with USPS Tracking add $6.95.
• IF you wish to purchase optional insurance, add $3.45.
• We will be happy to ship abroad at additional cost. Please inquire.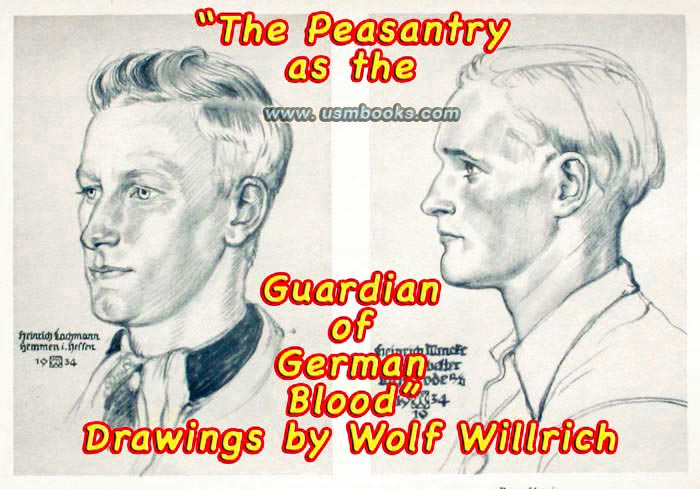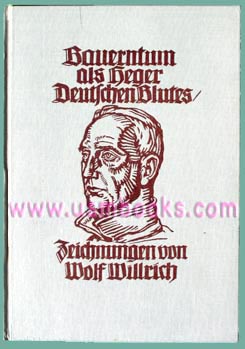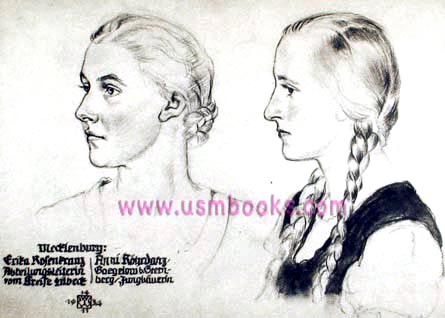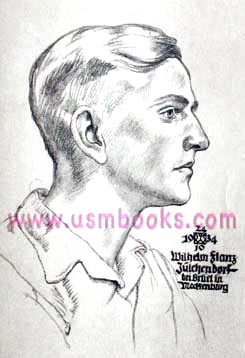 This is a beautiful example of the very rare 7-1/8 x 10 inch, 48 page linen bound hard cover book Bauerntum als Heger Deutschen Blutes (The Peasantry - Guardians of German Blood) illustrated by Wolfgang Willrich, with a foreword by Reichsbauernführer R. Walther Darré as published by Blut und Boden Verlag in Goslar in 1935.
Following the single page foreword by Darré there is a three page introduction of the subject of the peasantry in Germany as guardians of precious German blood, written by Willrich himself. The remaining pages consist of splendid, highly detailed Willrich pencil drawings of the men, women and children of the German peasantry in the mid 1930s. Without reading the introduction that Willrich wrote, there isn't the slightest doubt that he was greatly captivated by the Nazi interpretation of Nordic beauty, and that he was the perfect artist to render it.

Blut und Boden Verlag in Goslar was the perfect publisher for a book of this type, and it found a ready audience among Nazis and those sympathetic with the racial philosophy of the NSDAP.
The subjects of Willrich in this book bear little resemblance to the racially diverse population one would encounter among the peasantry of Germany today. The book is filled with drawings of strong-looking Aryan men, striking Aryan women and beautiful Caucasian children.
It was a fairly expensive book at the time it was published 75+ years ago and this one still has a price sticker inside the back cover from a book dealer in Munich showing that it cost RM3.60. This book is in splendid original condition with a single, relatively unimportant defect: the blank page inside the front cover was removed by a former owner probably because it originally had a Nazi sympathetic dedication. Every other page in the book is in excellent condition.
ORIGINAL NAZI WOLF WILLRICH PORTRAIT BOOK
THE RARE 1935 WOLF WILLRICH
HARDCOVER PORTRAIT BOOK
BAUERNTUM ALS HEGER
DEUTSCHEN BLUTES
(THE PEASANTRY - GUARADIANS
OF GERMAN BLOOD)


The images and the entire text used on this and all other USMBOOKS web pages are the copyrighted property of USM Inc. Those images and the text may be used by others ONLY AFTER completion of a formal international licensing agreement and payment of a licensing fee! It is therefore, illegal for anyone to take any of the material found on USMBOOKS.com and use it for their own purposes without our written permission, irrespective of any excuse they may feel they have for doing so.