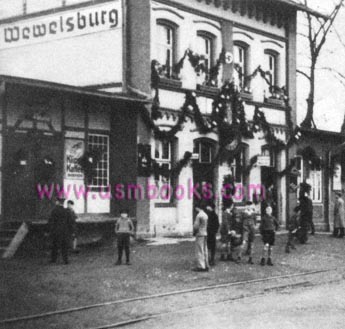 Wewelsburg no longer has a railway and the train station has been converted to other uses.

The portion of an original telegraphic insulator from the
Bahnhof
at Wewelsburg and the photo of the railways station itself are offered here as relics of the town's past. Comes with a signed and dated Certificate of Authenticity.


The images and the entire text used on this and all other USMBOOKS web pages are the copyrighted property of USM Inc. Those images and the text may be used by others ONLY AFTER completion of a formal international licensing agreement and payment of a licensing fee! It is therefore, illegal for anyone to take any of the material found on USMBOOKS.com and use it for their own purposes without our written permission, irrespective of any excuse they may feel they have for doing so.
THIRD REICH INSULATOR RESCUED AT WEWELSBURG
A LARGE PART OF AN INSULATOR RESCUED FROM
THE THIRD REICH TRAIN STATION AT
WEWELSBURG, GERMANY

This Third Reich insulator from Wewelsburg is offered for sale
for $125.00 delivered to any address in the continental USA.
We will be happy to ship abroad at additional cost. Please inquire.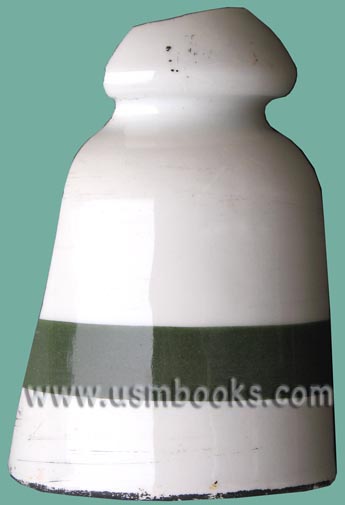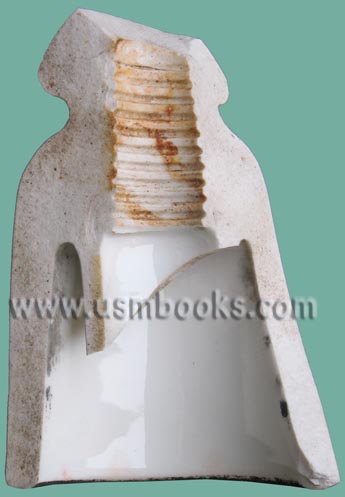 Wewelsburg, a small village of the town of Büren in Paderbornland, Westfalia (Nord), Germany has for centuries been the site of a beautiful stone castle set atop a natural rock outcropping overlooking a wide green valley. It has a long and impressive history, accommodating Napoleon, the Prussians and countless religious leaders. On 27 July 1934 the Nazi Party signed a 100 year lease for the castle ruins and Wewelsburg became the site of the SS Ordensburg and Reichsführerschule.

Reichsführer-SS Heinrich Himmler spent enormous amounts of money on the restoration and conversion of Wewelsburg Castle. He even opened Konzentrationslager Wewelsburg-Niederhagen (a branch of the Sachsenhausen Concentration Camp near Berlin) nearby to create a labor pool to be used for the restoration.
Eventually, the castle was placed under the command of SS-General Siegfried Taubert and contained the SS Library of 12,000 volumes, a fine collection of art and the personal weapons collection of Heinrich Himmler.

Almost everybody that arrived at Wewelsburg Castle arrived at the two-story Wewelsburg railway station (shown below during the Third Reich and in the photo at the top of this web page in 2008).