The images and the entire text used on this and all other USMBOOKS web pages are the copyrighted property of USM Inc. Those images and the text may be used by others ONLY AFTER completion of a formal international licensing agreement and payment of a licensing fee! It is therefore, illegal for anyone to take any of the material found on USMBOOKS.com and use it for their own purposes without our written permission, irrespective of any excuse they may feel they have for doing so.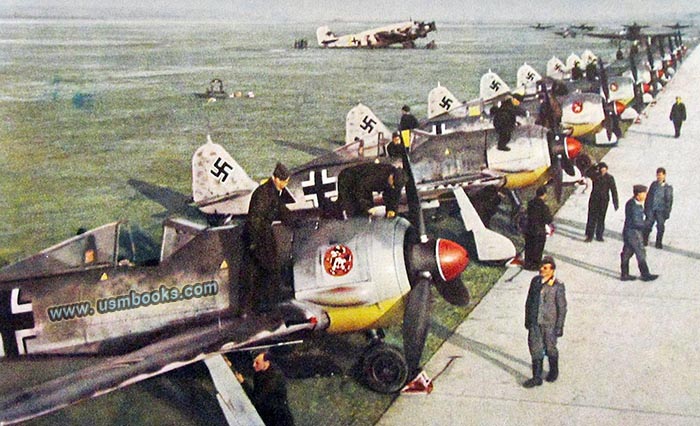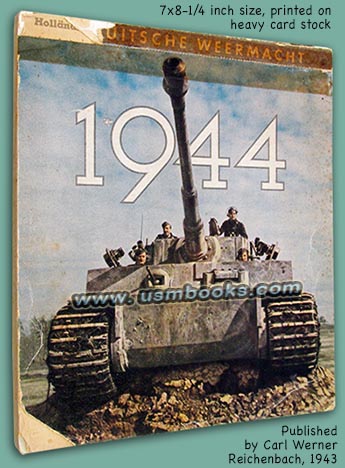 This is a very nice example of the 7 x 8-¼ inch heavily illustrated 1944 Deutsche Wehrmacht Kalender, the German Armed Forces calendar published by the printing company of Carl Werner in Reichenbach. This is a weekly calendar - every one of the 52 color pages has the days of one week of the year 1944 on it, as well as a perforated 4-1/8 x 5-3/4 inch color image that could be torn out and used as a postcard. NONE of the color images were used as postcards and NONE are missing!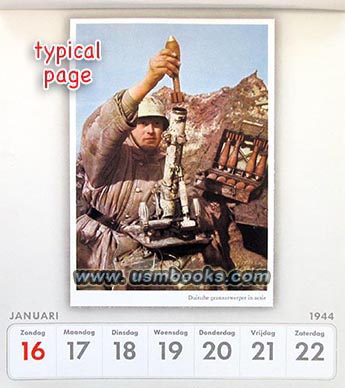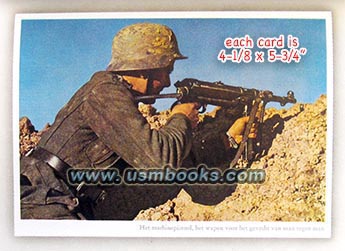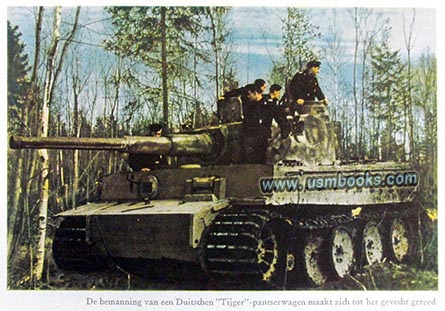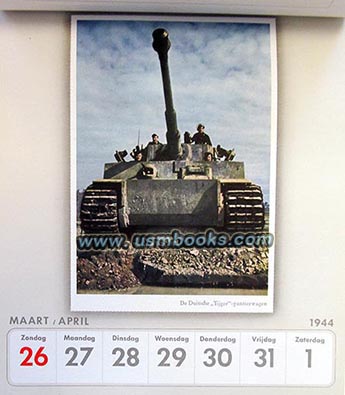 Each color image has a postcard back with a caption explaining the subject matter of the image, as well as the name of the Kriegsberichter who took the original picture.

Note that this Duitsche Weermacht calendar was printed for the Dutch market in occupied Holland - the introduction on the first page and the photo captions are in the Dutch language. Dutch is a Saxon language like German and English and it can can often be read fairly easily by those who know English and German.

Any Nazi era perforated calendar that has not had some of its pages torn out is extremely rare 70+ years after the fact. The fact that this is a military themed Third Reich COLOR calendar and that it is in the Dutch language, makes it an even rarer piece!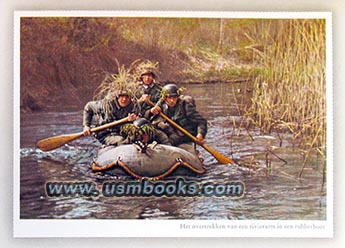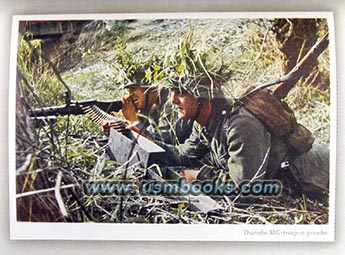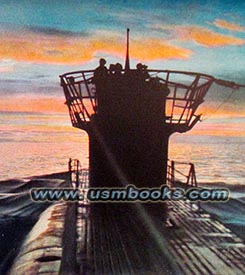 The heavy card stock calendar pages have color photos of Kriegsberichter or war correspondents and show huge Nazi tanks and their crews, Luftwaffe airplanes (Me 109, Me 110, Ju 87, Ju 52, Ju 88, Fw90, Do 217, Fw 189) machine guns, Kriegsmarine submarines, minesweepers and destroyers, huge Flak guns on a train and in snowy battlefields, German soldiers with bicycles, the Westwall defenses, Gebirgsjäger on skis, etc., etc. Lots of vehicles, equipment and uniforms, of course.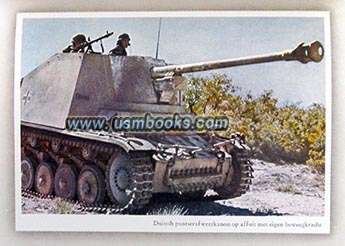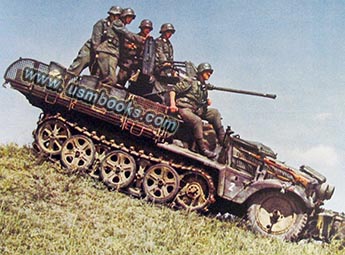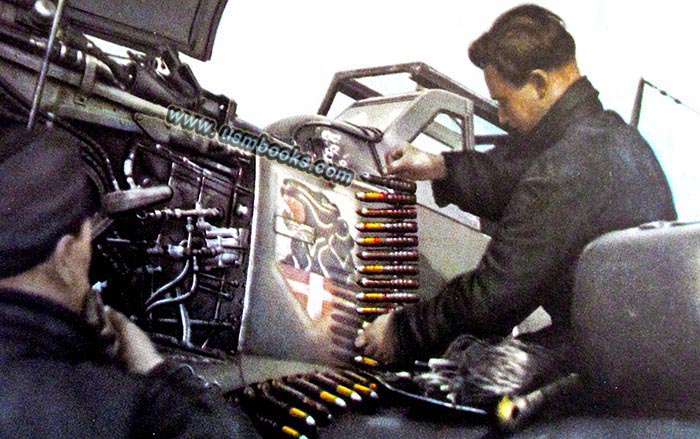 While the front and back pages show wear, the calendar portion is complete and the 52 color pictures are as bright and vivid as new, and it still has its original metal wall hanger on the back.
This rare Nazi military color wall calendar for 1944 is offered for sale
for $245.00 delivered by Media Mail in the continental USA.

• IF you prefer faster and safer Priority Mail shipping with USPS Tracking add $6.95.
• IF you wish to purchase highly recommended, but optional insurance, add $4.75.
• We will be happy to ship abroad at additional cost. Please inquire.
RARE NAZI ARMED FORCES MILITARY COLOR CALENDAR 1944
THE 1944 COLOR EDITION
OF THE
DEUTSCHE WEHRMACHT KALENDER
~ COMPLETE ~