NAZI NEWSPAPER VÖLKISCHER BEOBACHTER
DIFFERENT LATE WAR EXAMPLES

The Nazi Party Völkischer Beobachter (National Observer) was the largest daily newspaper in Nazi Germany, printed in three editions - Berlin, Vienna and Munich. It dominated the daily paper news and advertising business during the Third Reich and was nicknamed the oldest Kampfblatt Adolf Hitlers, Adolf Hitler's Oldest Battle Paper.

The papers on this USMBOOKS web page are very late war examples of the Wiener Ausgabe or Vienna edition of the Völkischer Beobachter with very interesting articles about the war on the East and West front, home front news, advertising, etc.
These original Third Reich issues of the VB are priced individually and shipping is $2.95 by 1st Class Mail and $6.45 by Priority Mail in the USA if you buy only one or buy them all. Foreign buyers please inquire about postage costs.
Völkischer Beobachter
10 September 1939
Special Edition Map
Shown left is a special edition of the Vienna Edition of the VB. It is a 17 x 23 inch map of Poland (officially released by the Gaupropaganda-Amt Niederdonau) to familiarize millions of VB reader with the new German territory. It is dated 10 September 1939, less than two weeks after the German invasion of Poland.

Folded, in used condition.
$$SOLD$$
Völkischer Beobachter Wednesday 6 December 1944, front page (1 & 2) only
RIGHT: The fourth year of the American 2-front war, the 90th birthday of Field Marshal von Mackensen, the visit of Generalmajor Lorenz (Knights Cross with Oak Leaves) to Baldur von Schirach in Vienna, Baldur von Schirach's strong message about the necessity of heavy resistance when the Allies get near Vienna, the latest recipients of the Knights Cross, KvK, etc.
$ SOLD $
(see top of this web page)
Völkischer Beobachter Monday 11 March 1940, front page (1 & 2) only
LEFT: War news from France, the meeting of Foreign Minister von Ribbentrop with Mussolini and Count Ciano in Rome, Gauleiter Josef Bürckel opens the second War Exhibition in Vienna, IRA attacks in Londonderry, etc.
$$SOLD$$
Völkischer Beobachter
Special Edition Map 'Westraum'
Völkischer Beobachter Saturday 12 August 1944, page 5/6 only
Photo article about the V1 rocket, job ads, birth announcements and obituaries of war casualties. These include one for the 31 year old pharmacist SS-Untersturmführer Ph.Mr. Helmuth von Trnkoczy, Oberapotheker des Heeres, who died in France on 31 July 1944. A few small pieces of tape.
$ SOLD $
(see top of this web page)


The images and the entire text used on this and all other USMBOOKS web pages are the copyrighted property of USM Inc. Those images and the text may be used by others ONLY AFTER completion of a formal international licensing agreement and payment of a licensing fee! It is therefore, illegal for anyone to take any of the material found on USMBOOKS.com and use it for their own purposes without our written permission, irrespective of any excuse they may feel they have for doing so.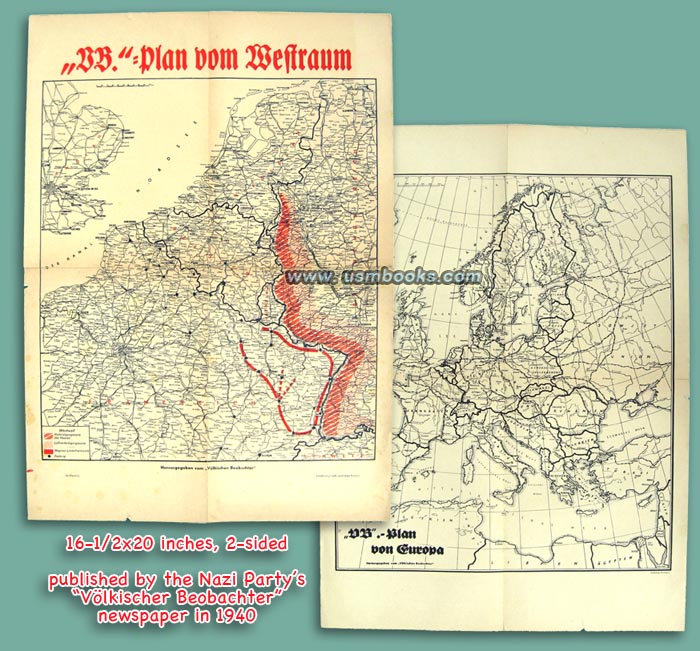 This 16-1/2 x 20 inch VB-Plan vom Westraum shows Holland, Belgium and France, printed to familiarize millions of VB reader with countries in western Europe that would soon be part of Adolf Hitler's Greater Germany. The Maginot Line in France is shown, as are the German ground and air forces on the French-German border and the border between Nazi Germany and southeastern Holland.

The back has a black & white map of Europe on which Austria, Poland, Bohemia and Moravia are shown as part of Grossdeutschland and Slovakia as a separate country, so while this special VB map is undated, it had to be printed in late 1939 or early 1940. Folded, in nice used condition.
$$SOLD$$