The images and the entire text used on this and all other USMBOOKS web pages are the copyrighted property of USM Inc. Those images and the text may be used by others ONLY AFTER completion of a formal international licensing agreement and payment of a licensing fee! It is therefore, illegal for anyone to take any of the material found on USMBOOKS.com and use it for their own purposes without our written permission, irrespective of any excuse they may feel they have for doing so.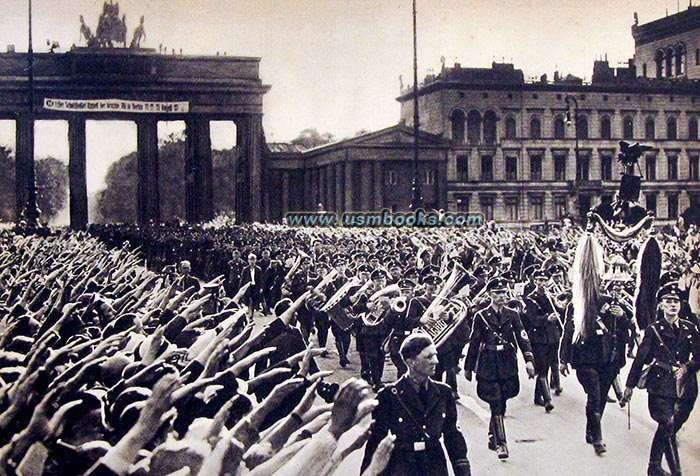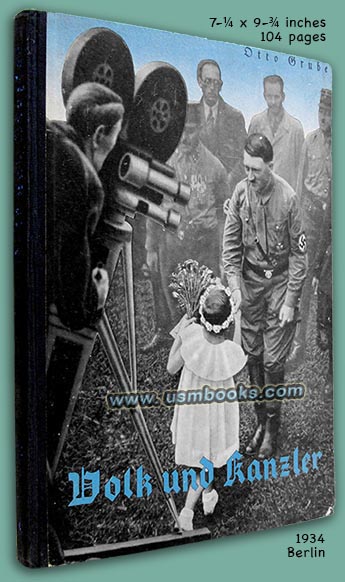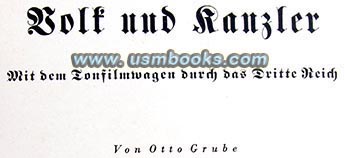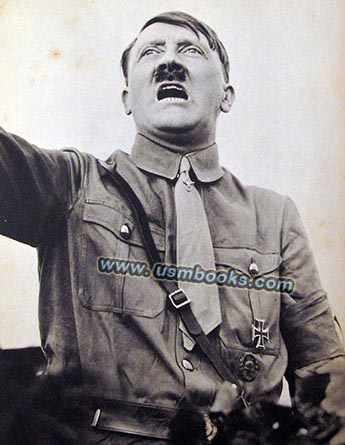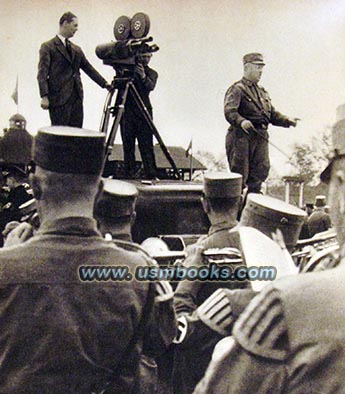 This is a wonderful, rare Third Reich photo book called Volk und Kanzler (The Nation and Its Chancellor) by Otto Grube. The sub-title Mit dem Tonfilmwagen durch das Dritte Reich roughly translates as "With the Sound Movie Car through the Third Reich" and refers to the fact that silent movies were outdated and that the National Socialists took advantage of modern technology - moving pictures with sound. The Tonfilmwagen was a "moving film studio" that made it possible to bring Hitler closer to his nation and its people.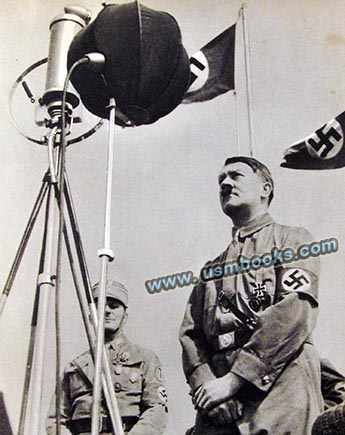 The book starts with the historic day, 30 January 1933, when the "National Socialist dream came true". There are full-page photos of Hitler waving to saluting fans from a window in the Reichschancellery in Berlin, followed by photographs of the Reichstag arson fire, 21 March 1933 in Potsdam, the commissioning of Panzerschiff 'Deutschland', Hitler Youth gatherings with HJ Leader Baldur von Schirach, the "Day of the Black Guard" SS parades in Berlin, President von Hindenburg's 85th birthday, Tannenberg, Dr. Joseph Goebbels with young Italian Fascists and Italian Ambassador Vittorio Cerutti, the 'Graf Zeppelin' above the Nazi Party Day Stadium in Nürnberg, men of the Reichsarbeitsdienst at work, Hitler's visit to the Siemens Factory on 10 November 1933, etc., as well as many photos of camera men at work.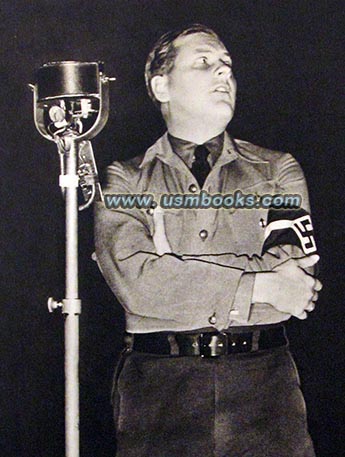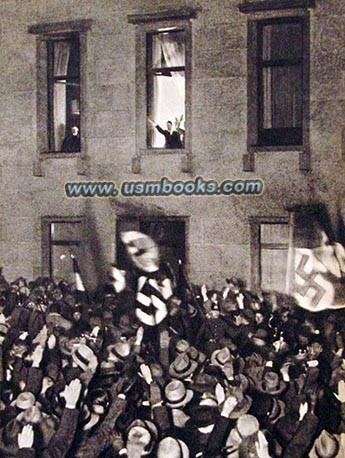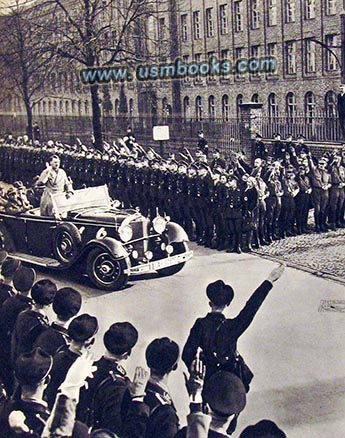 In the foreword, author Otto Grube explains that many people only witnessed the extraordinary achievements of the 'Revolutionary Year" of 1933 from afar, but that there was a desire by citizens of the German nation to know more about Adolf Hitler, to see him in different circumstances, to create a closer relationship between the people and chancellor. The source of the photos in Volk und Kanzler was UfA Wochenschau, a weekly news program shown in theaters that informed German citizens about the latest news in Nazi Germany and abroad, entertainment, sport, etc.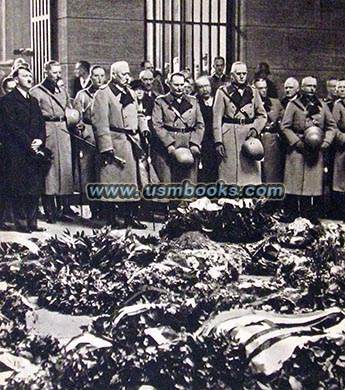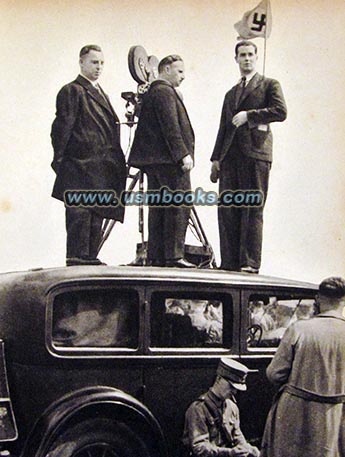 This 7-¼ x 9-¾ inch, hardcover 104 page Nazi photo book was published by Verlag der Reimar Hobbing of Berlin in 1934. Many photos in Volk und Kanzler are of course, not found in other Third Reich publications such as the Heinrich Hoffmann books. This example is in very nice used condition. No odor.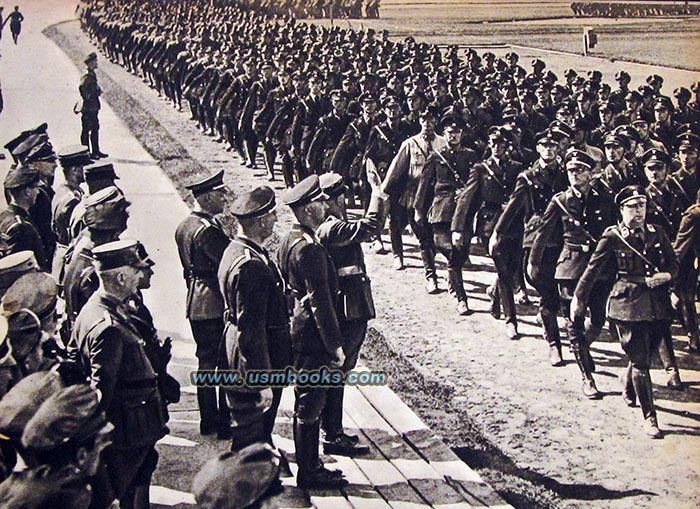 This rare Nazi photo book Volk und Kanzler is **SOLD**


USM book # 861
• IF you prefer faster and safer Priority Mail shipping with USPS Tracking add $6.95.
• IF you wish to purchase highly recommended, but optional insurance, add $4.75.
• We will be happy to ship abroad at additional cost. Please inquire.
SELDOM-SEEN NAZI PHOTO BOOK 'THE NATION AND ITS CHANCELLOR'
RARE THIRD REICH PHOTO BOOK THAT WAS INTENDED TO BRING HITLER CLOSER TO THE POPULATION OF NAZI GERMANY