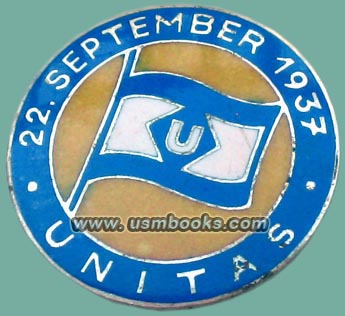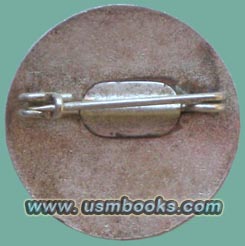 This simple looking 28 mm (1-1/8 inch), 3-color cloisonné badge certainly doesn't have the appearance of anything clandestine or sinister, with its logo flag, the date 22 SEPTEMBER 1937 and the word UNITAS. It probably should.

This badge is very well-made, certainly made in Germany and most likely by a company like Deschler, which also made Nazi Party membership badges. The medal is silver in color, the outer ring and edges of the flag are cornflower blue, and the other colors are dark yellow and white cloisonné. There are no other markings on it.
The story of this badge is very complicated, but one that is told in all its greasy details in the book "The History of Modern Whaling" (a
google search
will allow you to read the book online).
This badge is the launch medallion for the
Unitas Walfangmutterschiff
or whale processing ship shown below, the largest whaling ship in the world at the time. Our picture below shows it leaving Bremen on its shakedown cruise.
Briefly, Germany desperately needed to get into the club that controlled the whaling business in the mid 1930s but was repeatedly stifled by the British and Norwegian interests that ran the whaling syndicate and kept the prices of whale oil and pulp artificially high.
Nazi Germany needed whaling in order to accumulate fat that could be used in food and food supplements, thereby releasing other fats for military purposes.
The help of Dutch manufacturing giant
Unilever
NV was provided through their German sales subsidiary,
Jurgens van den Bergh Margarine Verkaufs Union GmbH
which leased ships to another upstart Unilever subsidiary,
UNITAS Deutsche Walfang GmbH of Hamburg
. Presto! - Germany was in the whaling business and the price of whale oil in the
Reich
dropped by two-thirds! Interestingly enough, Jurgens Van Den Bergh Margarine Verkaufs Union GmbH whaling ships Empire Unitas IV, Empire Unitas V, Empire Unitas VIII, and Empire Unitas X, were requisitioned by the Kriegsmarine in 1940 and seized in May 1945.
A very rare original Third Reich cloisonné badge with an amazing story and in excellent original condition.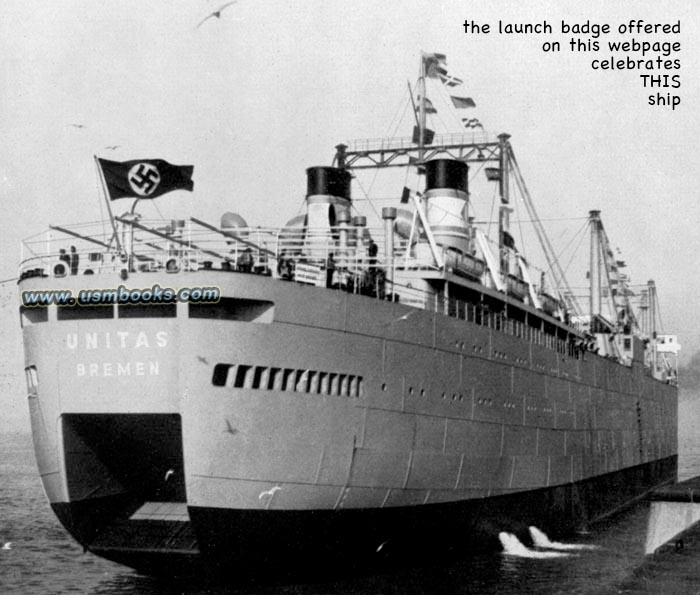 This rare 1937 Nazi Unitas whaling fleet pin (item U37) is offered for sale
for $95.00 delivered by Standard Mail in the continental USA.

• IF you prefer faster and safer Priority Mail shipping with USPS Tracking add $6.50.
• IF you wish to purchase highly recommended, but optional insurance, add $3.25.
• We will be happy to ship abroad at additional cost. Please inquire.
NAZI UNITAS WHALING COMPANY LAUNCH MEDALLION PIN
BEAUTIFULLY MADE
BADGE FOR THE
NAZI WHALING
COMPANY UNITAS -
PERHAPS THE MOST
FASCINATING
BACKGROUND WE HAVE
EVER UNCOVERED FOR
ANY NAZI ERA
GERMAN BADGE


The images and the entire text used on this and all other USMBOOKS web pages are the copyrighted property of USM Inc. Those images and the text may be used by others ONLY AFTER completion of a formal international licensing agreement and payment of a licensing fee! It is therefore, illegal for anyone to take any of the material found on USMBOOKS.com and use it for their own purposes without our written permission, irrespective of any excuse they may feel they have for doing so.