The images and the entire text used on this and all other USMBOOKS web pages are the copyrighted property of USM Inc. Those images and the text may be used by others ONLY AFTER completion of a formal international licensing agreement and payment of a licensing fee! It is therefore, illegal for anyone to take any of the material found on USMBOOKS.com and use it for their own purposes without our written permission, irrespective of any excuse they may feel they have for doing so.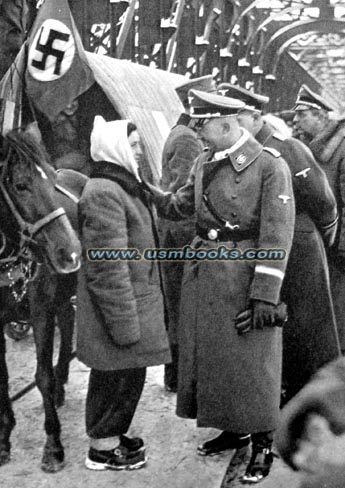 Offered for sale on this USMBOOKS web page is a 100% original Third Reich Umsiedler-Ausweis number 904501, issued to 18 year old Nelly Streib in Posen on 26 May 1944. Nelly Streib, was born on 7 October 1926 in Prischib in the USSR. She was a slim unmarried, blond farm worker, 1.52 m (under 5 ft!) tall with grey-blue eyes. The gray leinen or oilcloth ID measures 4-¼ x 5-¾ inches and has four panels.
This is a very rare Nazi document. Unfortunately, Nelly Streib took her ID photo out of the Ausweis at some point, but one of the original rivets that held it in place is still there. Ootherwise this original historical Umsiedler-Ausweis is in nice used condition, exactly as shown above.
This is a very rare Nazi ID document, a 1944 dated
Deutsches Reich Umsiedler-Ausweis
.
Umsiedler-Ausweise
were issued to
Volksdeutsche
or ethnic German immigrants or German nationals returning to Nazi Germany from Süd-Tirol, Bessarabien (in Rumania), the Baltic states, Croatia, the Soviet Union, Hungary and several other European states.
The background of the Adolf Hitler / Reichsführer-SS Heinrich Himmler plan to repatriate and resettle as many ethnic Germans or
Volksdeutschen
as possible is quite interesting and well-explained in the 1941 book
Heimkehrer
(Returnee) by Polizei Hauptmann Hans Richter.
Hitler made Himmler (shown in the reference photo above) the Kommissar of the 'Office of Repatriation' and Himmler placed responsibility for the follow-through in the hands of his SS and Police. Establishing entry points for the Greater German Reich in Graz, Belgrade, Posen and Trecks by Przemysl, the Sicherheitsdienst der SS (SD or Security Service) vetted, processed, logged, identified and passed on each and every returnee so that only ethnic Germans were permitted to resettled in Germany. Once supplied with SD identification such as this Umsiedler-Ausweis, the Heimkehrer were examined by medical personnel, evaluated, provided with necessary food and clothing and assigned to temporary housing where they could reassemble their families.
Streib's Umsiedler-Ausweis has the appropriate rubber stamp of the Chef der Sicherheitspolizei und des SD of the Central Immigrant Office at Litzmannstadt on panel 3. On the back panel is a rubber stamp from the same Litzmannstadt Einwandererzentralstelle about compensation that she would receive, apparently after additional background facts had been checked.
This rare original 1944 Nazi Umsiedler-Ausweis is **SOLD**.

• IF you prefer Priority Mail shipping with USPS Tracking add $6.50.
• IF you wish to purchase highly recommended, but optional insurance, add $4.75.
• We will be happy to ship abroad at additional cost. Please inquire.
RARE 1944 NAZI IDENTITY DOCUMENT ISSUED TO A WOMAN BY THE SD
RARE UMSIEDLER-AUSWEIS ISSUED BY THE NAZI CHEF DER SICHERHEITSPOLIZEI AND THE SD TO AN ETHNIC GERMAN WOMAN FROM THE SOVIET UNION IN 1944