The images and text used on this and all other USM web pages are the copyrighted property
of USM Inc. Those images and the text may be used by others ONLY AFTER completion
of a formal international licensing agreement and payment of a licensing fee!
---
NAZI TRIUMPH OF THE WILL PHOTO BOOK
ONE OF THE RAREST OF THE
HEINRICH HOFFMANN PHOTO BOOKS
DER TRIUMPH DES WILLENS
- KAMPF UND AUFSTIEG
ADOLF HITLERS UND
SEINER BEWEGUNG
(THE TRIUMPH OF THE WILL -
BATTLES AND THE RISE TO
POWER OF ADOLF HITLER
AND HIS MOVEMENT)
This rare Nazi book
Der Triumph des Willens
is **SOLD**
We will be happy to ship abroad at additional cost. Please inquire.
USM book # 130
This USM Books website is Copyright © 2011 by USM, Inc., and the text and images on it are fully protected by international copyright law. It is therefore, illegal for anyone to take any of the material found here and use it for their own purposes without our written permission, irrespective of any excuse they may feel they have for doing so.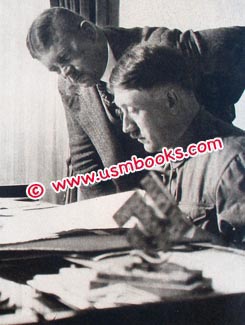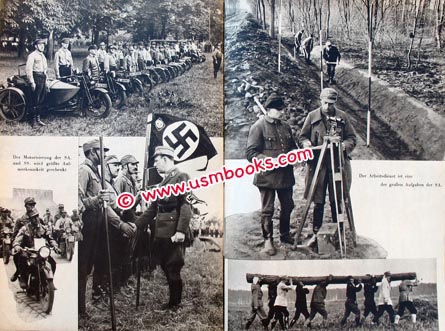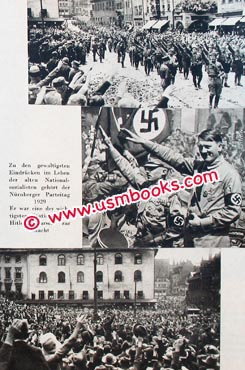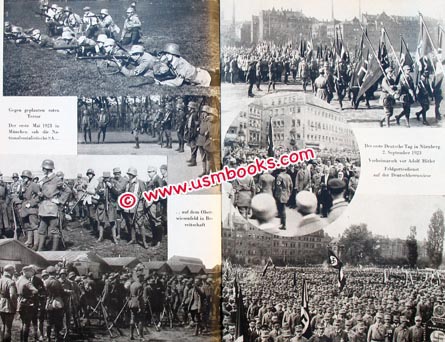 This is as fine an example as we have ever seen of the extremely rare, very early 7 x 10 inch, 64 page, very heavily illustrated soft cover Heinrich Hoffmann photo book
Der Triumph des Willens - Kampf und Aufstieg Adolf Hitlers und seiner Bewegung
(The Triumph of the Will - Battles and the Rise to Power of Adolf Hitler and his Movement) as published early in 1933 by "Zeitgeschichte" in Berlin, Germany. The only two other
Hoffmann books
listed on the back of the title page of this book are
Hitler wie ihn keiner kennt
and
Das Braune Heer
.
Published as soon as
Adolf Hitler
was appointed the 23rd Chancellor of Germany, the book opens with a five page biography of the Nazi Führer by Heinrich Hoffmann's son-in-law and Hitler Youth Leader, Baldur von Schirach. The
NSDAP
was a very small, close-knit group at the time.
The remainder of this book consists of the rarest early Nazi photos from the very large image library of Hitler's personal friend and photographer, Heinrich Hoffmann.
The captioned photos begin in the very early 1920s and depict all the formations, as well as many of the leaders and gatherings of the tiny Nazi Party in its first 10 or 12 years. There are personalities like Hermann
Göring
, Brückner, Ritter von Epp, von Pfeffer, Horst Wessel, Ernst Röhm, Reichsführer-SS Heinrich
Himmler
, Deputy Führer Rudolf
Hess
, Propaganda Minister Dr. Josef Goebbels and Reichsminister Alfred Rosenberg.
There are photos of events like Hitler's Putsch trial and his imprisonment in Landsberg, Deutscher Tag,
Reichsparteitag
(Nazi Party Days),
SA
and
SS
funerals, electioneering, Hitler Youth marches, Hitler's birthplace in Braunau am Inn, horse mounted troops, winter sports, etc.
This book is among the rarest of all
Heinrich Hoffmann books
and is in nice used condition. The bottom right corner of the front cover has a small piece of scotch tape on the inside and the spine has a small piece of scotch tape over the top staple.