This superb Third Reich fabric art and manufacture book is
offered for sale for $65.00 delivered in the continental USA.

We will be happy to ship abroad at additional cost. Please inquire.
USM book# 276
A good deal of the Third Reich German material on this website finds a home in the collections of libraries, foundations and museums around the world where it is conserved for the use of scholars, authors, researchers and others seeking documentation that sheds real light on things and events that are now obscure at best.
Enormous war-years propaganda, followed by subsequent decades of very carelessly assembled "docu-dramas" on TV and in the movies have forever altered the concept of life in Third Reich Germany for average people in the 21st century. Few today would believe for example, that in the Grossdeutschland of 1939 with 90+ million people, there were only four million who joined the Nazi Party, or that the entire Reichsautobahn system was built for a top speed of just 66 miles per hour (100 kilometers per hour).
Today there are many respectful students of history who look back across a huge void of nonsense, hysteria and deception for objective historical information about living conditions in Third Reich Germany. On this USMBOOKS web page we offer items of little or no military or political significance that do provide real insights in the lives of ordinary Germans during the Third Reich.
KNORR FOODS CATALOG AND RECIPES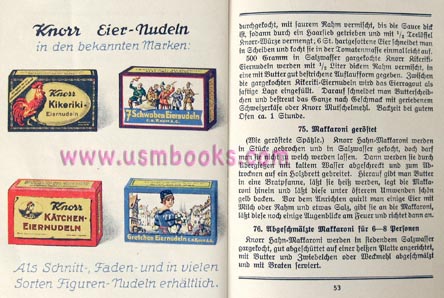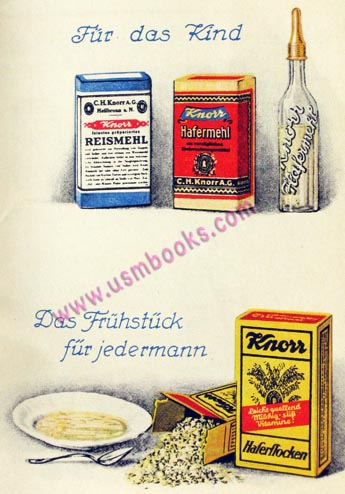 This handy late 1930s Knorr kitchen cookbook is filled with recipes as well as pictures and text that were intended to quickly familiarize an average Third Reich Hausfrau not only with the Knorr grocery line but with practical, simple recipes that utilize Knorr products to make healthy meals. Very good condition. Stamp on the front cover from a Knorr dealer in Dresden.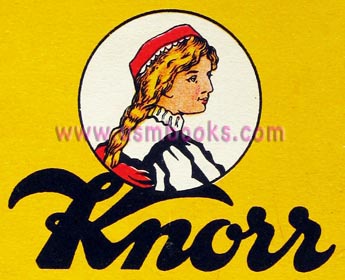 This colorful, illustrated Knorr recipe and advertising book is offered
for sale for $45.00 delivered to any address in the USA.
We will be happy to ship abroad at additional cost. Please inquire.
USM book# 277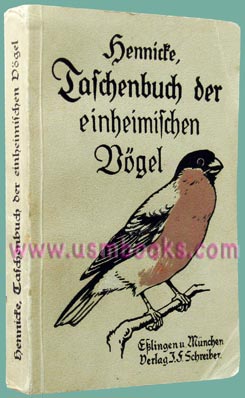 HANDBOOK OF DOMESTIC GERMAN BIRDS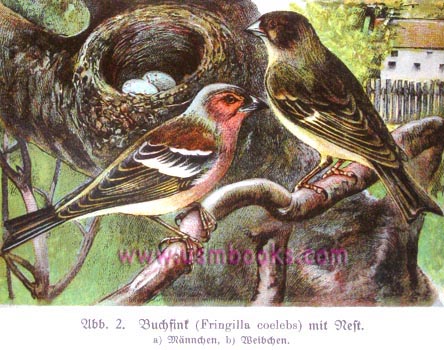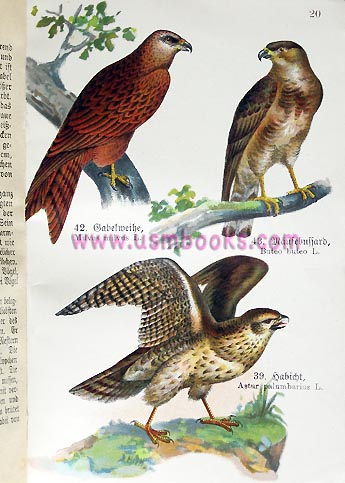 This was easily the best standard Third Reich book on domestic German birds - the Hennicke Taschenbuch der einheimischen Vögel by Professor Dr. Carl Hennicke as published by J.F. Schreiber of Esslingen and München in the summer of 1941, 6th edition. The 4-1/2 x 6-3/4 inch, 184 page soft cover book contains 31 full-color, full-page identification plates as well as many black & white illustrations that identify and explain the common birds of Middle Europe, from garden birds to the biggest hawks, owls and even eagles. There are many sea coast birds as well as woodpeckers, etc. Lots of birding information as well, in a handy format. Very good condition.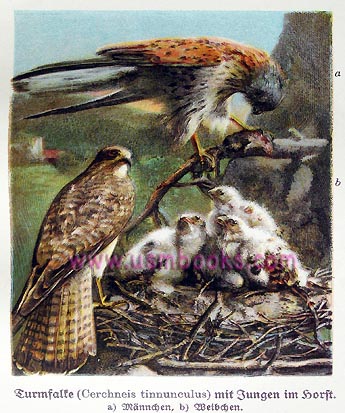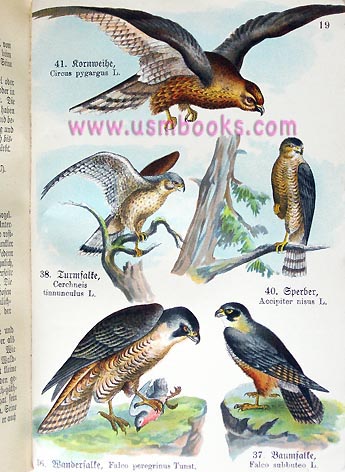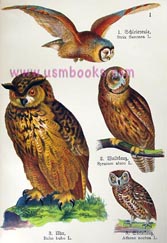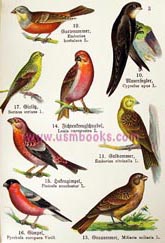 This superb colorful 1941 Nazi bird book is offered
for sale for $75.00 delivered to any address in the USA.
We will be happy to ship abroad at additional cost. Please inquire.
USM book# 278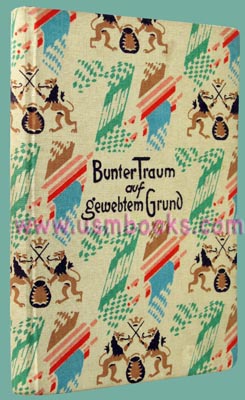 HISTORY OF DECORATIVE FABRIC,
PRINTING AND MANUFACTURE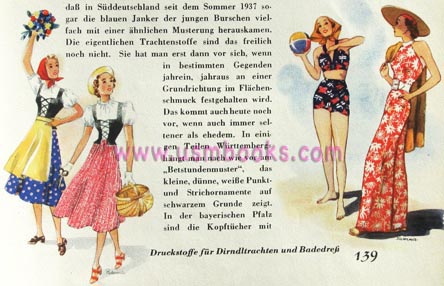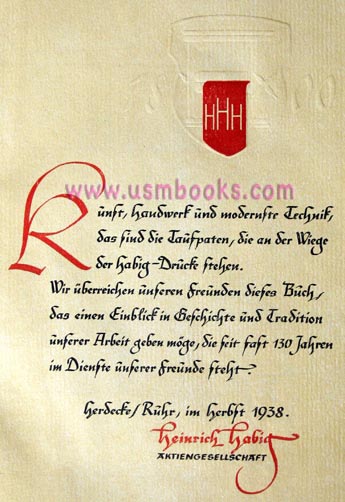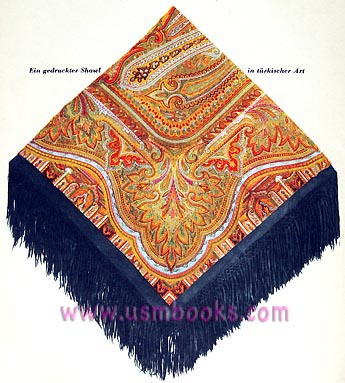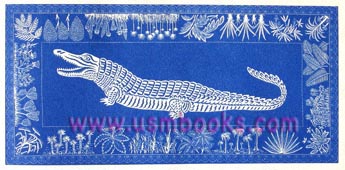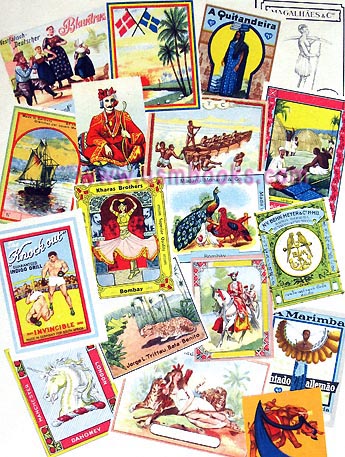 This is a beautiful example of the very rare 6-3/4 x 9-1/4 inch, 160 page hard cover book Bunter Traum auf gewebtem Grund - aus der Wunderwelt des Stoffdrucks (Colorful Dream on Woven Material - From the Wonder World of Fabric Printing) by Karl Kasper as published by Otto Elsner Verlagsgesellschaft in Berlin. This special edition was presented as a gift to customers of the 130 year old Ruhrgebiet fabric manufacturer, Heinrich Habig in the fall of 1938.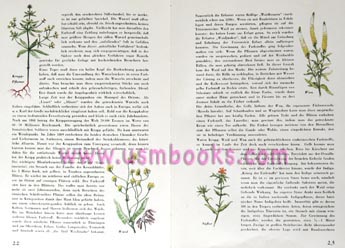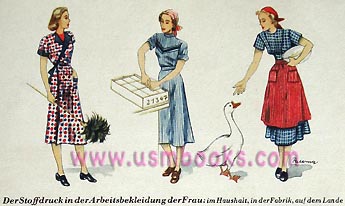 This is a beautiful book with superb illustrations on nearly every page showing spectacular examples of the art printing fabric from throughout history, around the world. Some of the illustrations are so accurate that they actually utilize metallic inks in the printing of replicas of pages of this book. The hard covers are actually wrapped in an authentic example of the fabric printer's art.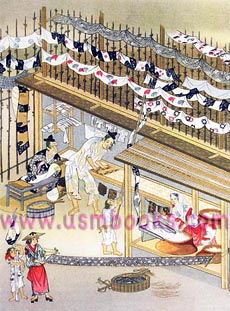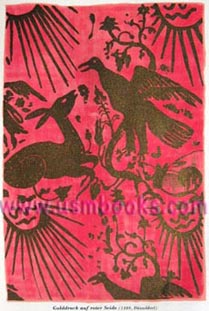 Very good condition.
THIRD REICH SPECIALTY BOOKS - BIRDS, FABRICS, RECIPES
HIGHLY
SPECIALIZED
THIRD REICH
GERMAN
BOOKS


The images and the entire text used on this and all other USMBOOKS web pages are the copyrighted property of USM Inc. Those images and the text may be used by others ONLY AFTER completion of a formal international licensing agreement and payment of a licensing fee! It is therefore, illegal for anyone to take any of the material found on USMBOOKS.com and use it for their own purposes without our written permission, irrespective of any excuse they may feel they have for doing so.