The images and the entire text used on this and all other USMBOOKS web pages are the copyrighted property of USM Inc. Those images and the text may be used by others ONLY AFTER completion of a formal international licensing agreement and payment of a licensing fee! It is therefore, illegal for anyone to take any of the material found on USMBOOKS.com and use it for their own purposes without our written permission, irrespective of any excuse they may feel they have for doing so.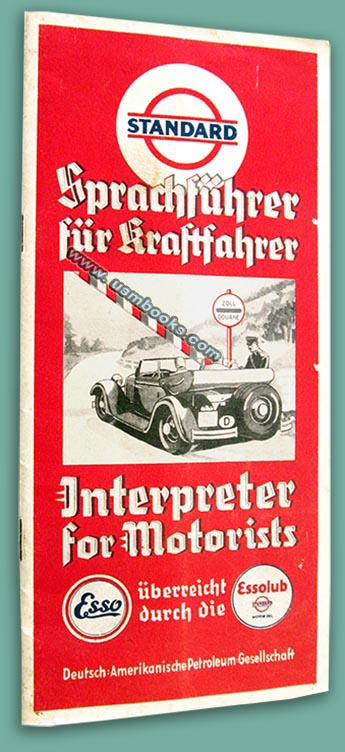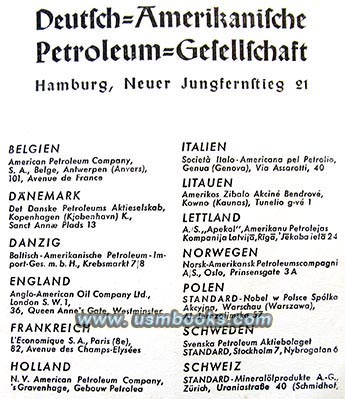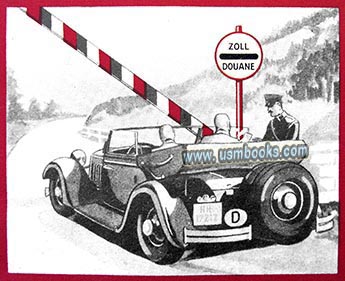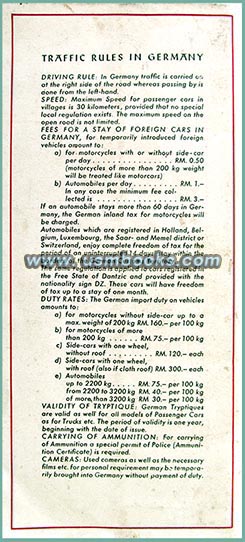 This rare 4-3/8 x 9-½ inch 32-page Third Reich Sprachführer für Kraftfahrer or Language Guide for Motorists was produced to make travel for German and foreign motorists in and around Nazi Germany easier. It was available at Standard Oil and Esso gas stations and service stations.
The German name for Standard Oil Company in Germany was Deutsch-Amerikanische Petroleum Gesellschaft, DAPG or German-American Gasoline Company. When World War II was over, the company was fined for its close relationship with the government of an enemy country and for its cooperation with IG Farbenindustrie, the inventor of Zyklon B, the gas used in concentration camps.


This original Third Reich language guide for motorists is not dated but is likely from Summer 1938 and a pink insert informs users of changes in traffic regulations shows prices in Reichsmarks, the currency of Nazi Germany. Page 16 and 17 also cover travel tips to East Prussia and Danzig using a transit highway so this Sprachführer für Kraftfahrer was printed prior to the invasion of Poland in September 1939. Complete and in very nice used condition.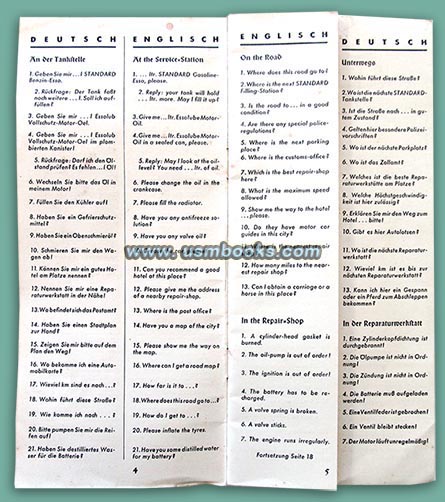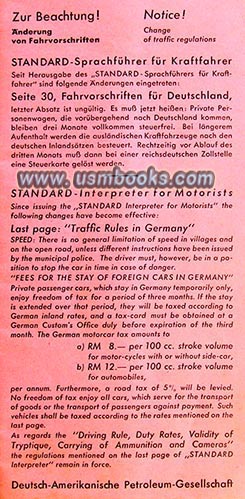 This handy language guide for travelers has questions and answers that travelers might encounter during car travel in German, English, French, Dutch, Danish and Polish. The chapters are called At The Service Station; On The Road; In The Repair Shop; Arrival and Departure (at a service station); Numbers and Distances.
There are also driving rules for different countries in German (what side of the road to drive on, speed limits, road taxes, visa requirements, etc.). They are printed in English on the back cover of this Standard Oil Sprachführer für Kraftfahrer.
This rare Nazi Standard Oil Interpreter for Motorists is **SOLD**.

• IF you prefer faster and safer Priority Mail shipping with USPS Tracking add $6.50.
• IF you wish to purchase highly recommended, but optional insurance, add $3.25.
• We will be happy to ship abroad at additional cost. Please inquire.
A PRACTICAL THIRD REICH STANDARD OIL
5-LANGUAGE INTERPRETER FOR MOTORISTS - RARE
A RARE ORIGINAL PRE-1939
ESSO / STANDARD OIL
LANGUAGE GUIDE FOR
PEOPLE TRAVELING
BY CAR IN AND AROUND
NAZI GERMANY