The images and the entire text used on this and all other USMBOOKS web pages are the copyrighted property of USM Inc. Those images and the text may be used by others ONLY AFTER completion of a formal international licensing agreement and payment of a licensing fee! It is therefore, illegal for anyone to take any of the material found on USMBOOKS.com and use it for their own purposes without our written permission, irrespective of any excuse they may feel they have for doing so.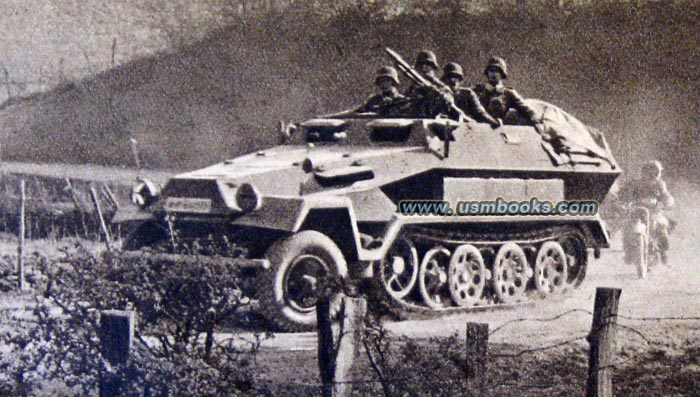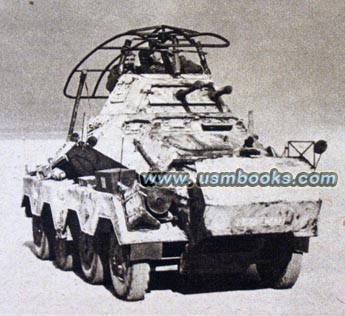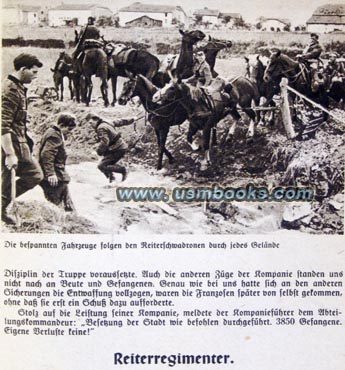 Schnelle Truppen is a 6 x 8 inch, 36 page softcover publication from the series Waffenhefte des Heeres by the Oberkommando des Heeres (OKH) dated 1942. It is Teil II or Volume II for Schützen, Kradschützen, Panzerspähmänner, Radfahrer und Reiter (Riflemen, Motorcycle Riflemen, Armored Recon Troops, Bicyclists and Horsemen) as published by the Deutscher Volksverlag of Munich and printed by the NS-Gauverlag of Tirol-Vorarlberg. (Schnelle Truppen Volume I covers Panzer und Panzerjäger).

This practical heavily illustrated promotional booklet for future Wehrmacht soldiers starts out with an explanation of the make-up of highly mobile motorized troops: motorized units, bicycles or horses - anything that can cross territory faster than a soldier on foot.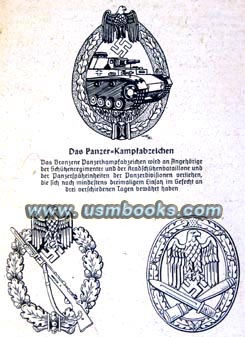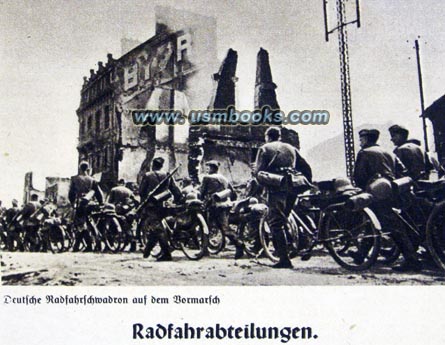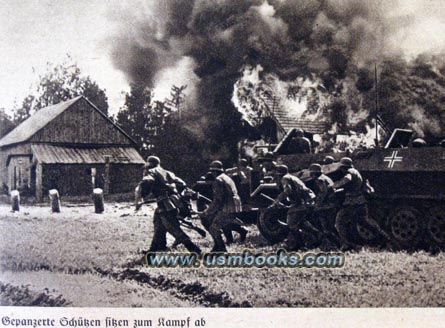 Chapters deal with how the different troops operate during battle and photos show Wehrmacht men on motorcycles in North Africa, crossing rivers, in battle, Wehrmacht cavalry troops in action, Nazi soldiers with bicycles in France, reconnaissance troops, armored vehicles in France and North Africa, etc.
Inside the back cover are large, highly-detailed drawings with explanations of the Panzer-Kampfabzeichen, the Infanterie-Sturmabzeichen and the Sturmabzeichen badge and on the back cover are color illustrations of the different Standarte of Wehrmacht motorized troops. Complete and in nice used condition.
This oriiginal OKH publication about Wehrmacht motorized troops is
for sale for $65.00 delivered by Media Mail in the continental USA.


USM book #681
• IF you prefer faster and safer Priority Mail shipping with USPS Tracking add $6.65.
• IF you wish to purchase highly recommended, but optional insurance, add $3.25.
• We will be happy to ship abroad at additional cost. Please inquire.
ORIGINAL OKH PUBLICATION THAT EXPLAINS ALL ABOUT
MOTORIZED WEHRMACHT TROOPS
ORIGINAL 1942 OBERKOMMANDO DES HEERES MOTORIZED TROOPS PUBLICATION SCHNELLE TRUPPEN