The images and text used on this and all other USM web pages are the copyrighted property
of USM Inc. Those images and the text may be used by others ONLY AFTER completion
of a formal international licensing agreement and payment of a licensing fee!
---
Lot 1 - BOOKS AUTOGRAPHED
BY ILSE (MRS. RUDOLF) HESS
This rare book by Ilse Hess is
**SOLD**.
We will be happy to ship abroad at additional cost. Please inquire.
This USM Books website is Copyright © 2008 by USM, Inc., and the text and images on it are fully protected by international copyright law. It is therefore, illegal for anyone to take any of the material found here and use it for their own purposes without our written permission, irrespective of any excuse they may feel they have for doing so.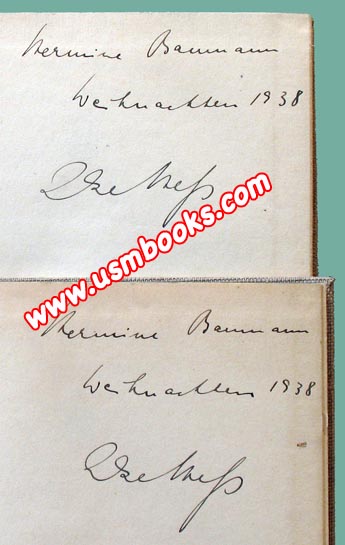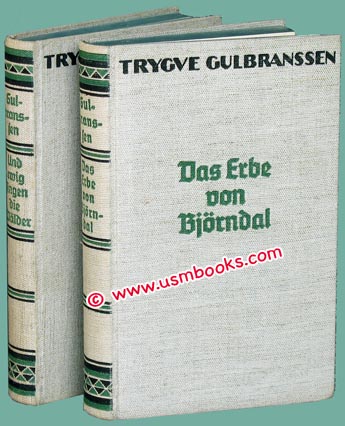 A PAIR OF BOOKS AUTOGRAHED BY FRAU ILSE HESS
AND GIVEN TO A FRIEND IN 1938
•
A BOOK BY ILSE HESS CONTAINING LETTERS FROM HER
IMPRISONED HUSBAND, DEPUTY FÜHRER RUDOLF HESS
This is a nice selection of historical material related to Rudolf Hess, the Nazi Party Deputy Führer of Germany's 23rd Chancellor, Adolf Hitler. Real history leaves no doubt whatsoever that Rudolf Hess flew from Germany to England in May 1941 in an attempt to stop the war between Germany and England and to enlist the aid of England in a war against the Soviet Union. When Rudolf Hess was immediately imprisoned in England it left Hitler no option but to deny the real objective of Hess' mission. Rudolf Hess spent the remainder of his life in the spartan existence as a prisoner of the Allies in Spandau for his efforts, instead of being awarded the peace prize.
Rudolf Hess (1894 - 1987) married Ilse Pröhl (1900-1995) in 1927 and in November 1937 their only child was born, a son, Wolf Rüdiger Hess (1937 - 2001).
This pair of books was once owned by Ilse Hess, wife of Hitler's Deputy Führer, Rudolf Hess. She presented them as Christmas gifts to a friend, Hermine Baumann, at Christmas of 1938 and signed the front flyleaf of both in ink.
The books are 1935 and 1936 German translations of the works of Norwegian author Trygve Gulbranssen as published by Langen & Müller in Munich. They are entitled "The Heir from Björndal" and Gulbranssen's bestseller "Beyond Sing the Woods".
Each linen bound hard cover book measures about 5 x 7-3/4 inches and is in excellent condition.
These books signed in 1938 by Mrs. Rudolf Hess are
**SOLD**.
We will be happy to ship abroad at additional cost. Please inquire.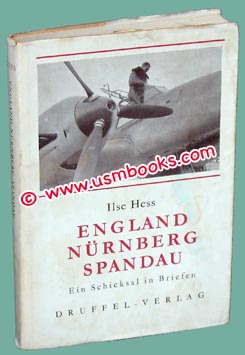 Lot 2 - LETTERS FROM RUDOLF HESS
IN PRISON - A BOOK BY ILSE HESS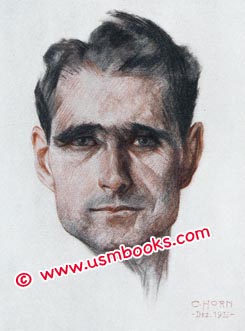 After World War II, Ilse Hess wrote this book "England Nürnberg Spandau, a Destiny in Letters,"
(England Nürnberg Spandau, Ein Schicksal in Briefen)
to tell the story of her husband's futile effort to end war between Germany and England by flying a Messerschmitt Bf110 from Augsburg, Germany to Scotland in May 1941.
It measures 5-5/8 x 8-1/4 inches, has 176 pages, is soft covered with its original dust jacket as published by Druffel-Verlag in Leoni am Starnbergersee in 1952. Very good condition.
The letters by Rudolf and Ilse Hess published in this book were written while Rudolf Hess was imprisoned in the United Kingdom from 1941 until 1945, during the War Crimes Trial at Nürnberg (when Hess did not allow his family to visit him), while Ilse Hess was an Allied prisoner and during Hess' lifelong incarceration in Spandau prison at Berlin.
has few photos but an excellent color charcoal portrait of Rudolf Hess by Carl Horn-Bremen.England Nürnberg Spandau, Ein Schicksal in Briefen