The images and text used on this and all other USM web pages are the copyrighted property
of USM Inc. Those images and the text may be used by others ONLY AFTER completion
of a formal international licensing agreement and payment of a licensing fee!
This USMBOOKS web page is Copyright © 2014 by USM, Inc., The text and images on it are fully protected by international copyright law. It is therefore, illegal for anyone to take any of the material found here and use it for their own purposes without our written permission, irrespective of any excuse they may feel they have for doing so.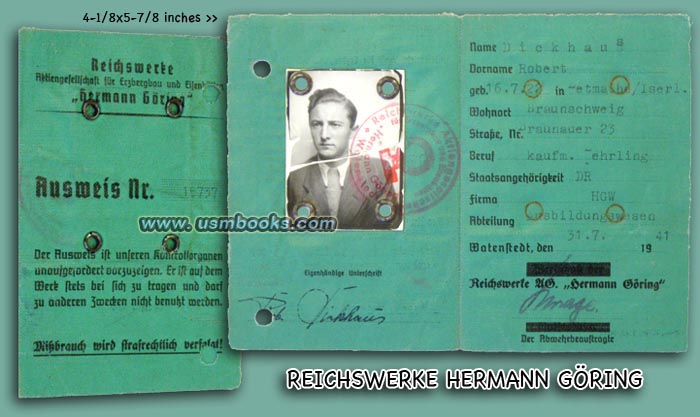 The little town of Watenstedt was on the outskirts of Salzgitter in Saxony (today it is part of the city of Salzgitter) and where the Reichswerke Hermann Göring operated large ore mining and smelting works since 1937. By 1942 the facilities were so large (it employed around 47,000 workers) that Hermann-Göring-Werke Salzgitter became an independent city district called Stadtkreis Watenstedt-Salzgitter. Three concentrtration camps provided labor for the ever-growing Reichswerke Hermann Göring or Hermann Goering National Enterprise.

The original Third Reich ID we offer here was issued to Robert Dickhaus (born 16 July 1922 in Betmathe/Iserlohn) who was employed at Reichswerke Hermann Göring at Watenstedt, learning the trade of Kaufmann, as an employee of the commercial department of the company rather than a factory worker. This green oilcloth Ausweis or ID number 15737 was issued to Dickhaus on 31 July 1941.

The rare ID is in nice used condition with original ID photo which is overstamped with the Reichswerke Hermann Göring für Erzbergbau und Eisenhütten company stamp.
This original Nazi ID issued to an employee of the Reichswerke Hermann
Göring is **SOLD**

• IF you prefer Priority Mail shipping with USPS Tracking add $5.75.
• IF you wish to purchase highly recommended, but optional insurance, add $3.15.
• We will be happy to ship abroad at additional cost. Please inquire.
RARE REICHSWERKE HERMANN GÖRING EMPLOYEE PHOTO ID
AN ABSOLUTELY ORIGINAL REICHSWERKE HERMANN GÖRING AUSWEIS ISSUED IN 1941