This Nazi photo book about the 1933 Reichsparteitag des Sieges is offered
for sale for $195.00 delivered by Media Mail in the continental USA.


USM book #594
• IF you prefer faster and safer Priority Mail shipping with USPS Tracking add $6.80.
• IF you wish to purchase highly recommended, but optional insurance, add $3.45.
• We will be happy to ship abroad at additional cost. Please inquire.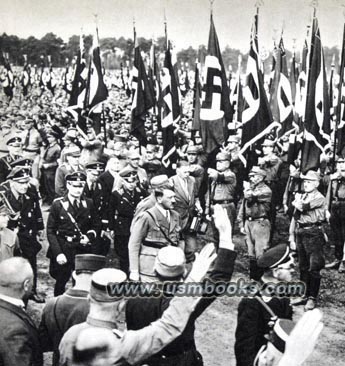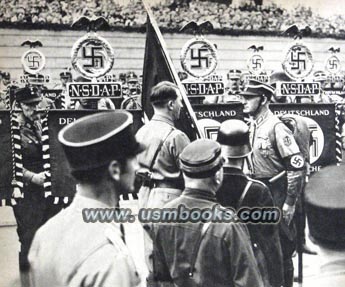 The 7-1/4 x 9-3/4 inch, 112 page book Nürnberg 1933 is subtitled Der erste Reichstag der geeinten deutschen Nation or The First State [Nazi Party] Day of the Reunited German Nation. In text and pictures it covers the first Reichsparteitag (Reichsparteitag des Sieges) held in Nürnberg after the Nazi Party was voted into power in Germany in 1933. This illustrated hard cover was published by Verlag von Reimar Hobbing in Berlin in 1933.
After a foreword by Dr. Martin Bochow, the superb photo section shows the city of Nürnberg decorated with Nazi banners, as well as Hitler Youth boys, SA men, Hermann Göring, Dr. Robert Ley, foreign diplomats arriving at the Nürnberg railway station, parading troops on the Zeppelinfield, Hitler addressing the SA, tent cities, kitchen and postal facilities for visiting military and paramilitary groups, Hitler with Jakob Grimminger and the Blood Flag, Fascist Youth from Italy, Baldur von Schirach with HJ members, Dr. Schacht, Von Neurath, and tens of thousands of jubilant Nazi visitors and fans in and around Nuremberg.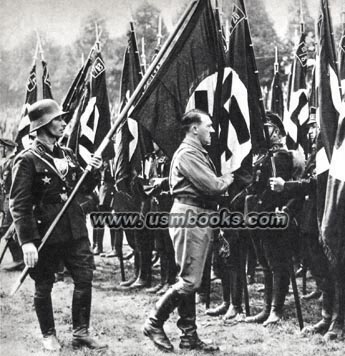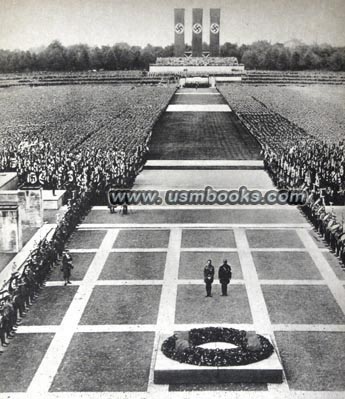 The book also contains the text of speeches by Rudolf Hess, Gottfried Feder, Dr. Joseph Goebbels, Alfred Rosenberg, Walter Darré, Konstantin Hierl, and several by Adolf Hitler held in Nürnberg between 30 August and 3 September 1933.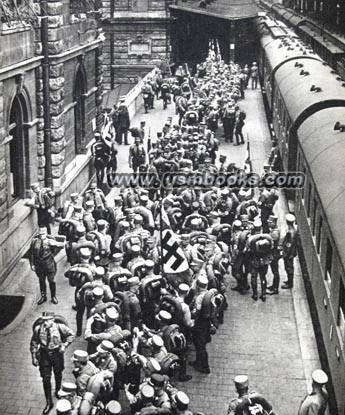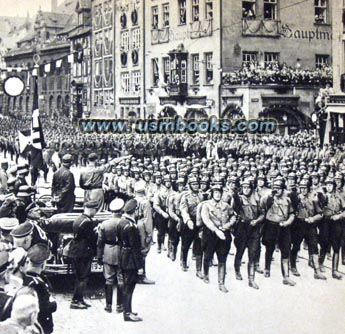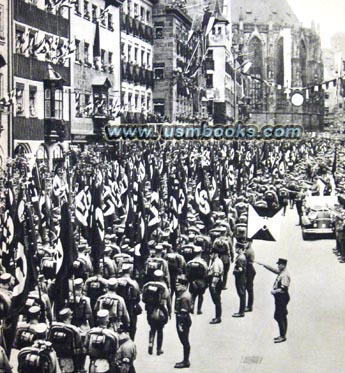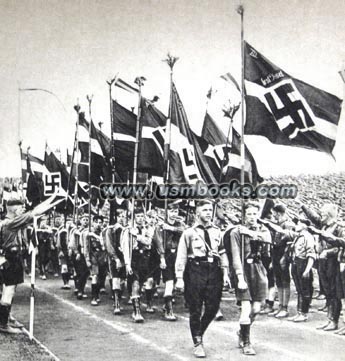 This hard-to-find, heavily illustrated hard cover 1933 NSDAP Reichsparteitag book is in very nice, little used condition. It comes with the printed slips shown right, informing the reader that Freitheitsverlag of Berlin (a Nazi publisher) had acquired the publisher of the original edition of this book, Verlag von Reimar Hobbing.

A second smaller insert informs the buyer that pages 7, 25 and 42 were removed by the new publisher to bring the book into compliance with recent historical events in Nazi Germany - the Röhm-Putsch or Night of the Long Knives. The three pages had contained photos of Ernst Röhm with Adolf Hitler.
A CENSORED EDITION!
(SEE DETAILS AT THE BOTTOM
OF THIS WEB PAGE)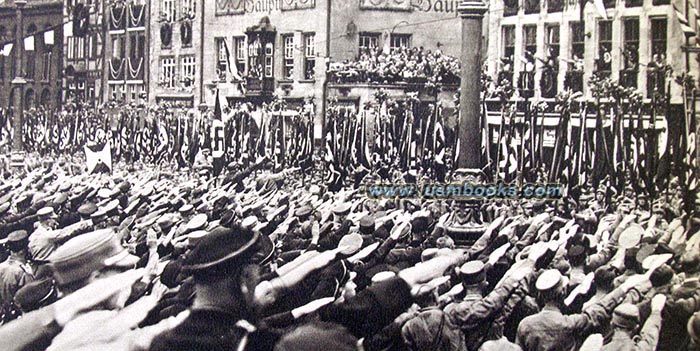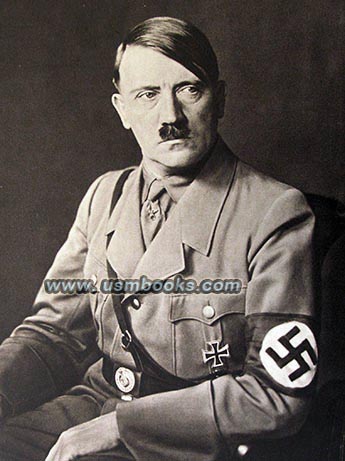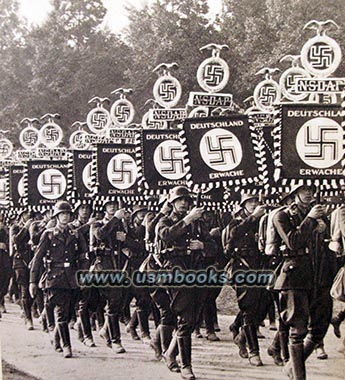 ORIGINAL 1933 NAZI PARTY DAYS NÜRNBERG PHOTO BOOK
SUPERB NAZI PHOTO
BOOK ABOUT THE REICHSPARTEITAG
DES SIEGES
(THE NAZI PARTY DAY OF VICTORY) HELD IN NUREMBERG IN 1933


The images and the entire text used on this and all other USMBOOKS web pages are the copyrighted property of USM Inc. Those images and the text may be used by others ONLY AFTER completion of a formal international licensing agreement and payment of a licensing fee! It is therefore, illegal for anyone to take any of the material found on USMBOOKS.com and use it for their own purposes without our written permission, irrespective of any excuse they may feel they have for doing so.