The images and the entire text used on this and all other USMBOOKS web pages are the copyrighted property of USM Inc. Those images and the text may be used by others ONLY AFTER completion of a formal international licensing agreement and payment of a licensing fee! It is therefore, illegal for anyone to take any of the material found on USMBOOKS.com and use it for their own purposes without our written permission, irrespective of any excuse they may feel they have for doing so.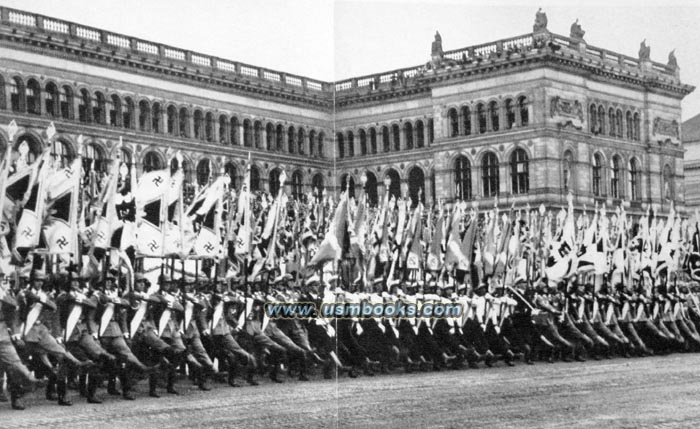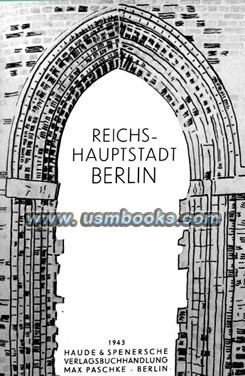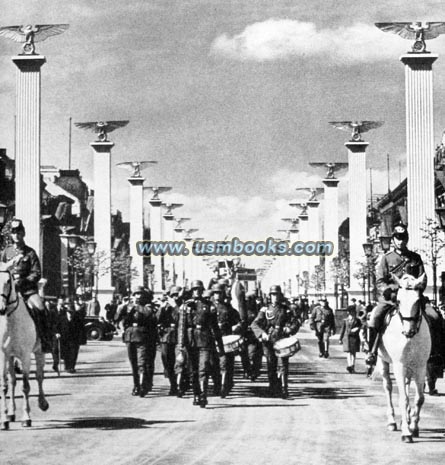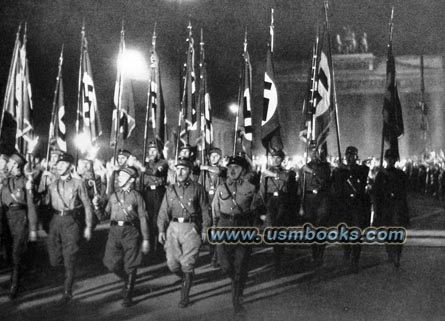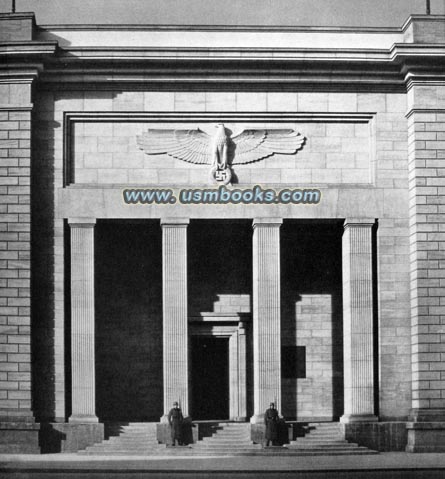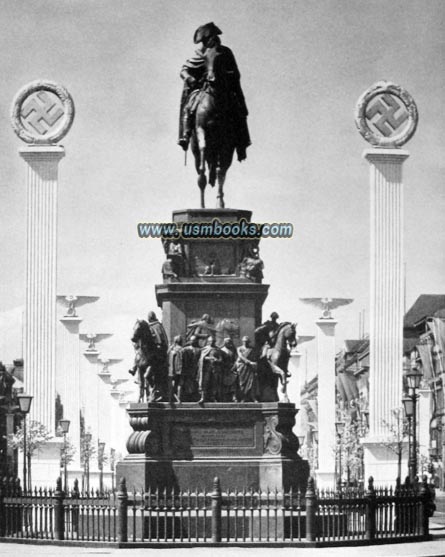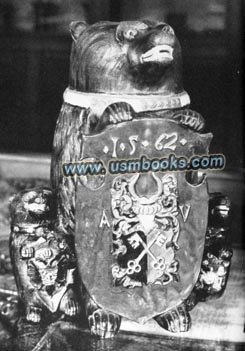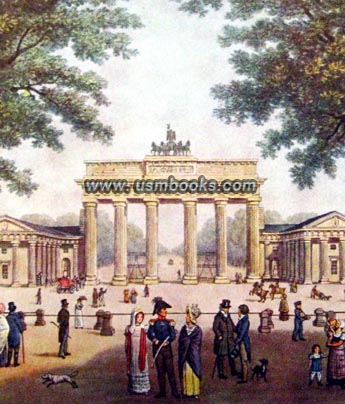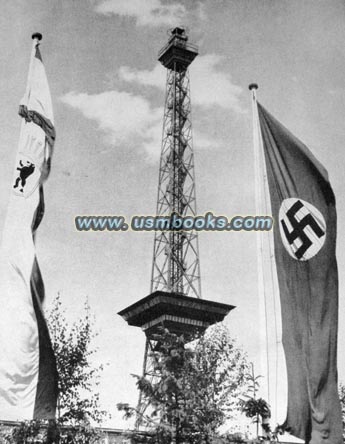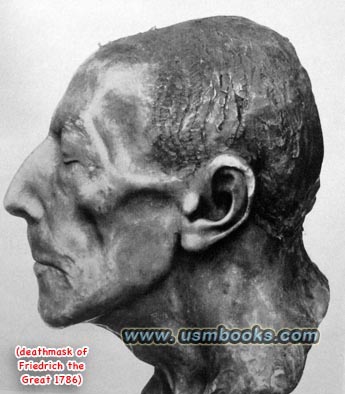 This is a very nice example of the 1943 book Die Reichshauptstadt - Geschichte und Erlebnis (The Nation's Capital - History and Experience) published by Haude & Spenersche Verlagsbuchhandlung in Berlin with agreement of the Berlin City Administration. The 7-¼ x 10 inch, 309 page hardcover book is full of photos, illustrations, statistics and maps of the capital of Adolf Hitler's Germany.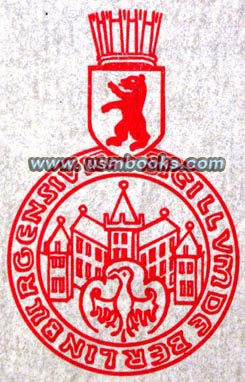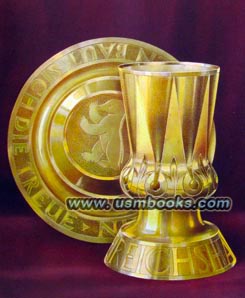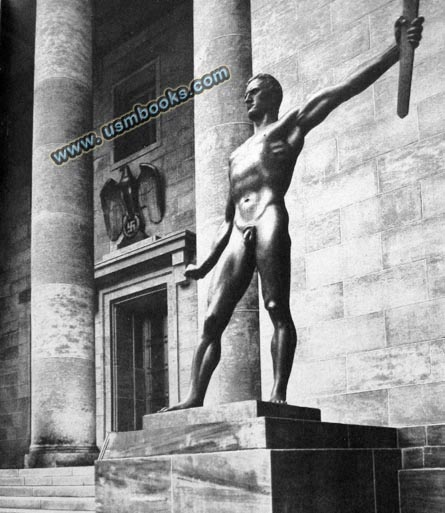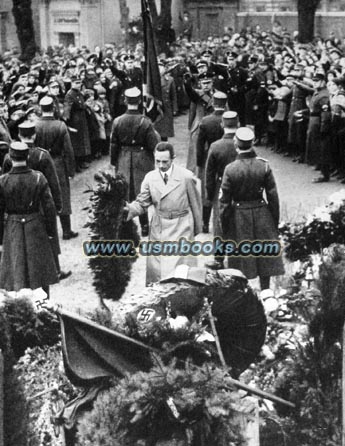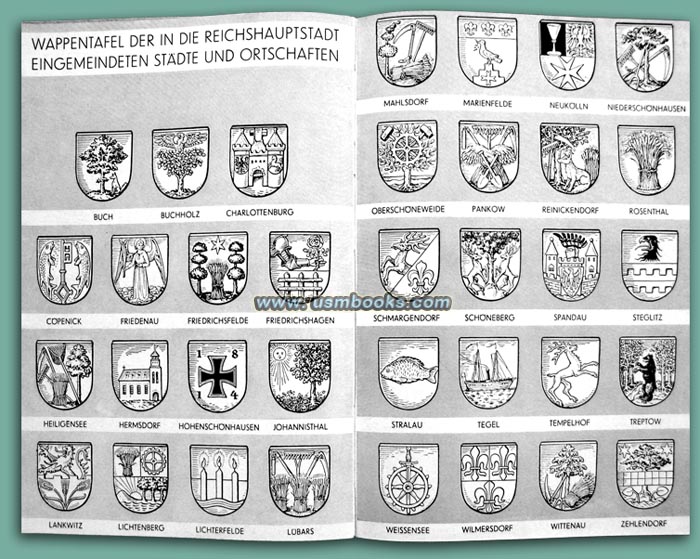 The war-time Nazi book contains pictures of Berlin in the early days including a 'Berlin Bear' (the city was named for bears) from 1562, photos of the first Zeppelin to fly into Berlin in August 1909, parades in central Berlin before World War I and of course, Berlin during the Third Reich.
The Berlin SA on 30 January 1933, Propaganda Minister and Gauleiter of Berlin Goebbels visiting the grave of Nazi martyr Horst Wessel, Generalfeldmarschall von Hindenburg on Unter den Linden Avenue, the statue of Frederick the Great on Unter den Linden decorated with huge eagles and swastikas, Adolf Hitler at the Olympic Stadium in 1936, many photos of Adolf Hitler's New Reichschancellery and Hermann Göring's Air Ministry on Voss Strasse, Hitler on the balcony of the Reichskanzlei, photos of festivities for Hitler's 50th birthday in 1939 (big fold-out of the Official Flag Parade), the new East-West Axis with Albert Speer street lights, etc., etc.
There are illustrations of the city shields of tall the different districts of the city, historic declarations, artwork in churches and museums, Sanssouci Palace and its treasures, portraits of many different German princes and crown princes, fold-out maps of historic Berlin, and even a color photo of the Ehrenpokal of the capital (shown left).
Naturally, many of the buildings, objects, and city infrastructure depicted in this rare heavily illustrated book were either destroyed or severely damaged by the war that raged in Berlin in the months following its publication. The book is a valuable reference for anyone interested in Berlin prior to its destruction in World War II.


This original Third Reich example of Die Reichshauptstadt - Geschichte und Erlebnis is complete and very good, little used condition.
This example of the 1943 book Die Reichshauptstadt - Geschichte und Erlebnis
is **SOLD**.


USM book #680b
• IF you prefer Priority Mail shipping with USPS Tracking add $5.95.
• IF you wish to purchase highly recommended, but optional insurance, add 3.45.
• We will be happy to ship abroad at additional cost. Please inquire.
ORIGINAL 1943 HARDCOVER NAZI PHOTO BOOK OF
BERLIN - THE CAPITAL OF NAZI GERMANY
HEAVILY ILLUSTRATED THIRD REICH BOOK OF HISTORICAL AND CURRENT BERLIN FROM 1943