The images and the entire text used on this and all other USMBOOKS web pages are the copyrighted property of USM Inc. Those images and the text may be used by others ONLY AFTER completion of a formal international licensing agreement and payment of a licensing fee! It is therefore, illegal for anyone to take any of the material found on USMBOOKS.com and use it for their own purposes without our written permission, irrespective of any excuse they may feel they have for doing so.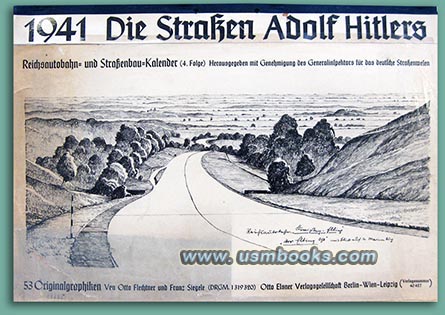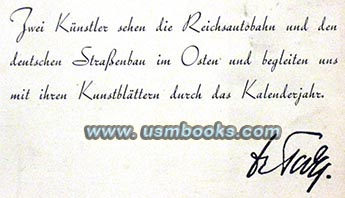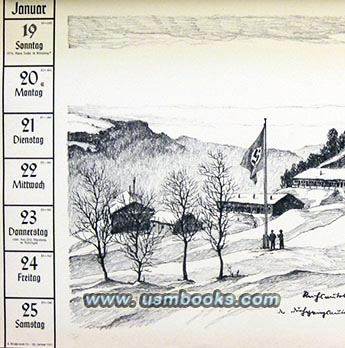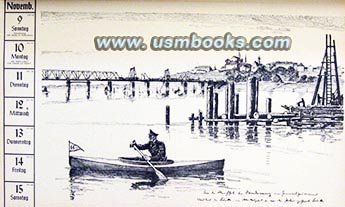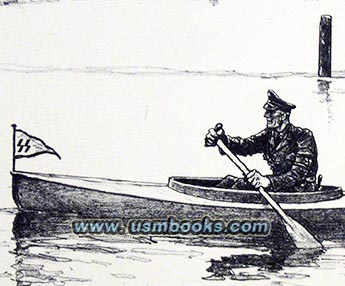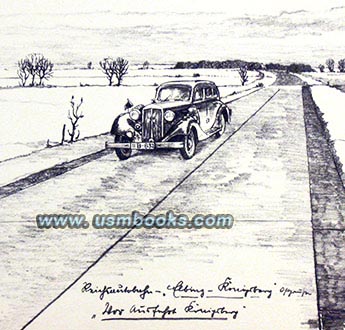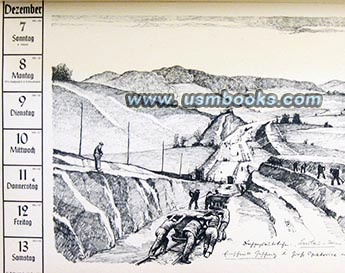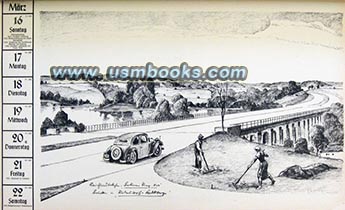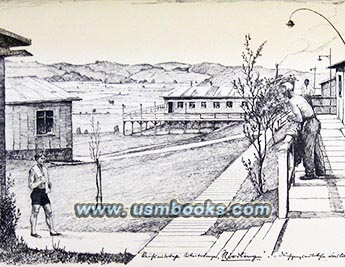 This 12 x 16-1/2 inches (29 x 42 cm) Reichsautobahn-Kalender was published with approval of the Generalisnpektors für das Deutsche Straßenwesen (the General Inspector of the German Road System, Fritz Todt) and contains 53 original illustrations by Otto Flechtner and Franz Siegele.
Many people with an interest in the history of the Third Reich are familiar with the Nazi freeway book Die Strassen Adolf Hitlers, but few have ever even seen the rare Reichsautobahn-Kalender or calendar also called Die Strassen Adolf Hitlers, or "The Roads of Adolf Hitler". Offered on this USMBOOKS web page is a nice original 1941 edition of this Nazi freeway calendar, complete with no pages detached.
The cover is an illustration of a stretch of freeway between Königsberg and Elbing in East Prussia (now Poland) and the first page contains a foreword by Reichsminister Dr. Fritz Todt (shown right).

Every week has its own page and illustration of a scenic stretch of the Reichsautobahn, cars and trucks on the Reichsautobahn, bridges, road signs, crews hard at work finishing another stretch of the new freeway system, farmers along the freeway and barracks for construction workers with swastika flags. The week of 9 November has an illustration of an SS man in a boat crossing a river in the Generalgouvernement! Every illustration has a caption noting the precise location.
This rare original 1941 Third Reich calendar Die Strassen Adolf Hitlers is complete and in very nice condition. None of the pages were ever detached, rare for any calendar. Covers for these calendars are almost always gone so the original cover page on this one was laminated to avoid deterioration, and it was still in nice condition when that was done by a previous owner. We have never had another complete example of this calendar with its original cover.
Other Nazi freeway calendars for sale on USMBOOKS.com
are the 1938, 1939, 1940 and 1942 editions of the rare Reichsautobahn-Kalender Die Strassen Adolf Hitlers.
Have a look, we are happy to combine shipping.
This rare complete 1941 Nazi freeway calendar is offered for sale
for $295.00 PLUS postage (see details below).

• Priority Mail shipping with USPS Tracking $9.95
OR
Media Mail (no tracking) $6.95.
• IF you wish to purchase highly recommended, but optional insurance, add $5.75.
• We will be happy to ship abroad at additional cost. Please inquire.
VERY RARE OVERSIZED NAZI REICHSAUTOBAHN CALENDAR 1941
A RARE COMPLETE 1941 EXAMPLE OF THE HUGE REICHSAUTOBAHN KALENDER DIE STRASSEN ADOLF HITLERS WITH
53 ORIGINAL ILLUSTRATIONS