The images and text used on this and all other USM web pages are the copyrighted property
of USM Inc. Those images and the text may be used by others ONLY AFTER completion
of a formal international licensing agreement and payment of a licensing fee!
This fine complete Luftwaffe 3-D stereo photograph book is
**SOLD**


USM book #498
• For Priority Mail shipping with USPS delivery confirmation add $11.75.
• IF you wish to purchase highly recommended, but optional insurance, add $10.95.
• We will be happy to ship abroad at additional cost. Please inquire.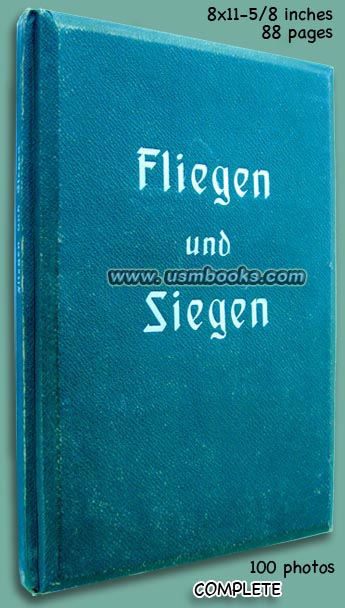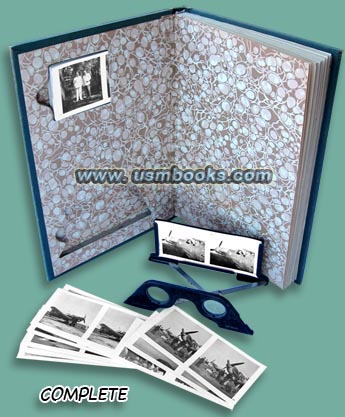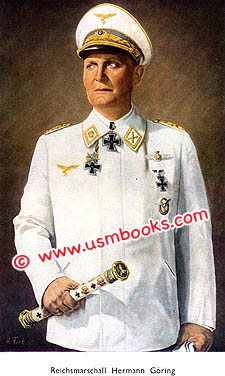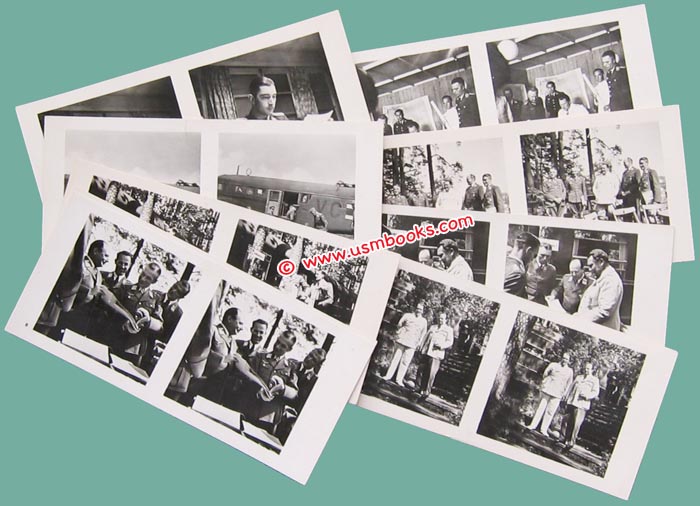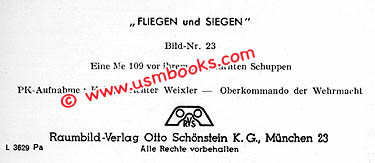 This is a very nice example of the very scarce Raumbild-Verlag Otto Schönstein book Fliegen und Siegen (Flying and Victory) by Reichsluftfahrtministerium Ministerialrat Dr. Heinz Orlovius. This 88-page, 8 x 11-1/2 inch hardcover book was published in München (Munich) in 1942 with an introduction by Generalfeldmarschall Erhard Milch.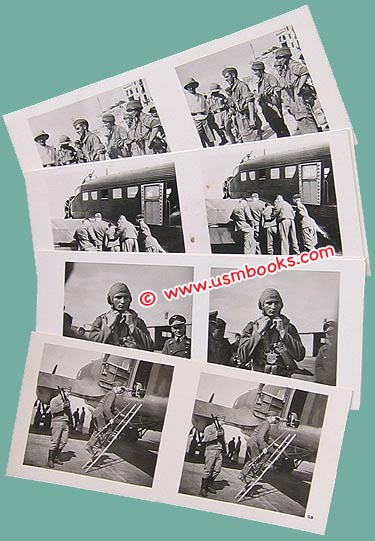 Raumbild Verlag (Three Dimensional Picture Publishers) books were unique in that they contained photographic stereo-view cards and a fold-up metal device with which the cards could be viewed.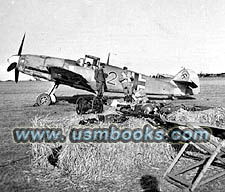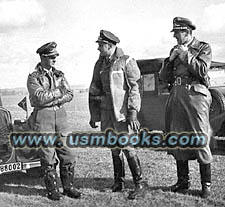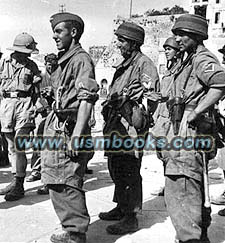 If you are not familiar with this Nazi three-dimensional book, you need to know that it consists of a well-written text by Orlovius on the subject of Third Reich "Our Luftwaffe".

There are eight full-page full-color photos in the text that depict aircraft, men and equipment of the Luftwaffe in the field. The first color photo is a full-page portrait of Nazi Air Minister Hermann Göring in his white uniform with the Grand Cross of the Iron Cross and the Pour Le Merit.

The special covers of this album are about 1/2-inch thick and are die-cut with five cavities that hold 100 special 3-D stereo photographs (real photographs - NOT halftone prints) and the metal viewer with glass lenses that is set up to view the photographs. The 100 stereo photos each measure 2-3/8 x 5 inches and have a full description of the subject printed on the back. When seen in the viewer each picture is incredibly three-dimensional, almost as if the scene was being viewed in real life.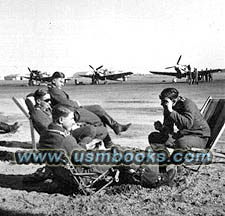 We know of no other way for a history buff to observe a three-dimensional view of Reichsmarschall Hermann Göring and his pilots (including the likes of Knights Cross of the Iron Cross winner Mölders, Udet, Jope, Joppien), etc.
Naturally, the subject of the German Luftwaffe covers a wide range. Among the 100 three-dimensional views are photos of combat and service personnel, flights of aircraft, maintenance of aircraft, wreckage of enemy aircarft, battle damage to cities, many high ranking Luftwaffe Officers at Hitler's Wolf's Lair near Rastenburg and elsewhere, Luftwaffe Fallschirmjäger (paratroopers), medical evacuation teams, FLAK units as well as aircraft like the Me109 (Messerschmitt), He111 (Heinkel), Junkers Ju87 Stuka, Focke-Wulf Condor, and Donier Sea Planes.
This very rare Third Reich 3D photograph book is hardbound in blue imitation leather with silver blocking on the covers and the spine. It is complete with all pictures and metal viewer.

It is in very good used condition and GUARANTEED to be absolutely authentic historical Third Reich material over 70+ years old.
NAZI 3-D LUFTWAFFE BOOK WITH PICTURE VIEWER 1942
THIRD REICH 3-D BOOK AND PICTURE VIEWER FROM 1942 WITH 100 ORIGINAL STEREO PHOTOGRAPHS
FLIEGEN UND SIEGEN
(FLYING AND VICTORY)
This USMBOOKS web page is Copyright © 2014 by USM, Inc., and the text and images on it are fully protected by international copyright law. It is therefore, illegal for anyone to take any of the material found here and use it for their own purposes without our written permission, irrespective of any excuse they may feel they have for doing so.