The images and text used on this and all other USM web pages are the copyrighted property
of USM Inc. Those images and the text may be used by others ONLY AFTER completion
of a formal international licensing agreement and payment of a licensing fee!
This Nazi book from the library at Ordensburg Sonthofen is **SOLD**


USM book # 417
• IF you prefer Priority Mail shipping with USPS delivery confirmation add $5.75.
• IF you wish to purchase optional insurance, add $5.75.
• We will be happy to ship abroad at additional cost. Please inquire.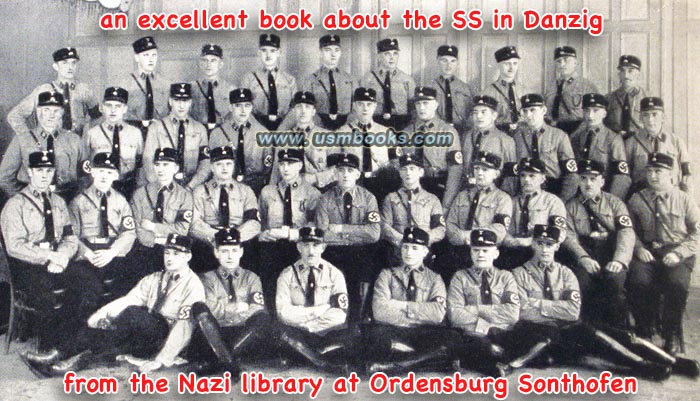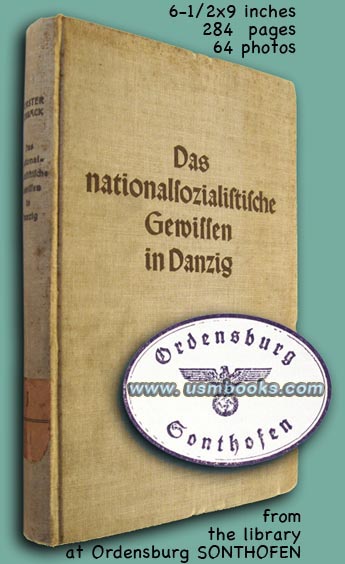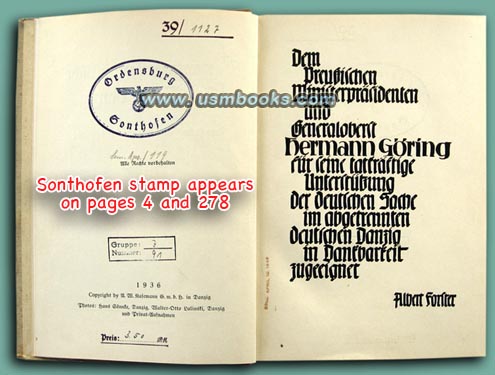 Any book that was originally part of the library in one of the Hitler Ordensburgen (elite Nazi educational institutions) must be considered very rare today. The victors of World War II considered the Ordensburgen to be very dangerous places and everything Nazi within them was most often widely dispersed or destroyed.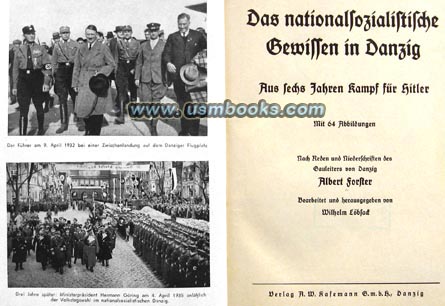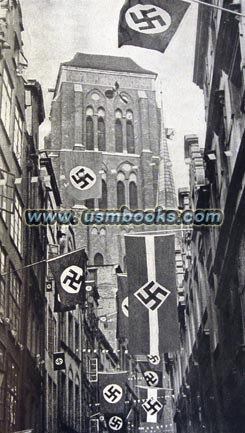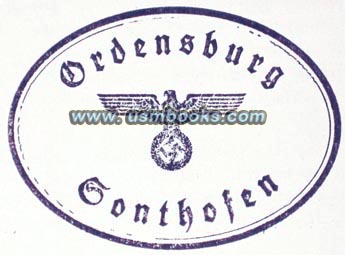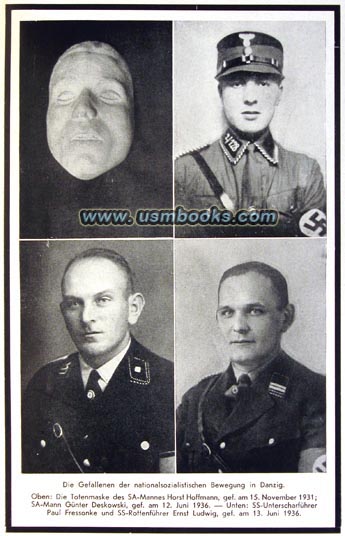 The book we offer here was item number 1127 added to the Ordensburg Sonthofen collection in 1939. Ot cost RM3,50 and took its place in the library collection in group J item number 91. It bears the big Ordensburg Sonthofen Nazi eagle in an oval stamp in two places. The spine has a reddish-brown Ordensburg Sonthofen library label near the bottom with the letter J above the number 91 separated by two horizontal lines.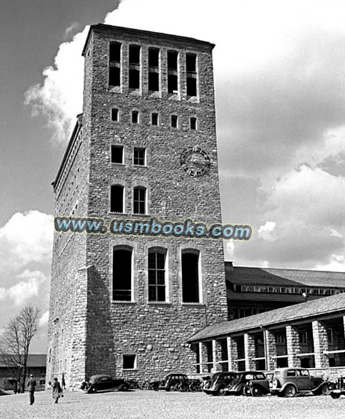 The book itself is an excellent history of the Nazi conscience that anchored Danzig during the six year fight from October 1930 through October 1936. Das Nationalsozialistische Gewissen in Danzig - Aus sechs Jahren Kampf für Hitler was assembled and published by Wilhelm Löbsack, as an introduction by Gauleiter of Danzig, Albert Forster and contains 64 rare photos. Outside of this example from the Sonthofen library, we have never seen another copy of this rare book. It was obviously important enough to those who ran the libraries for the future elite of the Nazi government, to include it in their purchases.
We don't know how this book survived the Allied denazification processes at Ordensburg Sonthofen in Bavaria but there is a small light brown stamp on the inside margin of page 7 which appears to say MDLC APRIL 10, 1946. Fortunately somebody took it from the Ordensburg Sonthofen library and set it aside. It was probably stolen from those who set it aside since we bought it years ago on the open market in Germany.
A very rare book in nice used condition, bearing the library stamps of a very important, if long forgotten Nazi educational institution. The outside half of the back end paper is missing.
RARE NAZI DANZIG HISTORY FROM ORDENSBURG SONTHOFEN LIBRARY
A RARE BOOK FROM THE LIBRARY OF ORDENSBURG SONTHOFEN ABOUT THE NAZIS IN DANZIG
This USMBOOKS web page is Copyright © 2014 by USM, Inc., and the text and images on it are fully protected by international copyright law. It is therefore, illegal for anyone to take any of the material found here and use it for their own purposes without our written permission, irrespective of any excuse they may feel they have for doing so.