The images and text used on this and all other USM web pages are the copyrighted property
of USM Inc. Those images and the text may be used by others ONLY AFTER completion
of a formal international licensing agreement and payment of a licensing fee!
This Oradour-sur-Glane memorial booklet is offered for sale
for $65.00 delivered by Media Mail in the continental USA.


USM book #484
• IF you prefer Priority Mail shipping with USPS delivery confirmation add $5.95.
• IF you wish to purchase highly recommended, but optional insurance, add $2.95.
• We will be happy to ship abroad at additional cost. Please inquire.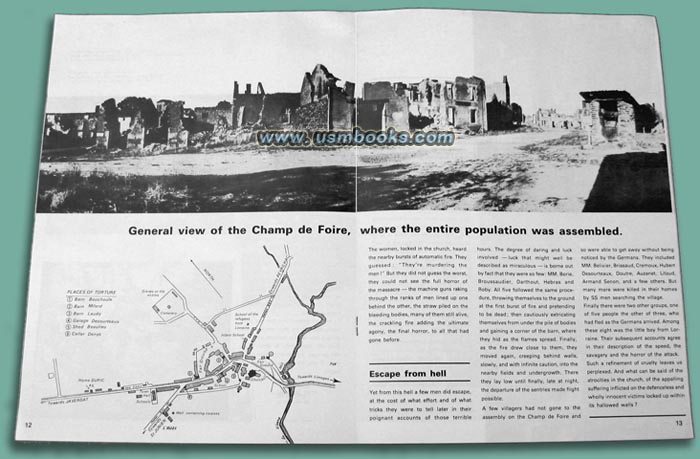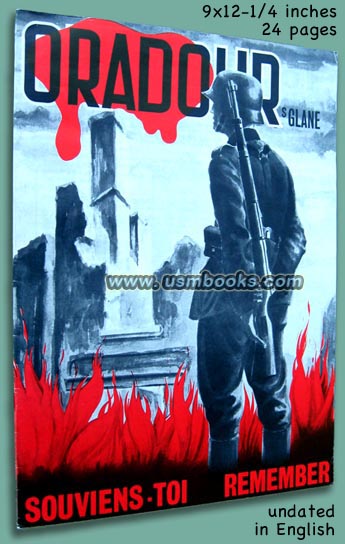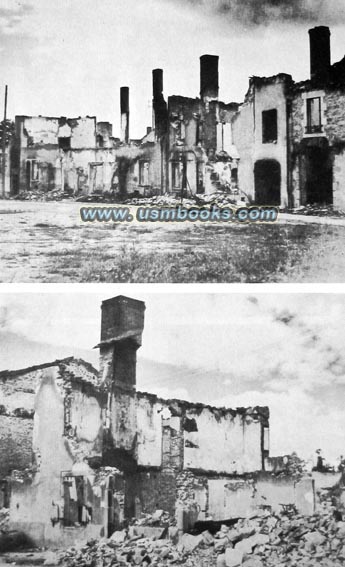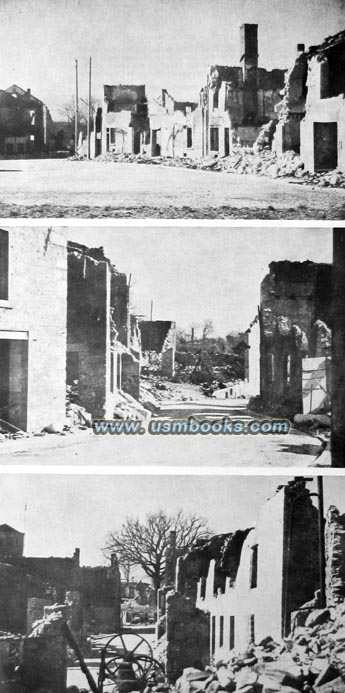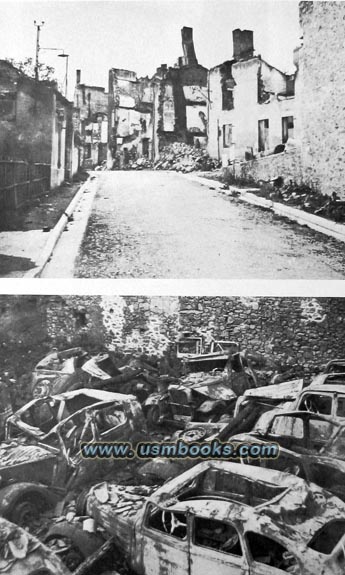 What makes Oradour-sur-Glane remarkable is that the village was never rebuilt after June 1944, but left as it was. One sees ruined buildings, burned out cars, rusty sewing machines, abandoned tram tracks, etc. A new village of Oradour-sur-Glane was built after the war, northwest of the site of the massacre and ruined remnants of the original Oradour-sur-Glane have been left as a memorial.

Souviens-toi / Remember is a 9 x 12-1/4 inch, 24-page book in the english language, printed to remember the horrific events that took place on a summer afternoon 68 years ago. The rare book contains before and after photos of Oradour-sur-Glane, a map of the village, photos of the few survivors, etc.

Printed by Impremerie Lavauzelle of Limoges, this undated oversized example of Souviens-toi / Remember is in very good used condition.
The small, rual village of Oradour-sur-Glane was a peaceful hamlet until 10 June 1944, when its history changed forever. Up to that day World War II had not had much of an impact on the small village 12 miles from Limoges in central France. On Saturday 10 June 1944 the 2nd SS Panzer Division "Das Reich" halted on their way to Normandy to stop the Allied invasion, killed a total of 642 men, women and children and destroyed the village. Many historians and authors have speculated and given their opinion about the reason for the atrocities and there is ample information available about them on the internet.
NAZI ATROCITIES IN ORADOUR MEMORIAL PHOTO BOOKLET
A RARE ENGLISH LANGUAGE MEMORIAL PHOTO BOOKLET ABOUT WHAT THE SS DID IN ORADOUR SUR GLANE, FRANCE ON 10 JUNE 1944
This USM Books website is Copyright © 2012 by USM, Inc., and the text and images on it are fully protected by international copyright law. It is therefore, illegal for anyone to take any of the material found here and use it for their own purposes without our written permission, irrespective of any excuse they may feel they have for doing so.