The images and text used on this and all other USM web pages are the copyrighted property
of USM Inc. Those images and the text may be used by others ONLY AFTER completion
of a formal international licensing agreement and payment of a licensing fee!
This genuine 1936 illustrated Nazi Party calendar is
** SOLD **

We will be happy to ship abroad at additional cost. Please inquire.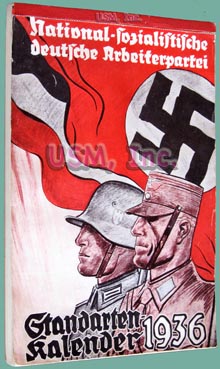 Naturally, something in the order of 95% or more of all calendars ever made have been used up on a daily basis as intended. That is why it is so rare when one finds a 70+ year old calendar that was never used.

This is just such a Third Reich calendar as published by the Central Publishing House of the Nazi Party, Franz Eher Nachfolger of München.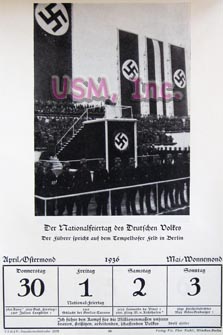 The National-sozialistische deutsche Arbeiterpartei Standarten Kalender we offer here measures 6-1/2 x 10 inches and contains 105 pages with a chipboard back that was made so that the calendar could be used with a easle back to stand on a desk or could be hung on the wall.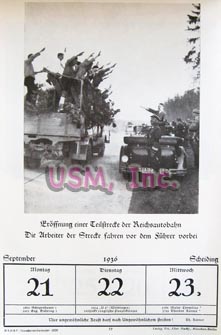 Each page covers a period of three or four days and has a picture and caption relevant to the success of the Nazi Movement in Germany.
Months are written in the customary fashion (Juli, August) and in the Nazi fashion (Heuert, Ernting) and important events are noted below the days of the month. The backs of the pages are also printed with Nazi oriented photos, poems, quotations, etc. A few of the pictures are printed in full color.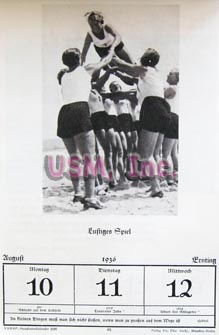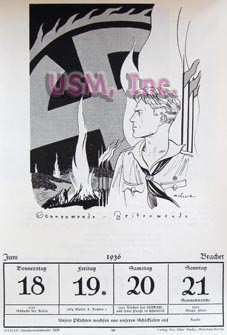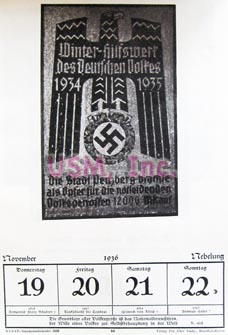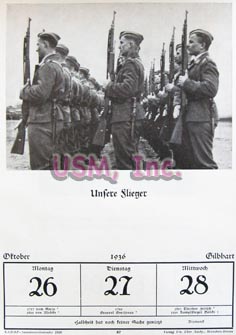 Subjects of the pictures include everything from Adolf Hitler and Reichsautobahn to Nürnberg, the SS, the Hitler Youth, the Reichsarbeitsdienst (RAD) , Kraft durch Freude (KdF), Albert Leo Schlageter, Dr. Fritz Todt, swastikas on old German decorations, the battle years of the SA, the Luftwaffe, Horst Wessel, etc., etc.

The calendar is complete and in excellent original condition.

The colorful red, white and black front cover page was detached at some point and has been reattached with a piece of tape on the INSIDE so it is not visible from the outside.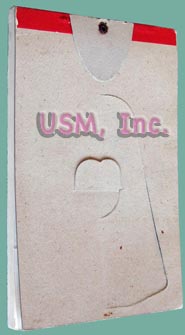 1936 NAZI PARTY POLITICAL CALENDAR
NSDAP STANDARTEN KALENDER
FOR THE YEAR 1936
This USM Books website is Copyright © 2012 by USM, Inc., and the text and images on it are fully protected by international copyright law. It is therefore, illegal for anyone to take any of the material found here and use it for their own purposes without our written permission, irrespective of any excuse they may feel they have for doing so.