This Nazi Wehrpaß of dentist Johann Hornik is offered for sale
for $195.00 delivered by 1st Class Mail in the USA.

• IF you wish to purchase optional insurance, add $3.45 to your payment.
• We will be happy to ship abroad at additional cost. Please inquire.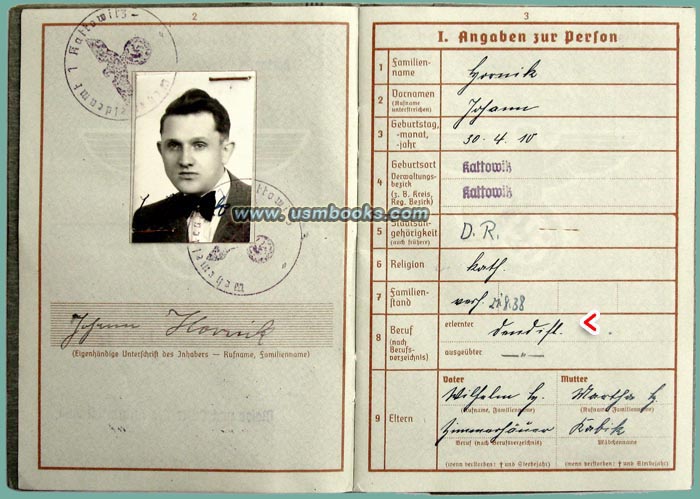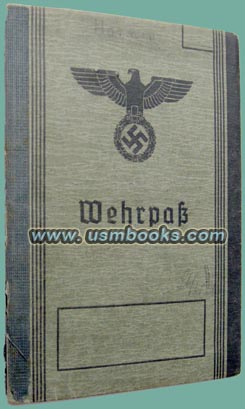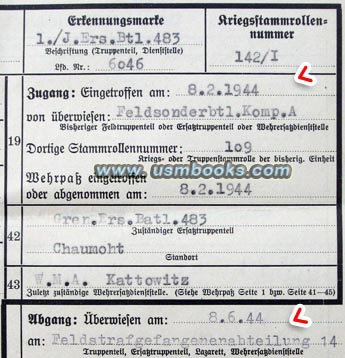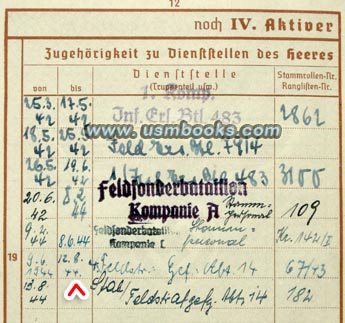 Thirty-two year old Johann Bernhardt Hornik of Kattowitz was drafted into Nazi Infantry Replacement Battalion 483 in May 1942, and transferred to a Feldsonderbattalion (Special Field Battalion - Dentistry) on 20 June 1942. He was sent to France as a dentist. Immediately after the Allied invasion in Normandy, on 8 June 1944, at Chaumont north of Dijon in France he was re-assigned to Feldstrafgefangenen-Abteilung 14 (Prisoner of War Detachment 14), becoming a caretaker for captured Allied prisoners.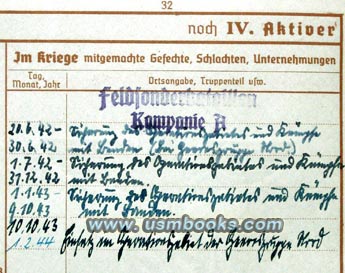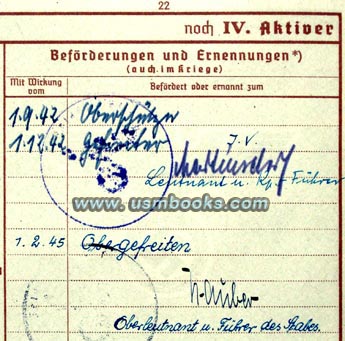 Johann Hornik was born on 30 April 1910 in Kattowitz which was then a large industrial city in the Prussian province of Silesia (it is now called Katowice and is in Poland, just north of Auschwitz). He was a dentist, a catholic, and on 21 August 1938 he married a woman named Helene. Hornik spoke Polish, and according to information on the Beurteilung or rating letter (shown below) dated 8 February 1944, he was dependable, had an honest character, was a praiseworthy dentist, but only a 'satisfactory' guard.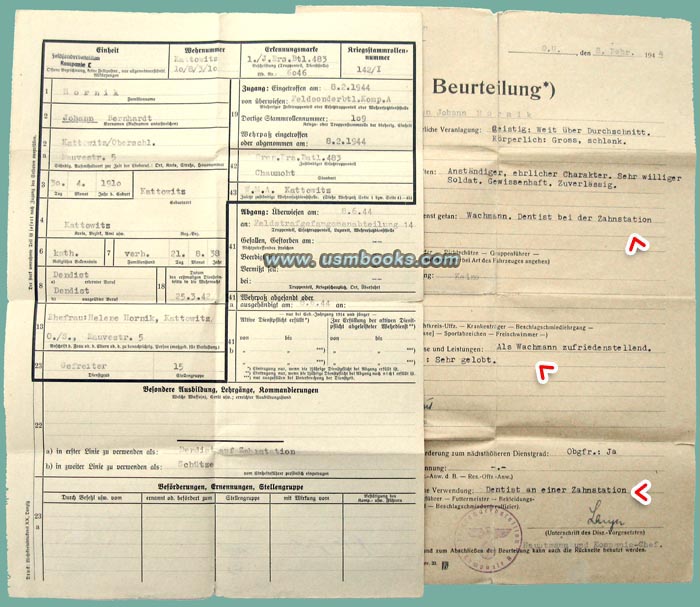 This Wehrpass is 100% original to the Third Reich period, no entries have been messed with and it has never even been shown at a militaria show. Very good condition with two Third Reich attachments folded up inside the front cover.
NAZI WEHRPASS - DENTIST - POW GUARD IN NORMANDY
EXCEPTIONAL NAZI WEHRPASS WITH TWO ATTACHMENTS FOR A DENTIST FROM KATTOWITZ WHO WAS TRANSFERED TO A POW HANDLING DETACHMENT IN NORMANDY ON 8 JUNE 1944


The images and the entire text used on this and all other USMBOOKS web pages are the copyrighted property of USM Inc. Those images and the text may be used by others ONLY AFTER completion of a formal international licensing agreement and payment of a licensing fee! It is therefore, illegal for anyone to take any of the material found on USMBOOKS.com and use it for their own purposes without our written permission, irrespective of any excuse they may feel they have for doing so.