For other original confidential government-level Third Reich correspondence
for sale on USMBOOKS.com, click HERE.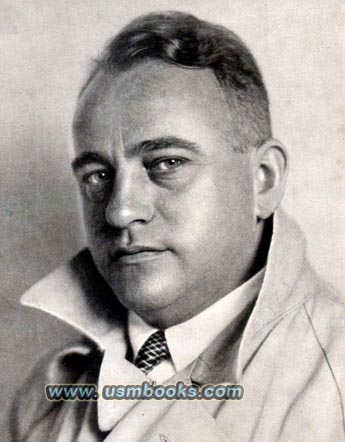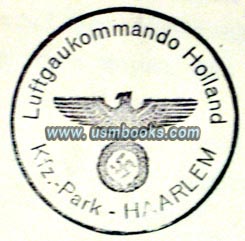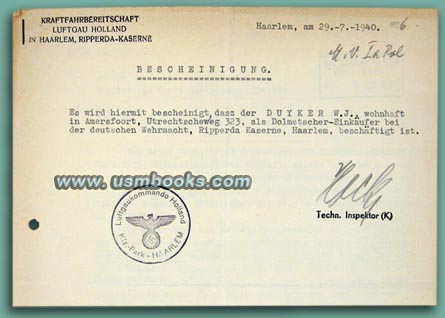 This 1940 Nazi correspondence lot regarding Margarethe Duyker's travel papers
is for sale for $145.00 delivered by 1st Class Mail in the continental USA.

• IF you prefer Priority Mail shipping with USPS Tracking add $5.45.
• IF you wish to purchase highly recommended, but optional insurance, add $3.45.
• We will be happy to ship abroad at additional cost. Please inquire.
This lot consists of four items - Third Reich correspondence regarding the exit visa for the Vienna born wife of a Dutch national who was employed as a translator for the Wehrmacht at the Ripperda Kaserne at Haarlem, Holland.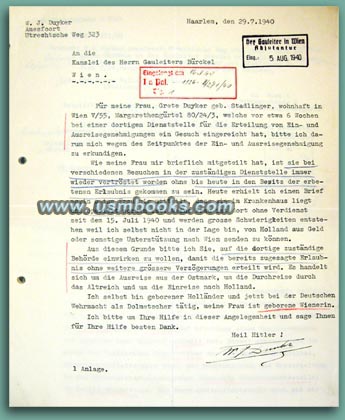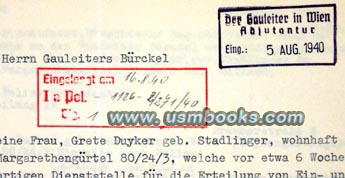 It is amazing that the exit visa delay and procedure of one person would involve Nazi officials at the highest levels. It shows the enormous bureaucratic system the National Socialists had in use in Nazi Germany.
This correspondence lot has official Nazi stamps from the Luftgaukommando Holland, the Gauleiter of Vienna (the highest civil authority of the second largest city of Grossdeutschland) and the office of the Head of Police of Vienna!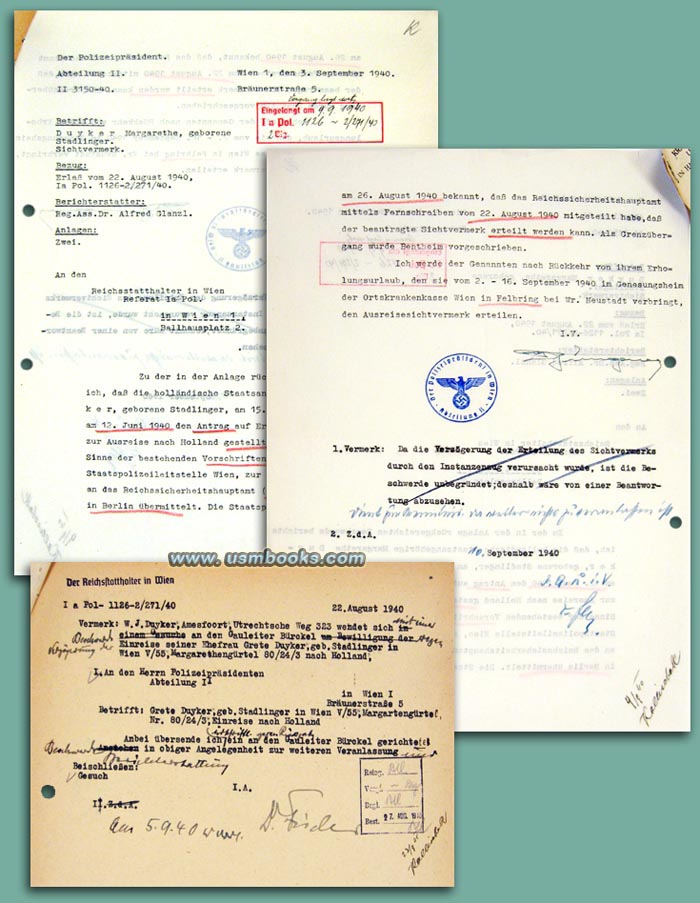 On 29 July 1940 W.J Duyker of Amersfoort, employed as a translator for Luftgaukommando Holland at the Ripperda Kaserne at Haarlem, wrote to Gauleiter Josef Bürckel (photo above) complaining that local authorities in Vienna refused to issue a travel visa for his Vienna born wife Margarethe so she could join him in Holland. Duyker writes that while going through the exit visa application process his wife had gotten ill, had undergone surgery and that she could not pay for the operation as he was unable to send money from Holland to her in Vienna. In this letter (signed off with "Heil Hitler!" he asked for Bürckel's help, and the letter has an official receiving stamp applied at the Gauleiter's office in Vienna and dated 5 August 1940.

This file includes internal Reichsstatthalter and Polizei correspondence regarding the matter dated 22 August 1940 as well as a letter dated 3 September 1940 from the Head of Police in Wien to the Reichsstatthalter on the Ballhausplatz 2 in Wien. The letter confirms a background check had been done on the visa matter of Dutch national Margarethe Duyker (née Margarethe Stadlinger on 15 November 1918 in Vienna). Authorities from the Gestapo, Staatspolizeistelle Wien and the Reichssicherheitshauptamt in Berlin had all agreed that a visa could be issued after Mrs. Duyker would leave the recuperation facility she was in, on 16 September 1940. The letter even stipulates which border crossing she had to use to enter occupied Holland!
In its own way, this is a remarkable look inside Nazi Police and administrative practices at a very high level in Germany in 1940. Rare and absolutely original to the Third Reich period in Nazi Germany.
OFFICIAL 1940 CORRESPONDENCE INVOLVING GAULEITER JOSEF BÜRCKEL REGARDING AN EXIT VISA FOR THE VIENNA BORN WIFE OF A DUTCH WEHRMACHT LUFTWAFFE TRANSLATOR


The images and the entire text used on this and all other USMBOOKS web pages are the copyrighted property of USM Inc. Those images and the text may be used by others ONLY AFTER completion of a formal international licensing agreement and payment of a licensing fee! It is therefore, illegal for anyone to take any of the material found on USMBOOKS.com and use it for their own purposes without our written permission, irrespective of any excuse they may feel they have for doing so.