The images and text used on this and all other USM web pages are the copyrighted property
of USM Inc. Those images and the text may be used by others ONLY AFTER completion
of a formal international licensing agreement and payment of a licensing fee!
This USMBOOKS web page contains miscellaneous original Third Reich uniform pieces and parts: shoulder boards, buttons, collar tabs, hangers, etc. Prices include delivery by 1st Class Mail in the continental United States. Additional charges apply for shipment by Priority Mail, insurance and for foreign buyers. Please inquire.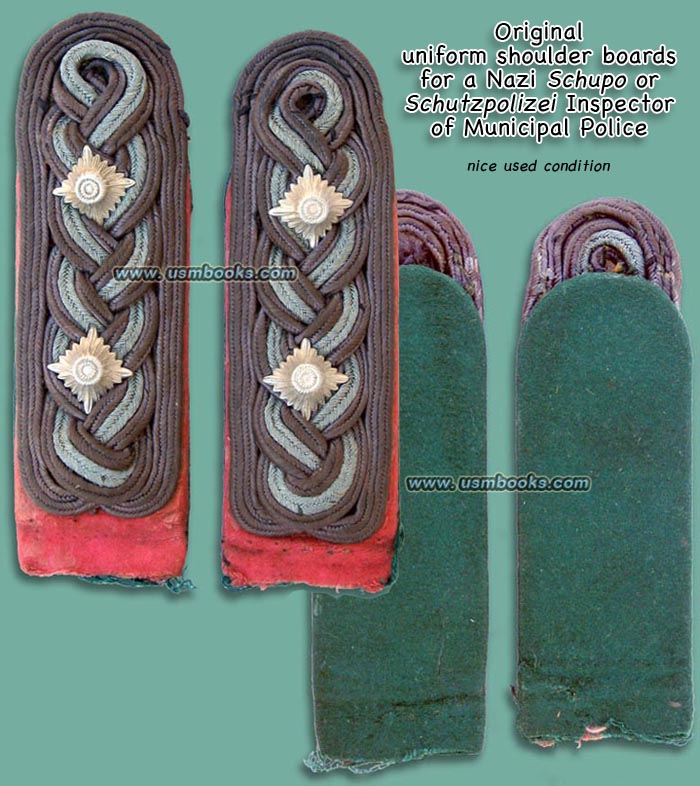 This is a nice used matched pair of Nazi Schupo shoulder boards for a rather high-ranking officer - an Inspector of Municipal Police. They were removed from an original Nazi uniform in 1945 by an American Counter Intelligence Officer.

The boards are on a dark green background with pinkish underlayment. The knots themselves are sort of a grayish purple color cord interwoven with metallic silver cord. All four pips match. Rare Nazi police boards in good usable original condition. No mothing.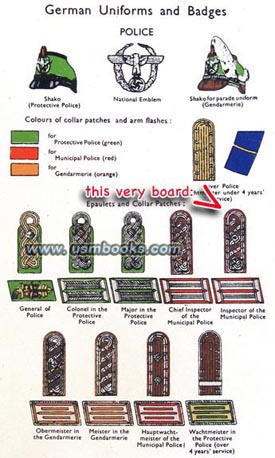 This pair of original Nazi police shoulderboards is offered for sale for
$175.00 delivered by 1st Class Mail in the continental USA.
NSDAP KREISLEITUNG HAUPTSTELLENLEITER COLLAR TABS, POLITICAL LEADER VISOR CAP CORD
This is a used pair of brown velvet and silver Nazi collar tabs trimmed in white. The silver tress has small swastikas woven into the background. These were (not very carefully) removed from an original Nazi uniform in 1945 by an American Counter Intelligence Officer, and are in poor condition.
The original Nazi visor cap cord was very well-made with flat knots and is in nice used condition except for the tarnishing to the metallic thread.
These original Nazi collar tabs and visor cap cord are **SOLD**.
ORIGINAL THIRD REICH NAZI UNIFORM PARTS AND PIECES
NAZI SCHUTZPOLIZEI SHOULDER BOARDS FOR AN INSPECTOR OF MUNICIPAL POLICE
This USMBOOKS web page is Copyright © 2014 by USM, Inc., and the text and images on it are fully protected by international copyright law. It is therefore, illegal for anyone to take any of the material found here and use it for their own purposes without our written permission, irrespective of any excuse they may feel they have for doing so.